Share feedback
Thanks for sharing your feedback!
Supported plans
Premium, Enterprise
eCommerce Platform
Shopify, Shopify Plus, Adobe Commerce (Magento), BigCommerce, WooCommerce, Volusion, Salesforce Commerce Cloud, Custom
Syndication allows you to leverage existing reviews and visual content for the same product or site across different accounts. For example, if you sell the same product in more than one store, you can maximize the potential of every review, photo, and video by sharing it across all of your sites. This makes for increased review volume and exposure across a variety of channels and improved review distribution.
How it works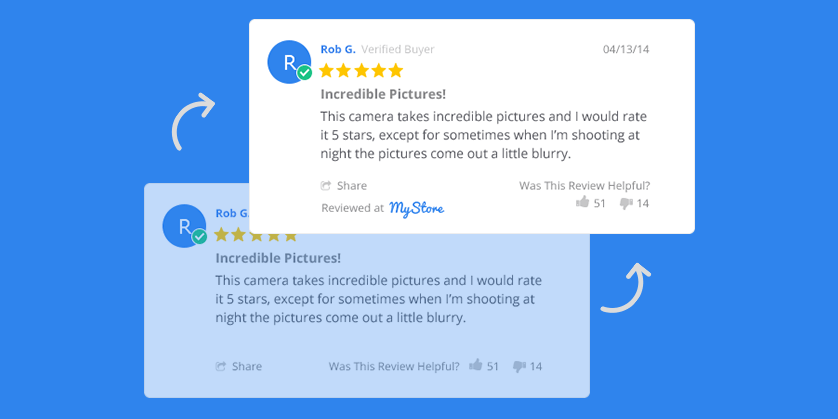 What is syndication?

Syndication is when one site automatically feeds its existing content to other affiliated stores or sites. When a shopper generates content, the host account of the review automatically shares the star rating, content, and/or photos with the destination sites.

You can syndicate the following types of user-generated content:

Product reviews
Site reviews
Comments
Photos from reviews
Custom review forms
Question & answers
Visual content

Visual content curated from Instagram, Reviews, and/or on-site uploads
Note that this requires a subscription to Yotpo Visual UGC
How does syndication work?

Syndication works by using a unique identifier to match products between your source and destination accounts. For example, we'll associate Product A in the source account with Product B in the destination account if the product is found to have a matching product identifier (SKU, MSBN, etc.).

Once you've chosen the accounts to syndicate, Yotpo will scan the source and destination accounts for products with the same product identifier. If a match is found, we'll duplicate the reviews associated with that product and display them in the source and/or destination account according to your configured settings.

Syndication will take effect and appear in the following Yotpo features:

Reviews Widget
Star Rating
Review Highlights
Reviews Tab
Facebook Reviews Tab
Embedded Widget
SEO page
Badge
How many accounts can I syndicate?

There is no limit to the number of accounts you are able to syndicate through Yotpo.
Why should I syndicate my content?

Rich customer-generated content is a valuable asset to any business and should be displayed wherever relevant to help build confidence in your brand and your products.

By syndicating content, you can automatically harness the full potential of existing user-generated content and put it to use in other stores where it can help to drive purchasing decisions.
When should I use syndication?

Syndication is a robust feature that offers considerable value in the following scenarios:

Brand and Retailer
A store that operates as a retailer in addition to selling its own proprietary brand and would like to interchangeably display product reviews that were generated from the brand's website and the retailer website alike.

For example, a brand which sells its products through its own online store may want to syndicate reviews to other retailers, partners, or affiliates which sell the same products.
By syndicating such reviews, more shoppers are exposed to the customer experiences of others when making buying decisions.

Multi-Stores
Stores that operate multiple stores or domains/subdomains to support a particular language(s)/region or different brands.

e.g. en.myonlinestore.com, fr.myonlinestore.com
e.g. uk.myonlinestore.com, ca.myonlinestore.com
Will syndication affect Google Shopping?

It's important to note that syndicated reviews are not counted as eligible reviews for Google Shopping.

Eligible reviews are those that originated from the relevant shop. For more information on eligibility, click here
Can I syndicate visual content too?

Yotpo's standard reviews syndication supports the syndication of photos from reviews as these photos are considered part of the review. If you're interested in syndicated visual content collected and curated using Yotpo Visual UGC, please refer to Visual Marketing - Multi-Domain Syndication.
Implementation
Follow the Syndication Implementation Guide for the initial syndication setup in your Yotpo account.
This step is required in order to use the Syndication feature.
Configuration
Once you've set up syndication in your Yotpo account, follow the Syndication Configuration Guide to configure syndication according to your specifications.
Best practices
Check out our Syndication - Best Practices guide to make sure you're getting the most out of this feature.
Important:
Syndicated content cannot be configured until you have uniquely identified and paired products in the source and destination accounts
and
updated Yotpo with the relevant product identifiers in accordance with the guidelines in the
Syndication Implementation Guide
.
---
Was this article helpful?
---
What's Next