Email Marketing Release Notes
Email Marketing Release Notes
---
Share feedback
Thanks for sharing your feedback!
Supported plans
Free, Growth, Prime, Powerhouse, Enterprise
eCommerce Platform
Shopify, Shopify Plus
August, 2022
Built-in email optimization with email marketing setup
Easily get a bird's eye view of your email setup progress. Quickly navigate to any unfinished tasks, and finish the essentials in a snap with our setup wizard. Get the best possible results from your email marketing with built-in email setup guidance.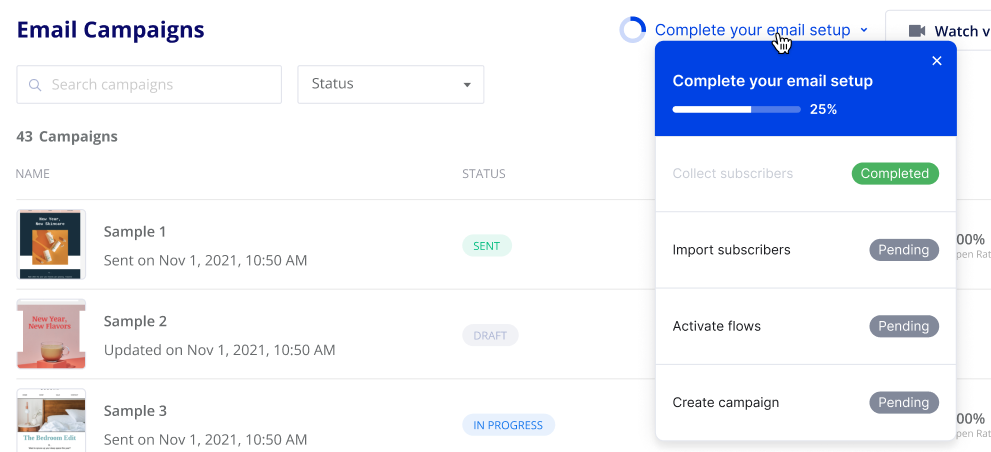 July, 2022
Apply your brand's look and feel with the new Brand kit
Easily add your brand's look and feel to any email or template with our new brand Kit! Customize your emails with your brand's logo, colors, and more - and then apply the complete kit to any email campaign or template with just one click. Learn how to use the Brand kit
Tip:
Branded emails boost your credibility, help you stand out, and drive more sales.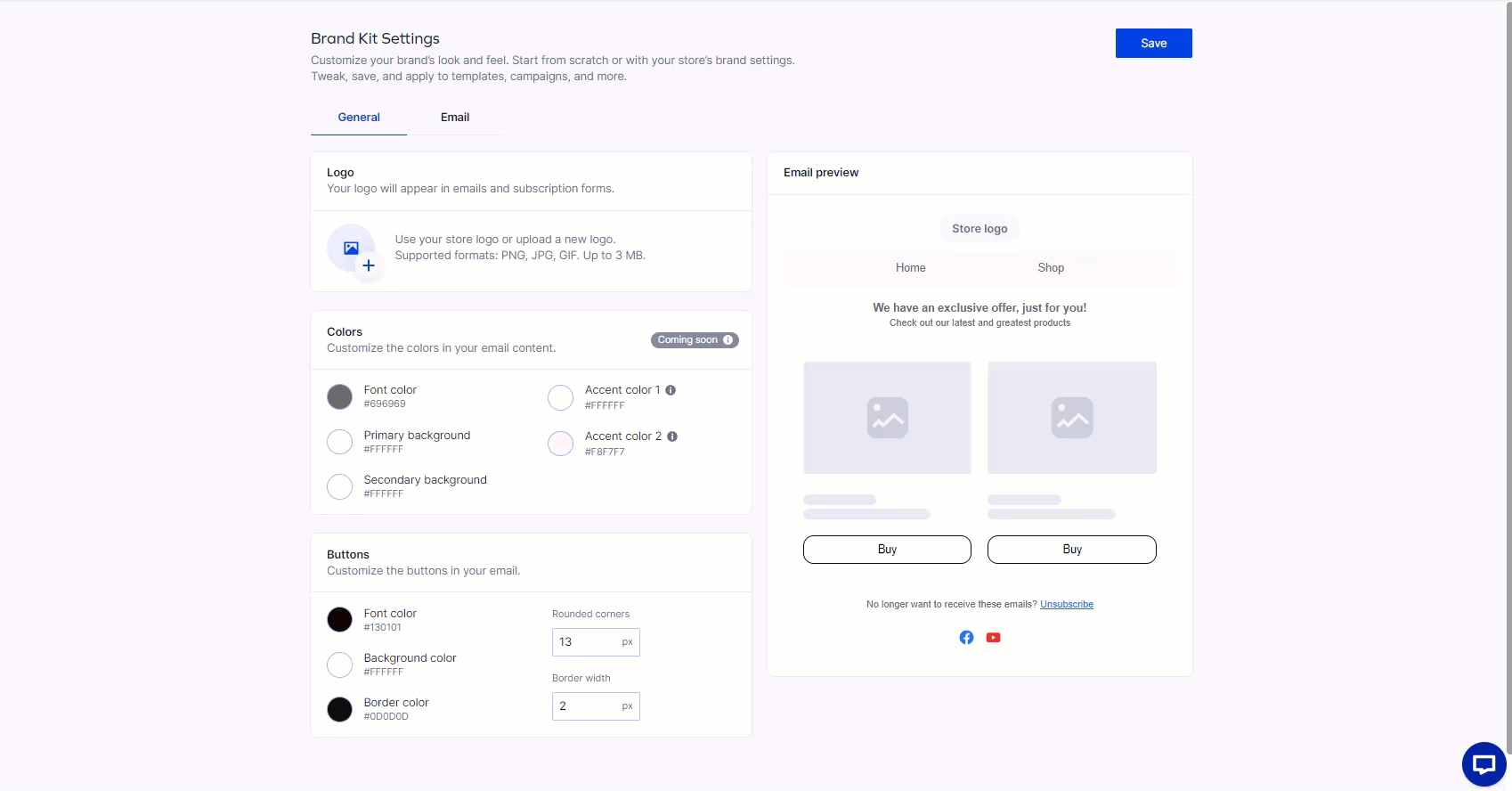 Color picker enhancements in the email editor
Easily apply last-used colors and colors from your brand kit to email elements, such as fonts, buttons, menu items, and more.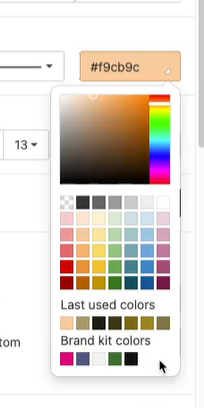 Usage and billing
With full transparency into your costs, you can focus on what matters most - driving more revenue. View your email marketing usage at any time, with a detailed breakdown of your monthly emails sent and an estimate of your next bill. Open my billing page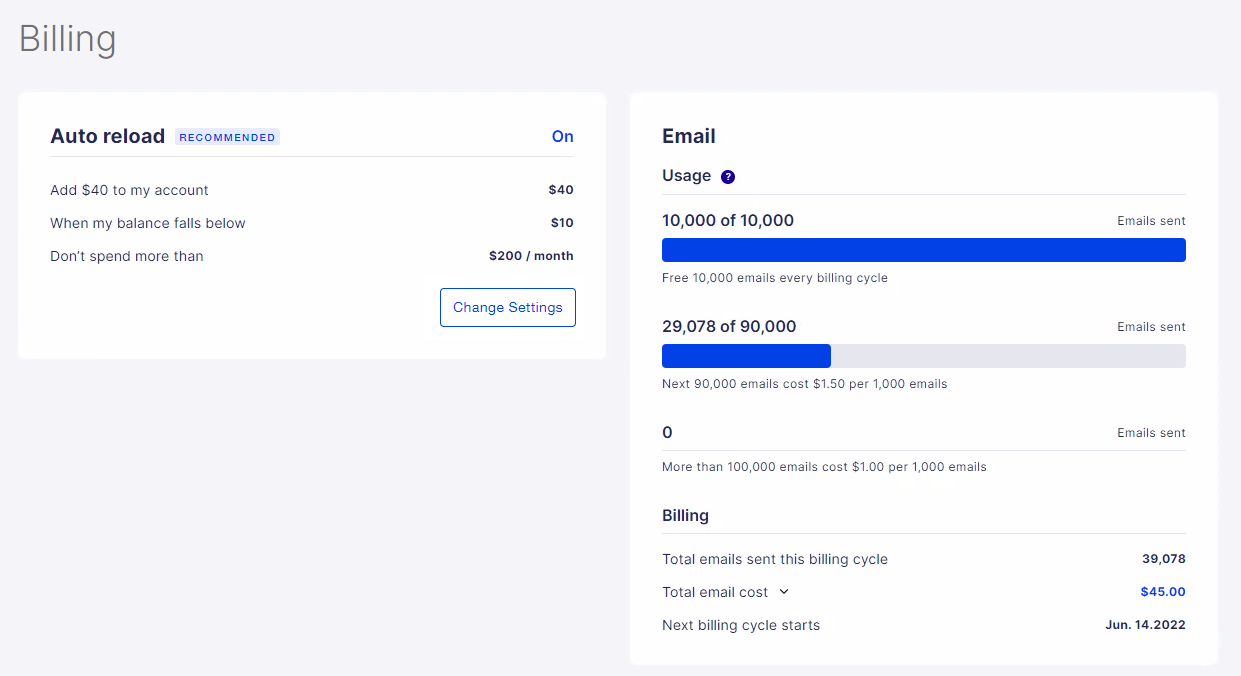 April, 2022
Create flows directly from templates
Reaching customers in the critical moments of their buyer journey increases sales, and it all starts with the right email template. Launch automated texts and emails that welcome customers, recover abandoned carts, and more – straight from our library of top-converting templates.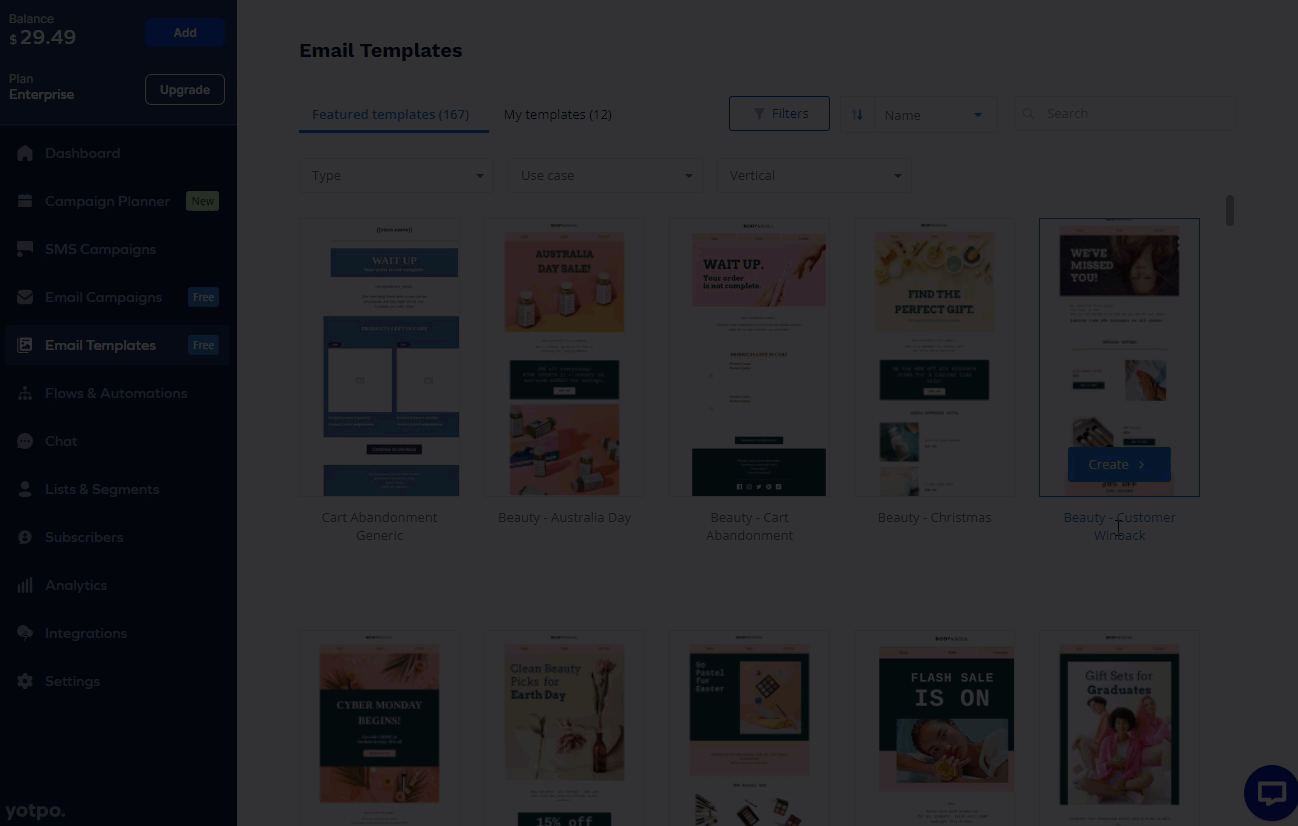 Redo & undo in the editor
Change your mind while crafting your email? No problem. Quickly undo or redo changes as you edit.

March, 2022
Product recommendations
Boost revenue by leveraging Yotpo's AI engine to power unique product suggestions for each recipient based on data-backed predictions for what they are most likely to purchase.In addition to AI-recommended products, you can also show products based on a specific recommendation category, such as best-selling, most-liked, or most-reviewed products. Learn more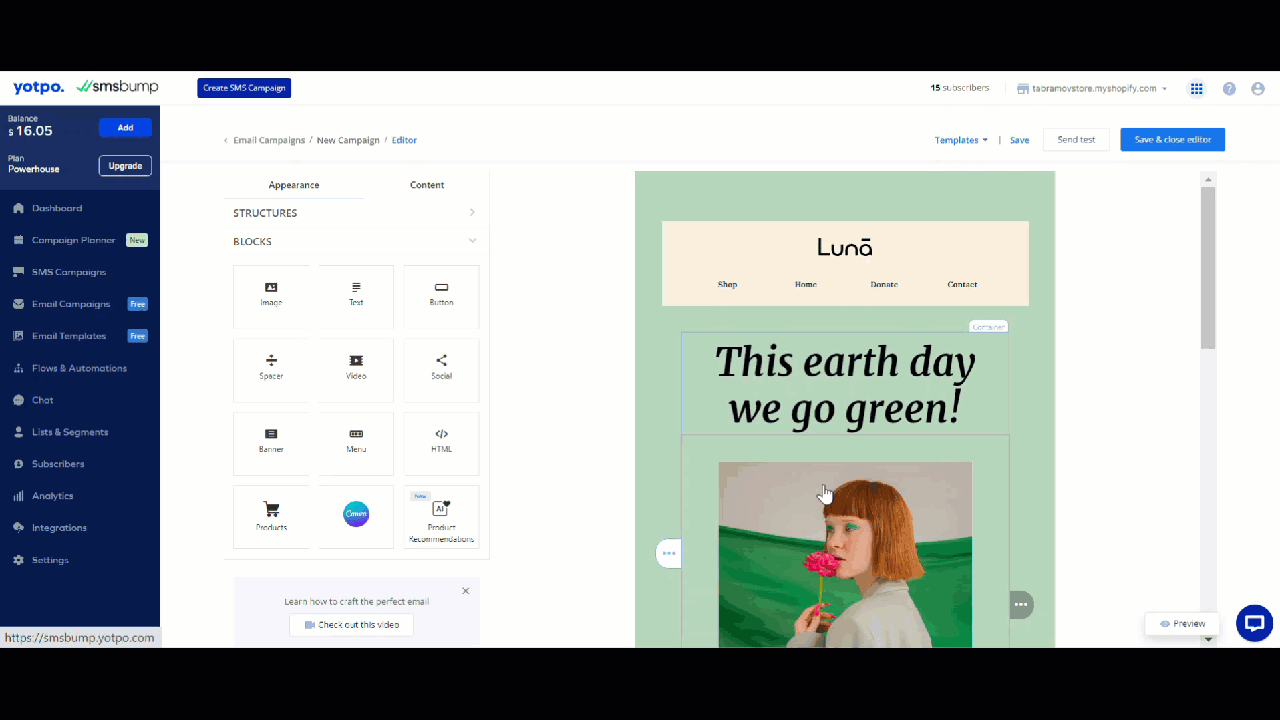 An enhanced Campaign Planner - now with email
We've added emails to the Campaign Planner, which until now only included SMS.Now you don't have to miss opportunities to engage. Get inspiration for upcoming events, with eye-catching design templates and exciting email copy, all 100% customizable to match your brand's look and feel.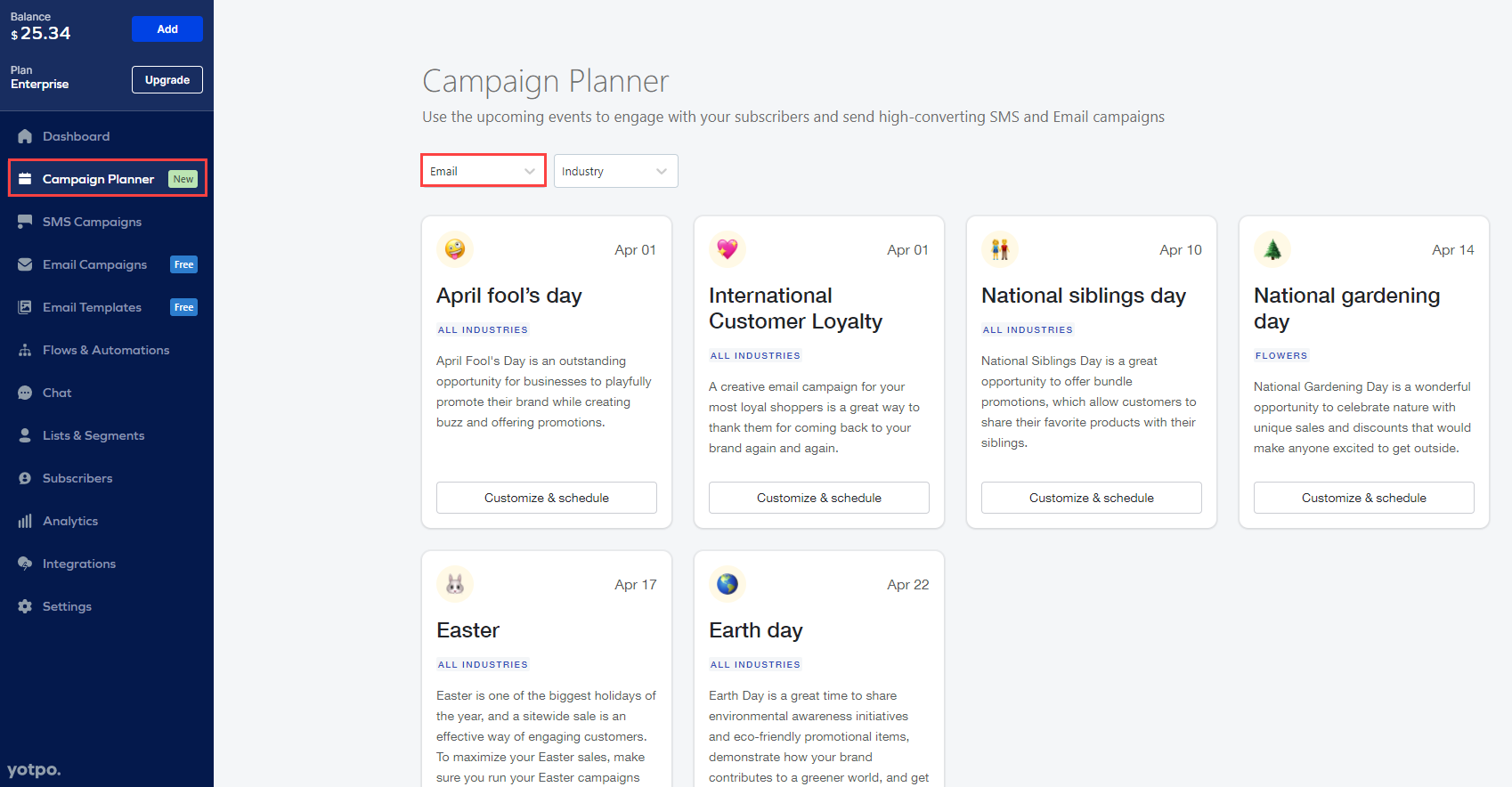 February, 2022
Template filters
We've made it much easier to find just the template you're looking for. Use filters to quickly find templates, by type, use case, and vertical. Learn more

Include discounts in your email
Effortlessly generate personalized discount codes for every customer directly within your email campaign. With just a few clicks, define and create unique discount codes that increase conversion while protecting your business from discount code leaks. Learn more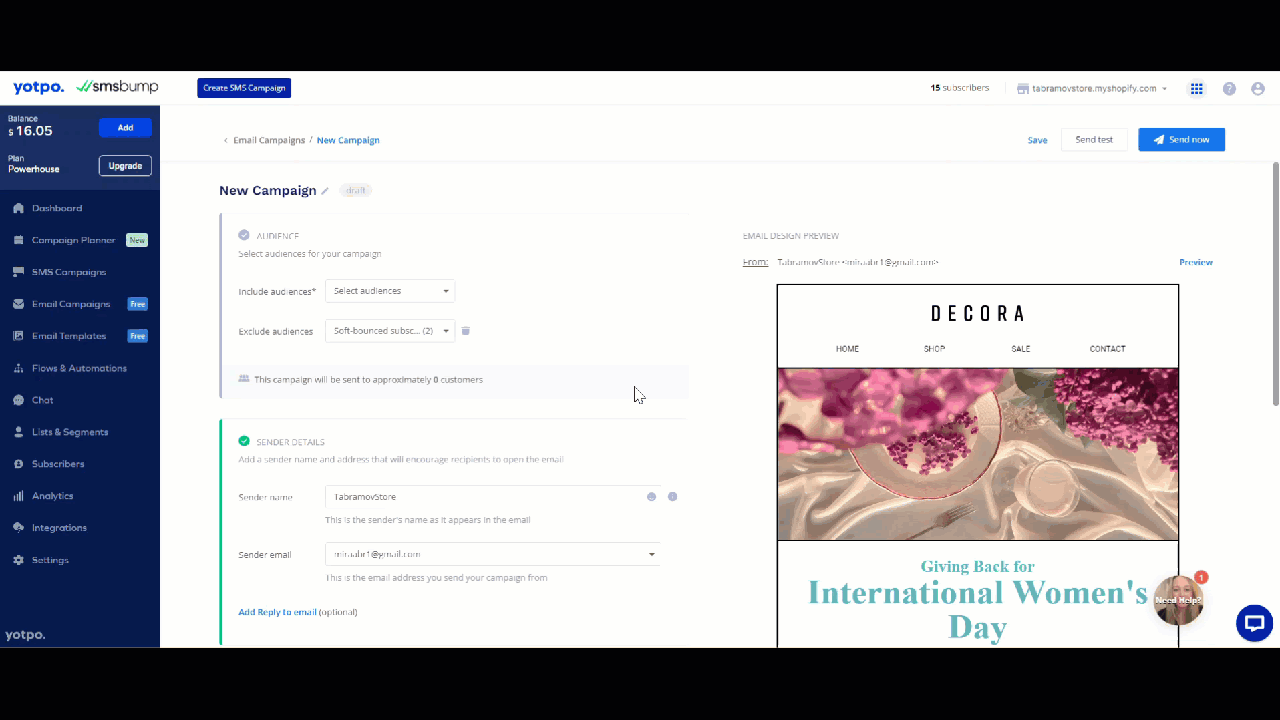 January, 2022
Original price and sale label
Nudge your customers towards promotions by showing exciting, limited-time price drops in your emails. By pulling prices directly from your Shopify catalog, our email editor makes it easy to highlight new prices with a customizable Sale tag and drive customers to purchase. The feature is available in both the Product and Product Recommendation blocks. You can show the original price, sale label, or both, and customize attributes such as color and fonts. Learn more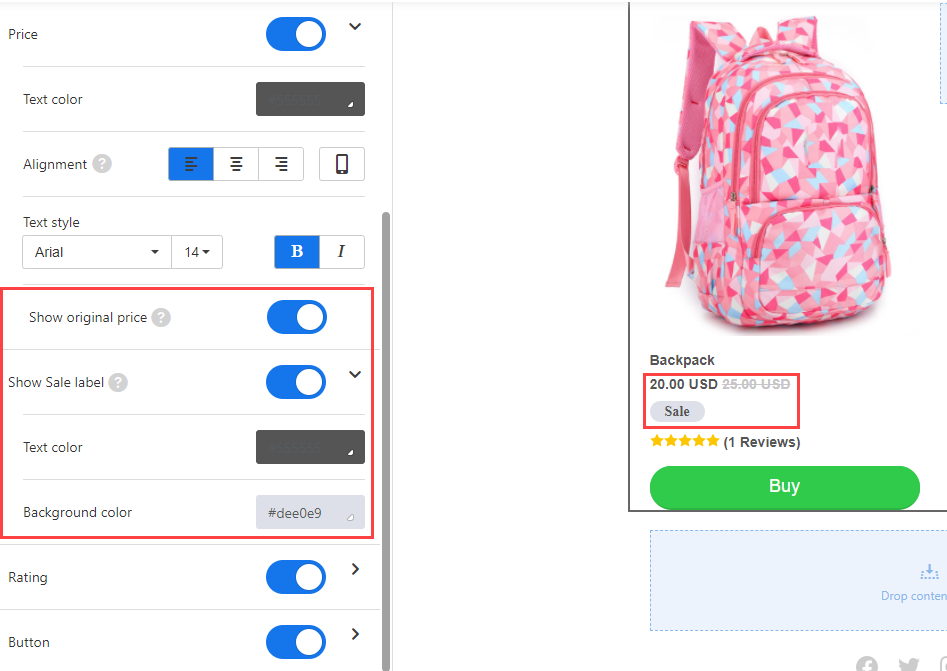 Campaign list filters
Email Campaign filters help you find exactly what you're looking for. Discover which emails are driving the most sales when you sort by revenue, or find campaigns by creation date, the number of sent emails, etc.

December, 2021
Canva block
Canva allows anyone to create beautiful, eye-catching graphics with no prior design experience. Launch Canva from within the Campaign Editor to create email banners and graphics that embed seamlessly into our email templates. Learn more

Improved image alignment and formatting in the Products block
After you select the products you want to showcase in the Products block, our Campaign Editor dynamically aligns and formats your product images for a smoother look and feel.
November, 2021
Revenue information in campaigns list
We've made it simpler than ever to track the results of your marketing efforts. With a revenue overview of each campaign, our dashboard makes it easy to clearly understand the revenue generated from every email that you send.

Minimum star rating for items in Product block
Set a minimum threshold for star ratings within the product block, so you can leverage the ratings of only your most-loved products within emails to increase conversion and drive purchases.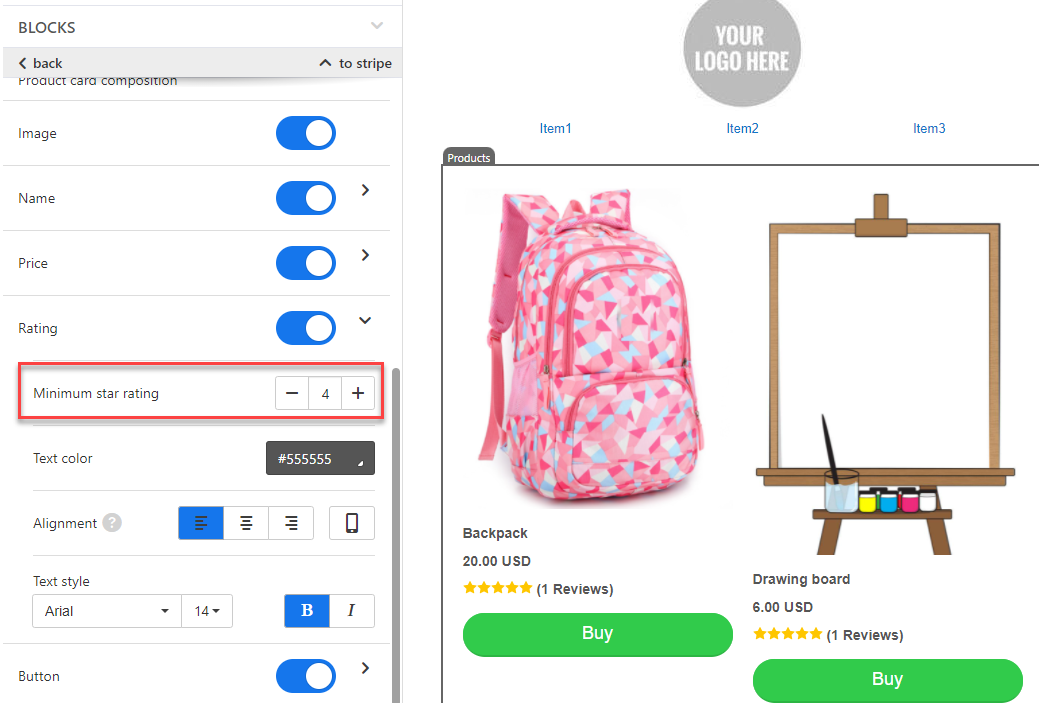 New segments and rules
Soft-bounced subscribers are excluded Sending emails with high bounce rates puts your company's sending reputation at risk, and damages your deliverability. We proactively protect your brand with default segmentation that avoids emailing customers who have had delivery issues in the past, so you can keep bounce rates low and deliverability high. For new campaigns, the Soft-bounced subscribers from last 7 days segment is now excluded from your audiences. This exclusion is by default, but you can always remove the segment if needed.

Purchases by email subscribers in last 30 days Email subscribers who have recently purchased from your brand are likely more engaged than the rest of your list. Use this new segment to tailor your promotions, and drive more revenue by segmenting for those who have purchased in the last 30 days.
Sent test emails to multiple recipients
Easily send a test email to multiple recipients, so you can be confident that everything looks great before sending your campaign. Enter multiple addresses separated by commas before hitting send.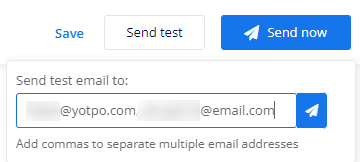 October, 2021
Dynamic Product Block enhancements
The Dynamic Product block displays products from your store in the email. It is available in email templates and in emails triggered by automated flows. For example, in an email triggered by an abandoned cart, the block can display the products left in the cart. You can now add more details about the products displayed in the block. These include the quantity, the product variant or model, and the total price for each group of products (product price x number of ordered or purchased items).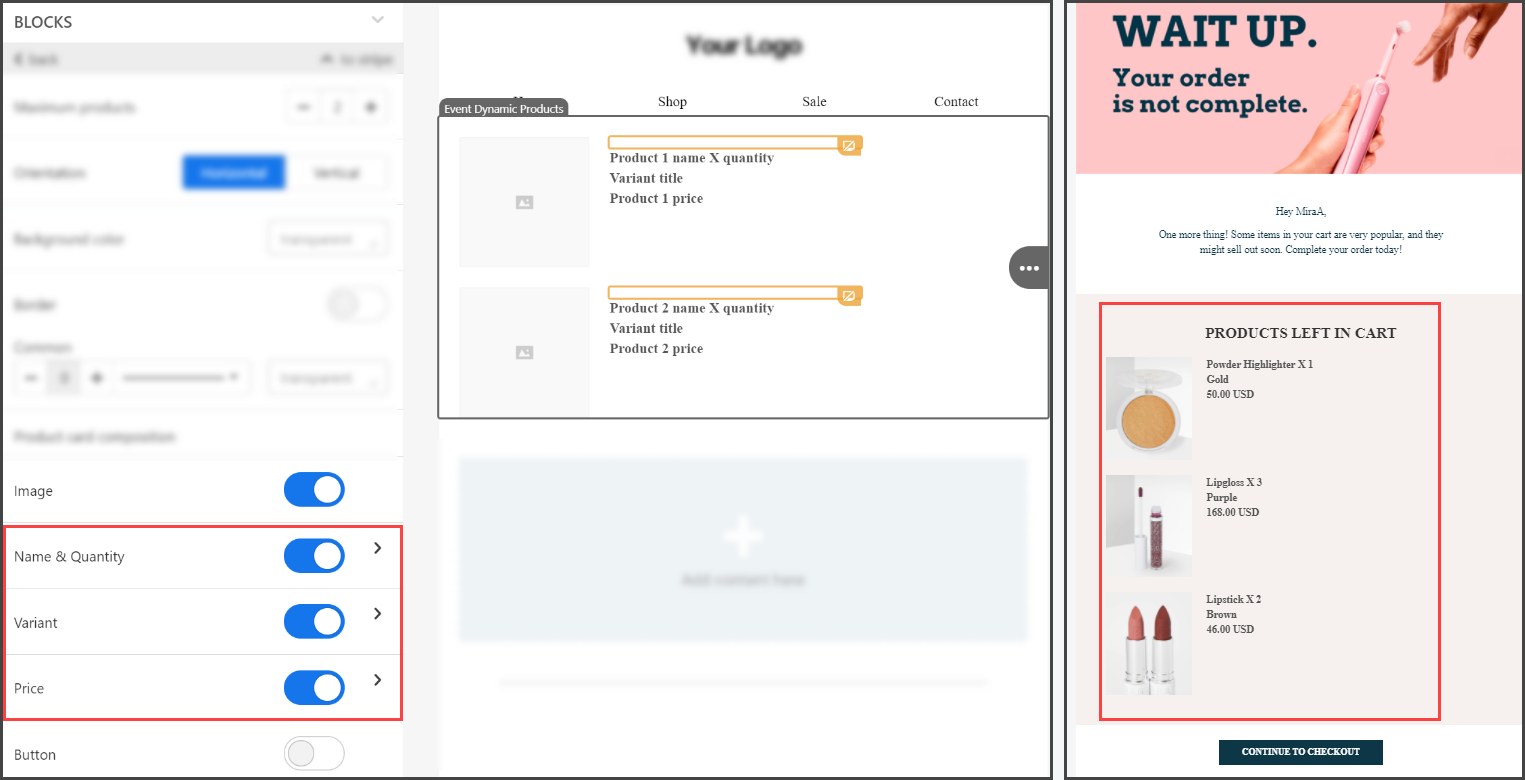 Support for CAN-SPAM Act in email campaigns, flows, and templates
It's now easier to be compliant. We now make sure that our campaigns, templates, and flows comply with the CAN-SPAM Act by adding the CAN-SPAM Act waiver to the email before saving or sending. The waiver includes the unsubscribe link.
Email smart sending
With Smart Sending on, you don't have to be concerned about sending customers too many emails in a given time. You can set a minimum amount of time between messages. The setting applies to campaigns and Flows, with the option to exclude transactional emails.You can find the options in Settings > General.

Save your changes
No more worrying about lost changes. You will now be notified before leaving a page with unsaved changes.
Please note:
This feature works in the campaign editor, and is currently not available for Flows or templates.
Easier previewing of your email
A new Preview button makes it easy to see a desktop or mobile preview of your email directly from your campaign and template editor screens, even before saving the design.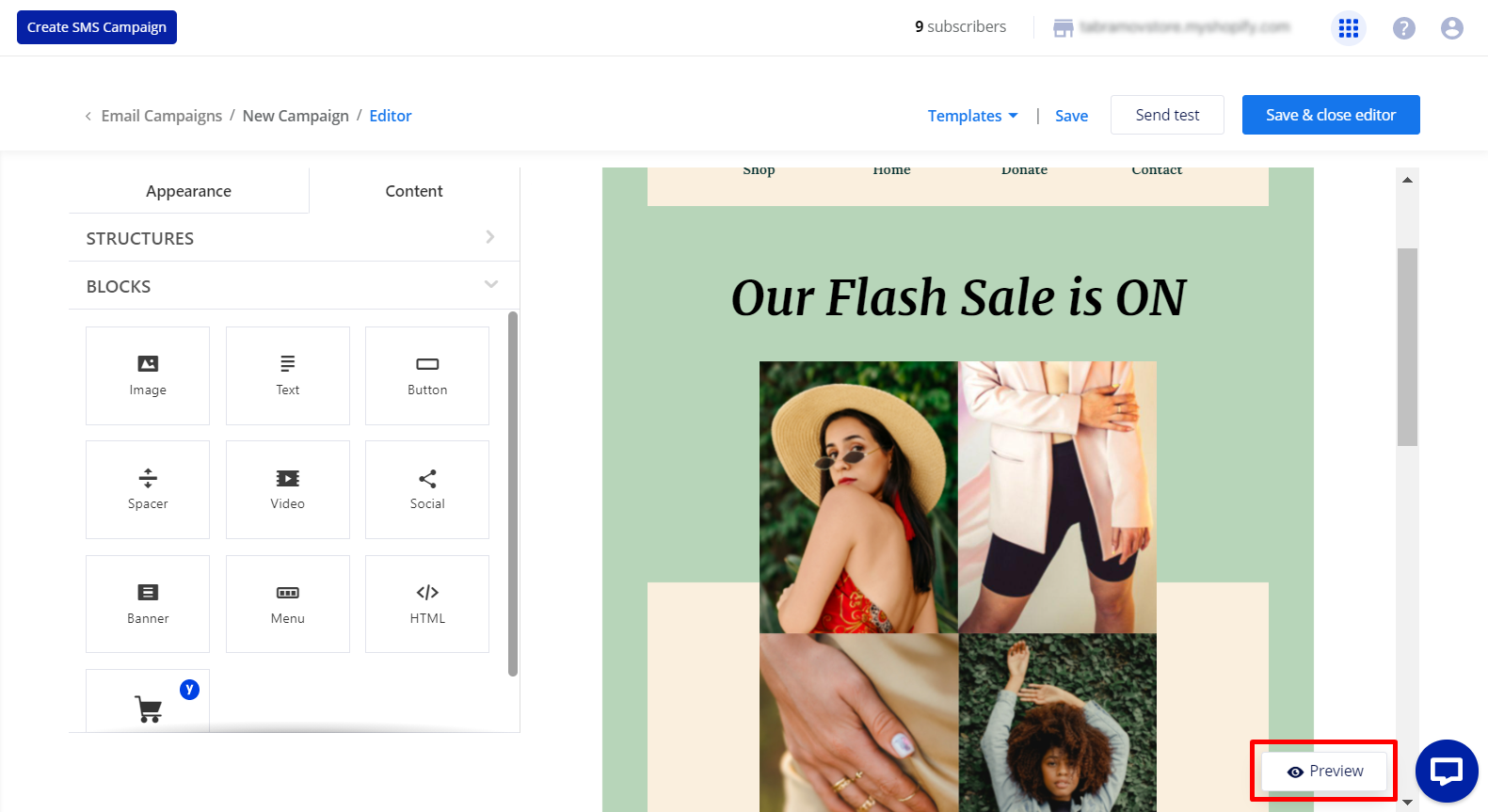 We've also added a preview icon in the template picker for quicker access to the preview.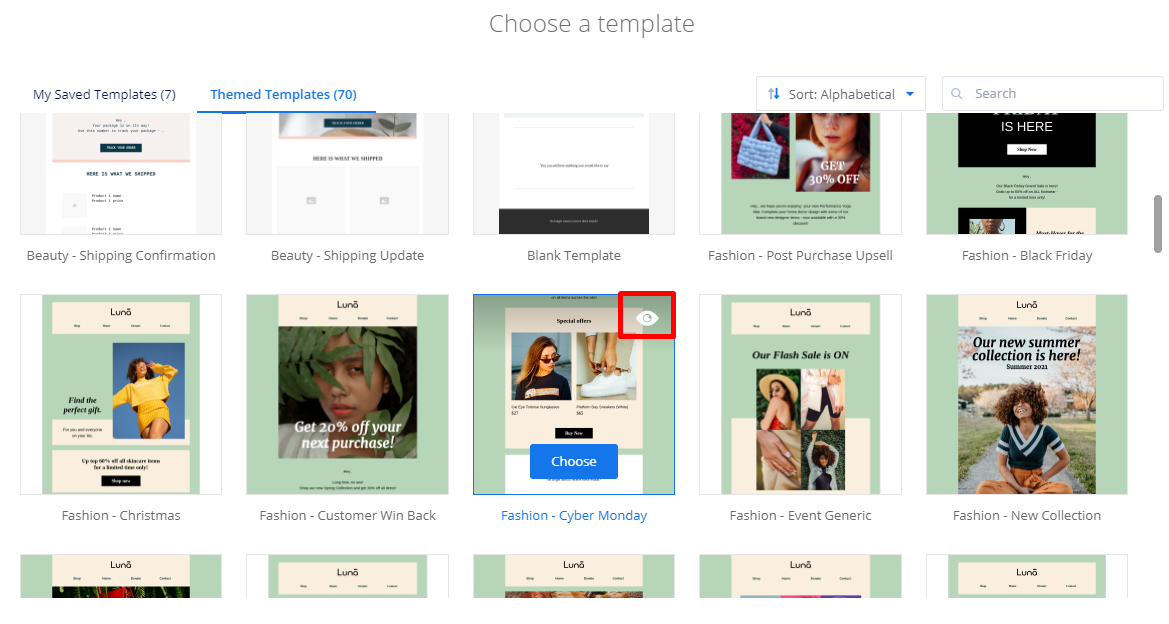 Change the template from the campaign settings
Quickly change your template from inside your campaign settings.

A reminder to change your campaign name
A new message reminds you to change your campaign name instead of using the default name. Change your campaign name to easily recognize it later in the list of campaigns and in analytics.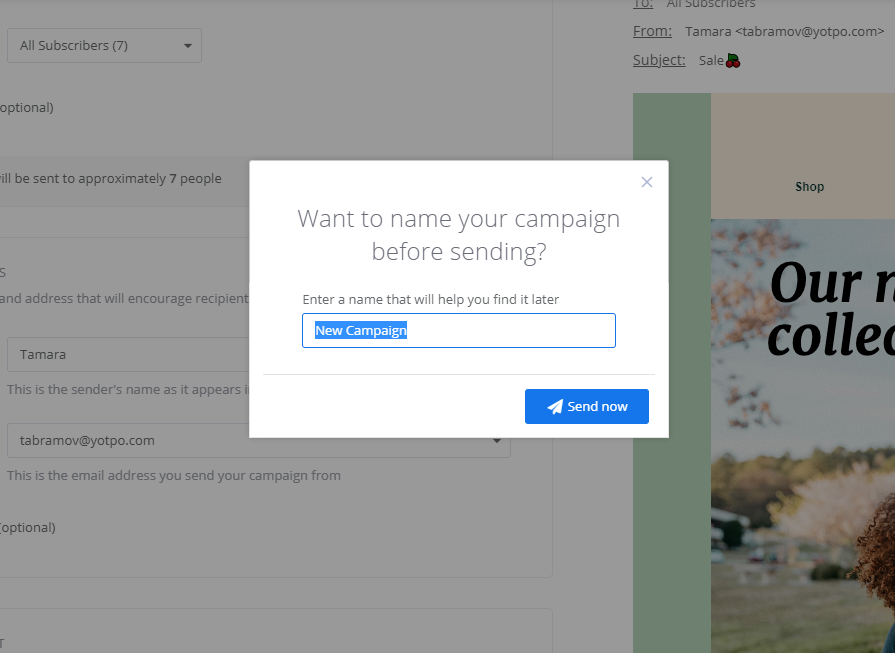 New merge tags for order details in Flows
We've added a bunch of new merge tags that you can use in Flows, with order, delivery, and shipment info.
---
Was this article helpful?
---
What's Next