How to View and Understand Your Yotpo SMS & Email Analytics
How to View and Understand Your Yotpo SMS & Email Analytics
---
Share feedback
Thanks for sharing your feedback!
Supported plans
Free, Growth, Prime, Powerhouse, Enterprise
eCommerce Platform
Shopify, Shopify Plus
Yotpo SMS & Email allows all users to review and track their progress in sales made through marketing channels using the Analytics feature. Regularly checking your Shopify store's statistics will help you gain clarity on how your business is growing, create a more robust marketing plan for the future and reach higher sales.
The following article will guide you through the Analytics Overview, available to all Yotpo SMS & Email users.
Accessing Your analytics
In your Yotpo SMS & Email main menu, go to Analytics > Overview.
The Analytics Overview page will load and display a summary of key figures and visual information about the performance of your SMS and email campaigns, and flows.
Choosing a timeframe and channel type
Before diving into your data, you should choose which timeframe and channel to analyze. You can select between days, months, and even years or use the Custom option to choose a specific time period. Then you can choose to view your data for SMS, Email, or All.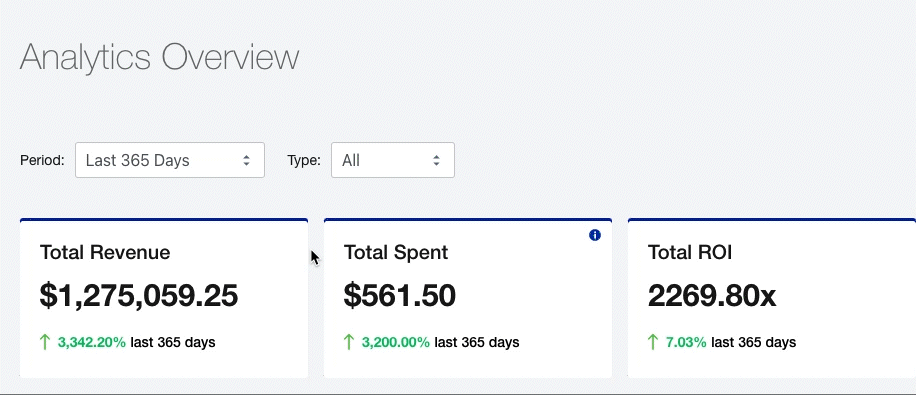 General overview of your performance
The first thing you see in your analysis is a general performance overview. It includes:
Total Revenue: how much money you made via Yotpo SMSBump.
Total Spent: the total cost of the messages you sent to your customers.
Total ROI: this is your return on investment and is defined by the money you earned with Yotpo SMSBump campaigns and the cost of sending all messages.
Total Orders: how many purchases were made via the selected channel.
The green numbers in each box show the difference in percentages from the previous time period.
Revenue streams
Next, you can review your main revenue streams. They are divided into 3 categories: Campaigns, Flows, Other. Next to each stream, you'll see its corresponding performance metrics.
For more detailed information, simply click on each stream. This will open its dedicated analytics page. You can also access these categories from the main menu on the left. The View Report link on the Revenue Growth chart will take you directly to your reports page.

---
Was this article helpful?
---
---