Share feedback
Thanks for sharing your feedback!
Supported plans
Premium, Enterprise
eCommerce Platform
Shopify, Shopify Plus, Adobe Commerce (Magento), BigCommerce, WooCommerce, Volusion, Salesforce Commerce Cloud, Custom
Review Highlights uses AI to prominently showcases customer testimonials from real product reviews right on your product pages. This shows potential shoppers exactly what your past customers love about your products.
In this article, you'll learn how to add the Review Highlights widget to your store.
How it works
Leveraging Yotpo's sentiment analysis AI algorithm, highlights are identified, parsed, and extracted from your published 4 and 5-star product reviews. Yotpo automatically chooses the very best highlights that are most likely to convert based on textual sentiment analysis.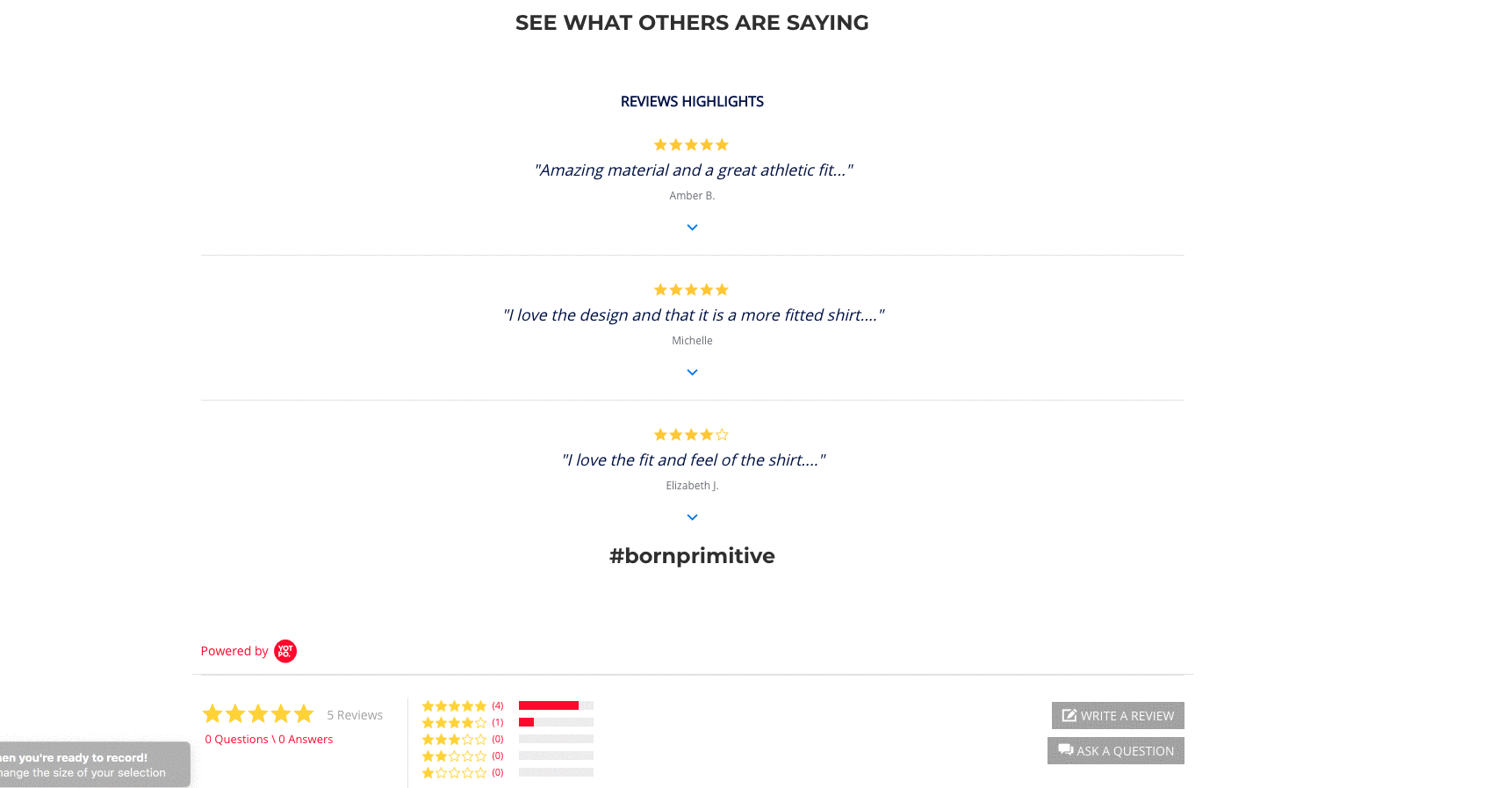 Please note:
Review Highlights are available only for Yotpo accounts that are set to English. You can set the language of your account in your General Settings.
As they may indicate a poor review, reviews containing the following words below may not meet the criteria to appear as Review Highlights, even if the review meets the necessary sentiment and star-rating requirements: but, although, though, however, despite, nevertheless, notwithstanding, nonetheless, except, only, issue, problem, complaint
Review requirements
In order for a review to appear in the Review Highlights widget, it must follow the following requirements:
The review must be a 4 or 5 star review
The length of the review quote (highlight) will be between 22 and 140 characters
The review's sentiment score must be 0.8 or above
The review must not have been imported
The review must have been created within the past 6 months
Adding review highlights to your site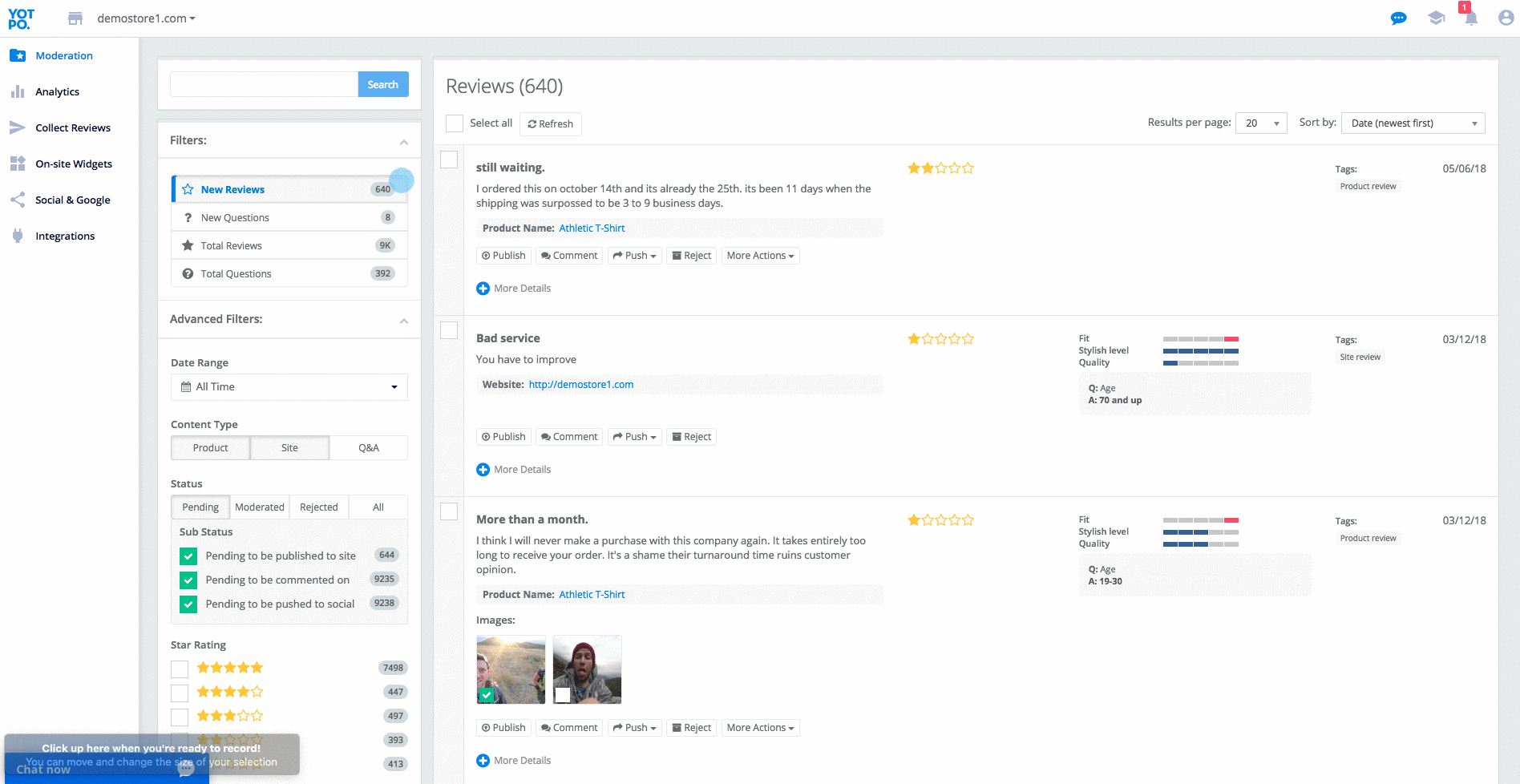 Tip:
Before you get started, make sure you've installed Yotpo's
Reviews Widget
on your product page template. This is a requirement for Review Highlights to work correctly.
From your Yotpo Reviews main menu, go to On-Site Widgets.
Click Review Highlights.
Preview and update your widget version if prompted.
Choose a title for your widget. The title will appear at the top of the widget:

Choose how many highlights to display when your site is viewed on a desktop computer or mobile device:

Customize the Review Highlights widget to match your site's look and feel.
You may customize the widget title, typography, and color scheme using Yotpo's built-in Look & Feel settings, or use the Widget CSS Editor to make advanced CSS customizations.
Don't forget to save your changes so you don't lose your work.
When you're ready to add the widget to your site, click Generate code.
Copy the code snippet at the bottom of the preview pane:

Paste the code in the desired location on your product page.
Displaying the widget on-site
For best results, we recommend placing the widget above the fold of your product page.
Clicking More Reviews will automatically scroll the product page down to your Reviews Widget.
Please note:
It takes up to 24 hours from the time new reviews are published for Yotpo to analyze the reviews and choose which ones to show as Review Highlights.
Desktop display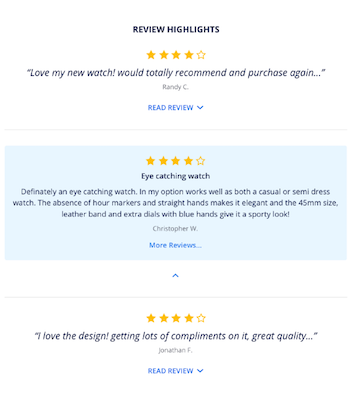 Mobile display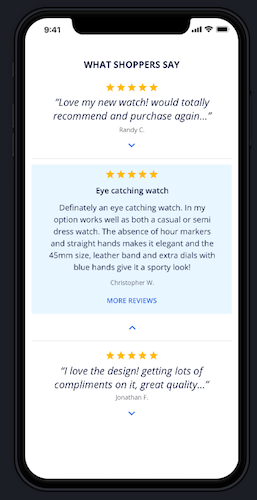 ---
Was this article helpful?
---
What's Next