Scale Your Business with Intercart and Yotpo SMS & Email
Scale Your Business with Intercart and Yotpo SMS & Email
---
Share feedback
Thanks for sharing your feedback!
Supported plans
Free, Growth, Prime, Powerhouse, Enterprise
eCommerce Platform
Shopify, Shopify Plus
Did you know you can use Intercart and Yotpo SMS & Email together? And you do not even need to install an integration to do that.
But first, let's take a look at all the powerful features Intercart offers.
Convert more customers with Intercart's customizable funnel
Intercart isa new and uprising app which provides custom checkouts. You can set different checkout funnels depending on the country or region where you sell and tailor the whole checkout process. You can easily add different elements such as time limit, customer testimonials, payment, and shipping guarantees.
In addition to that, the tool allows you to A/B test your funnels so you can optimize your checkout process.
Combining the two apps will allow you to grow your subscribers list while your customers buy from you. You will be able to send them abandoned cart reminders and order confirmations.
How to combine Yotpo SMS & Email with Intercart
Our Integration with Intercart does not work the way other integrations work. You do not really need to install or launch anything. Just set your checkout funnel in Intercart, use the pre-set automations withinYotpo SMS & Email, and Shopify will take care of the rest.
If you are an active Yotpo SMS & Email user and you have already set up your account and activated your automations, then you can just sit back and relax, and just enjoy the results.
But if you are just getting started, here are some quick tips on how to make sure you set up your account correctly and are ready to go.
Make sure you added a field for collecting phone numbers
The first step is to set up Shopify Checkout SMS Marketing Compliance. Add an opt in checkbox on the checkout page of your store. To enable it, navigate to Shopify Settings > Checkout > Email Marketing > Show a sign-up option at checkout.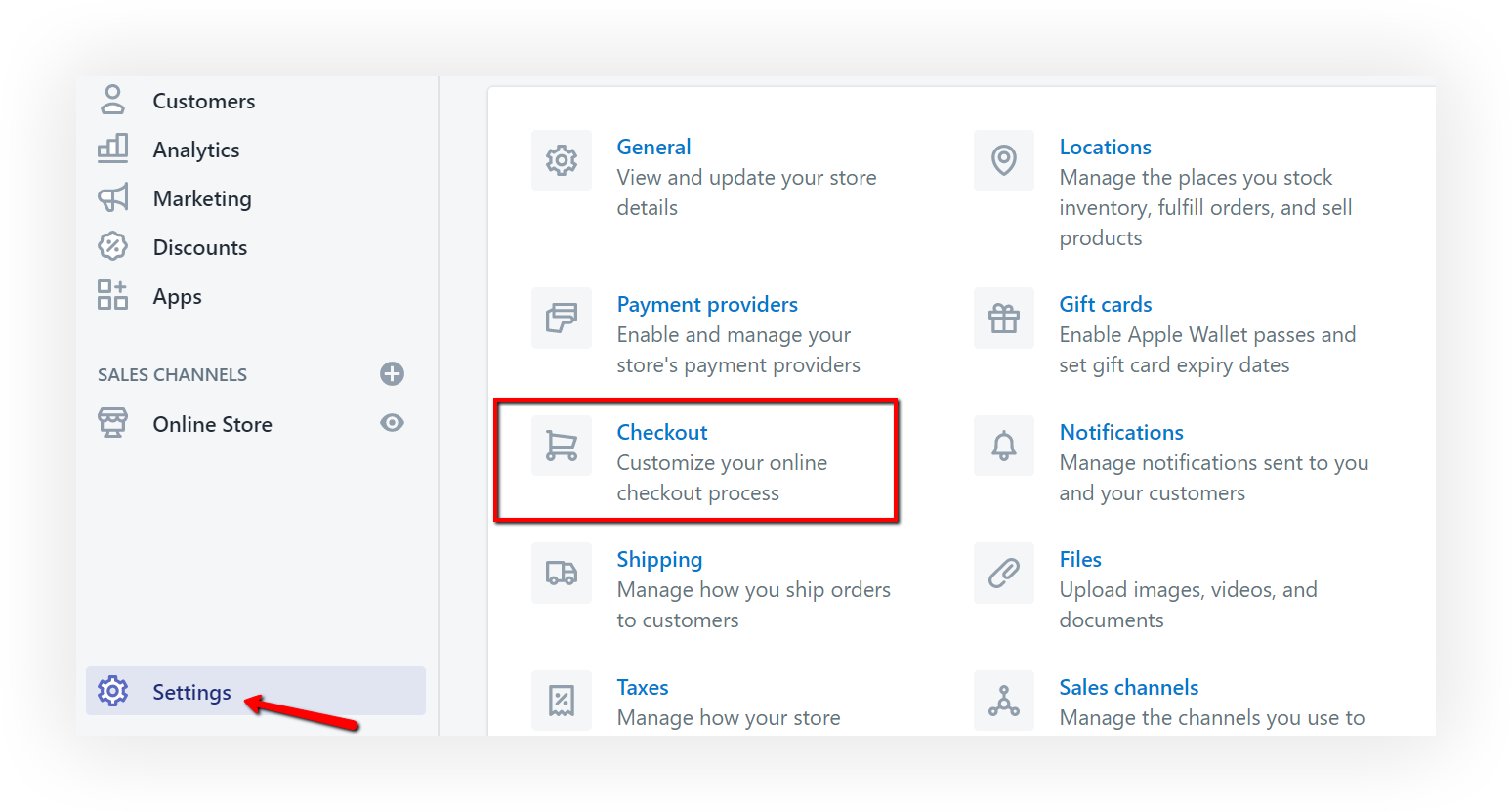 While you are there navigate to Shipping address phone number and make it optional.

Next, you need to tailor the checkbox labels.
To do so, scroll down to Checkout language and click on Manage checkout language.

Search for Checkout Marketing. The field there is called Accept marketing checkbox label.
Add the following text in the field:
"Sign up for exclusive offers and news via text messages & email."

Under Phone Label and Optional Phone Label add:
"Phone number for updates and exclusive offers"

Then search for Checkout shop policies and under Privacy Policy paste the following text:
We value your privacy and the information you consent to share in relation to our SMS marketing service. We use this information to send you text notifications (for your order, including abandoned checkout reminders), text marketing offers, and transactional texts, including requests for reviews from us.
Our website uses cookies to keep track of items you put into your shopping cart, including when you have abandoned your checkout. This information is used to determine when to send cart reminder messages via SMS.
Congrats - you are done with the first step! Now every time a customer makes a purchase on your website with Intercart, you will be able to collect their phone number,too.
Next, you will need to activate the automations you would like to use.
Activate automations
The two most important automations to use with Intercart are the abandoned cart reminder and order confirmation.
Configure your abandoned cart automation
There are two pre-set abandoned cart automations that you can activate right away. The first will send a reminder to your customers after 1 hour of leaving their cart behind and the other one – after 1 day.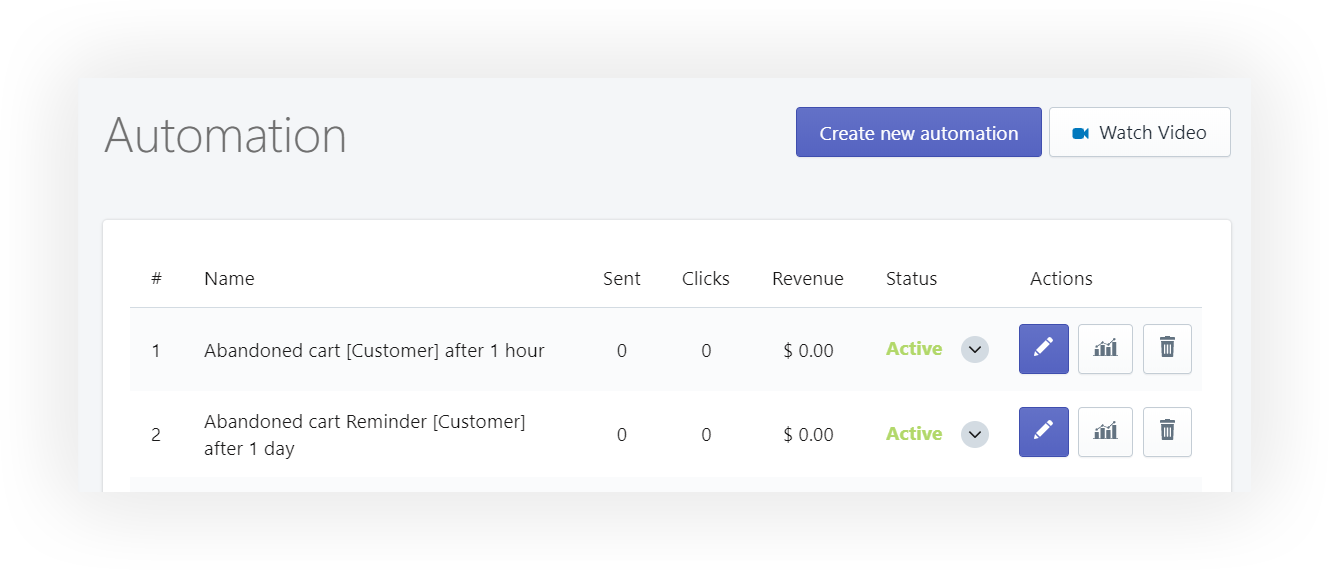 You can also edit them and tailor the copy to your own brand language.
You can create a custom abandoned cart automation from the Create new automation button, too.
For more information on how to set it up, check out this video:
When you activate an abandoned cart automation, an SMS reminder will be sent every time a customer leaves a cart in the Intercart's checkout funnel.
Set an order confirmation
Once your customers make a purchase with the custom Intercart checkout, you can show them extra care by sending them an order confirmation SMS. You can do that by activating our Order Created automated message. Select the blue button next to it if you wish to Edit the automation.

Here is a preview of how the automated message looks like: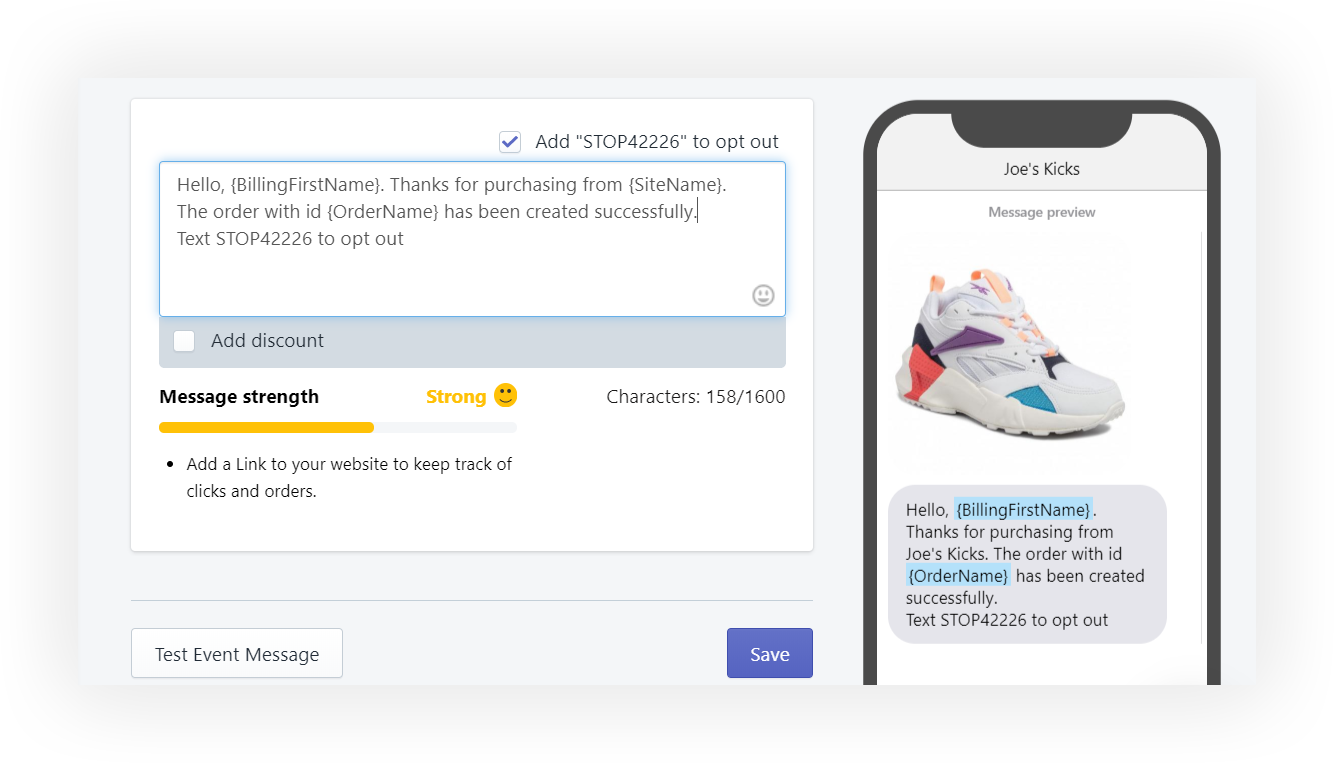 For even better results, we recommend you also use the Shipping confirmation, which would notify your customers the moment you ship the item and will send them a tracking number.
If you want to go the extra mile and make sure your customers are happy with their purchase, you can use the Order Delivered Feedback automation. Here is an example of what the message will look like.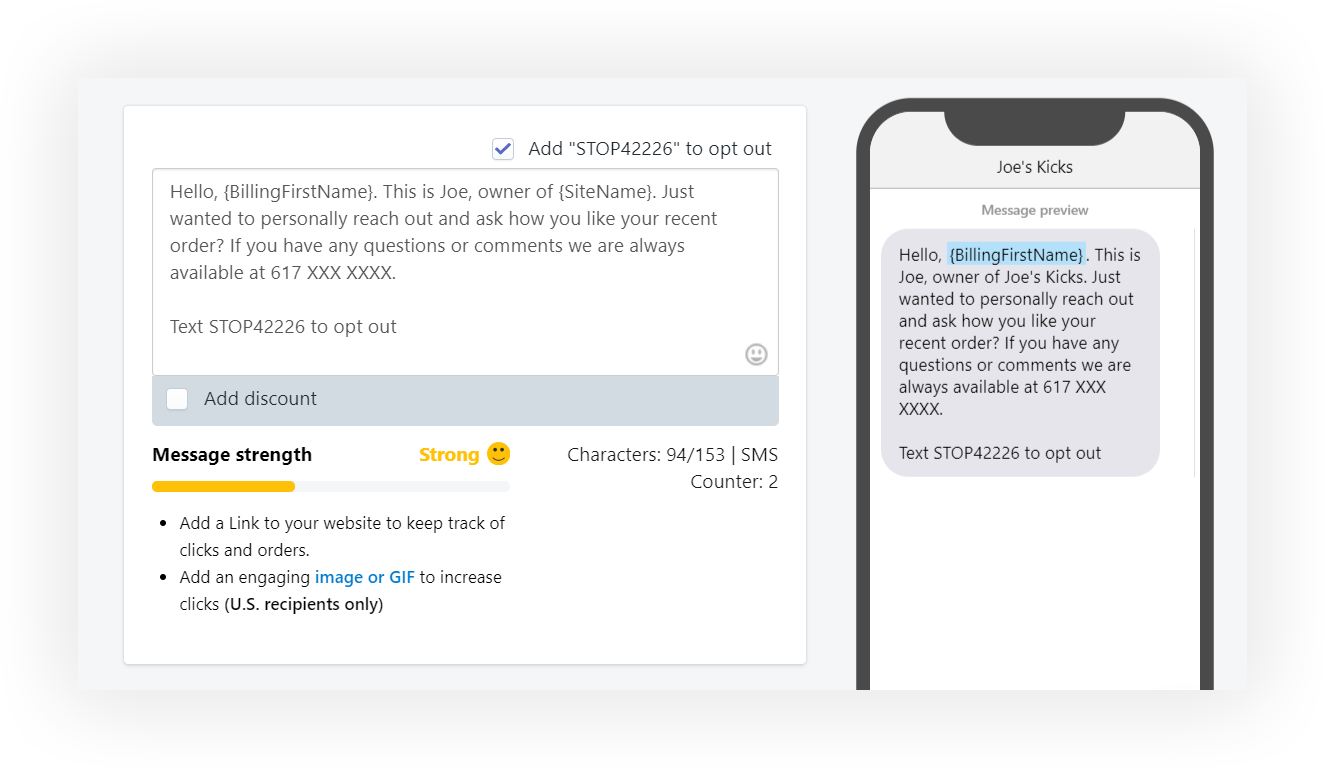 To sum it up:
- Grow sales by customizing your checkout funnels with Intercart;
- Make sure you collect your customers' phone numbers so you can retarget them later on;
- Activate your abandoned cart automations to recover more sales;
- Give your customers special care with personalized order confirmation messages.
Follow these simple steps and sales and ROI will grow like never before.
---
Was this article helpful?
---