Adding Discounts in SMS Marketing Campaigns and Flows
Adding Discounts in SMS Marketing Campaigns and Flows
---
Share feedback
Thanks for sharing your feedback!
Supported plans
Free, Growth, Prime, Powerhouse, Enterprise
eCommerce Platform
Shopify, Shopify Plus
In this article, you'll learn how to add discounts to drive sales and increase customer engagement.
Setting up a discount
You can easily add discounts in Yotpo SMS via the shortcodes at the bottom of every Text Message section. You will see them whenever you are setting up a campaign, flow, or automation. You can choose to add the following discount shortcodes:
Discount URL: When your message is sent, this shortcode is replaced with a discount code embedded in a link to your store site.
Discount code: When your message is sent, this shortcode is replaced with your unique discount code if one is set up.
Discount value: When your message is sent, this shortcode is replaced with the details of the discount you set up.

When you click on one of the shortcodes, the Discount Setup window will appear. You can choose between two main types of discount:
Each customer gets a different code (recommended)
This option assigns every customer a different discount code to increase personalization and avoid misuse. When offering a personal discount, you'd need to specify a fixed amount, percentage, or free shipping from the drop-down menu. Enter the discount value (in USD) you want to give your customers and click on Apply to add it to the message.
If you have a dedicated discount landing page, you can add its address to your discount URL.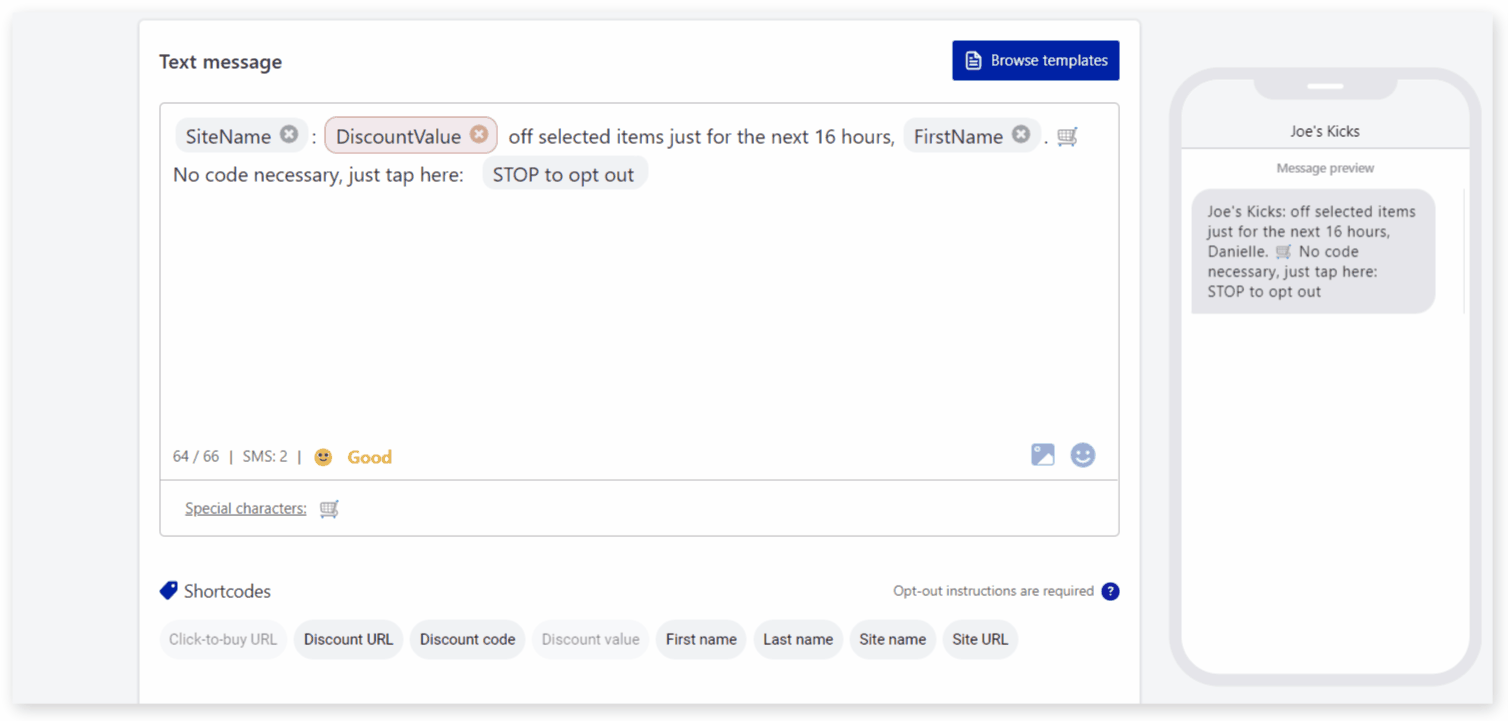 All customers get the same code
This option lets you select a standard discount from your Shopify site. Simply choose a discount code from the drop-down menu or search for a specific code by typing its full name.

Note:
The same code discount will only show if you have predefined discounts in your Shopify store. You can set that up from the Discounts section in the Shopify Admin. Simply click on Create discount and follow the steps. Make sure you select SMS & Email as the sales channel for the discount!

Important:

You can edit or remove your discount at any time.

Setting up a discount code prefix in Yotpo SMS
Yotpo SMS allows you to personalize your discount codes, so they match your brand's identity and truly stand out.
In your Yotpo SMS & Email main menu, go to Settings.
Click Preferences, enable the Discount code prefix, and choose a word that matches your brand.
---
Was this article helpful?
---
---
What's Next