Connect Yotpo SMS & Email and Judge.me to Power Product Reviews
Connect Yotpo SMS & Email and Judge.me to Power Product Reviews
---
Share feedback
Thanks for sharing your feedback!
Supported plans
Free, Growth, Prime, Powerhouse, Enterprise
eCommerce Platform
Shopify, Shopify Plus
Judge.me is a review app, which helps you collect and display ratings and reviews about your products and Shopify store. Such social proof increases your conversion rate, organic traffic, and buyer engagement by leveraging your user-generated content.
Connecting Judge.me and Yotpo SMS & Email is easy and will it make possible for your store to compliantly collect product reviews from mobile-savvy customers, who prefer to use their mobile for shopping and other everyday activities. Such as leaving awesome reviews. ;)
In this article, you'll learn how to activate the integration.
Please note:
This integration needs to be activated only from Judge.me's system.
Connecting Yotpo SMS & Email and Judge.me
First, you need to make sure you have both apps installed on your Shopify store.
Next up, go to your Judge.me account, where you will see the main menu with several options you can choose from. To get to the integrations page, click on Discover what else you can do.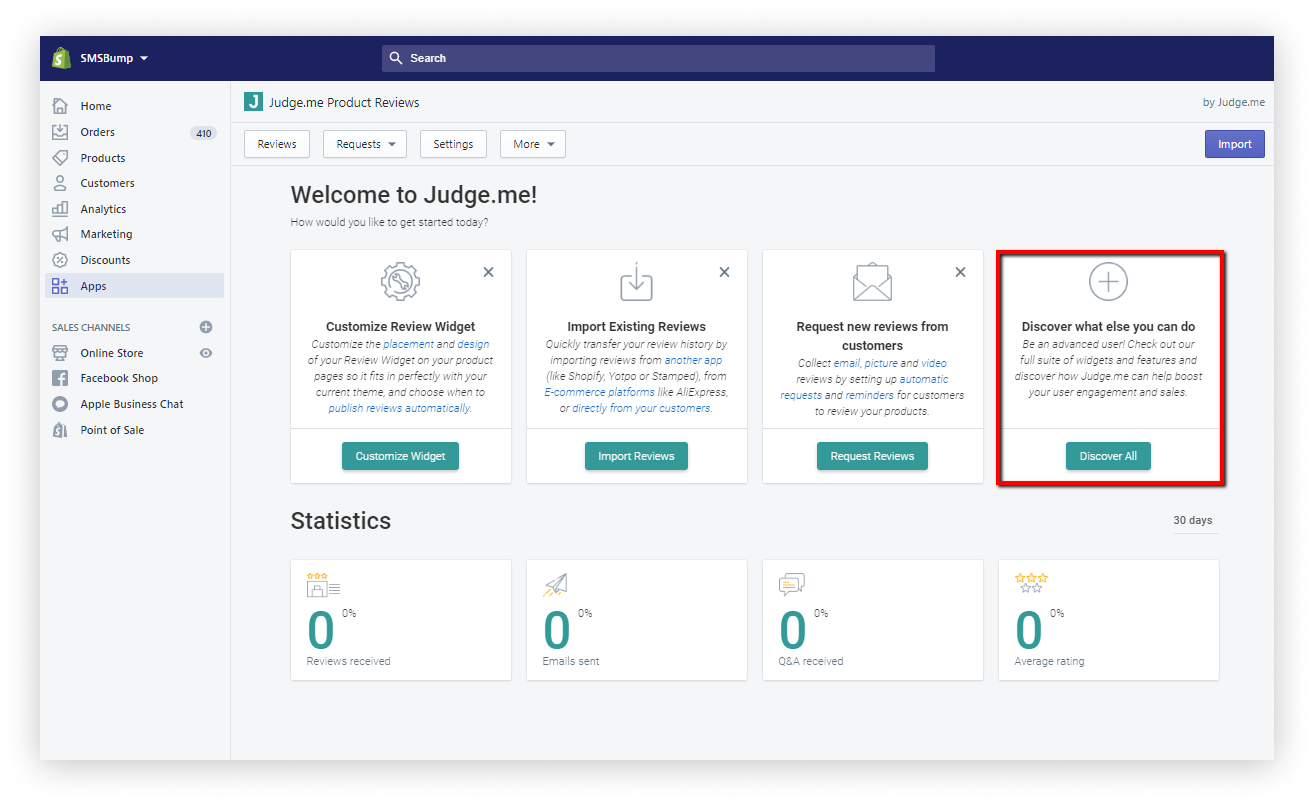 Scroll down to Integrate with other apps and click on the green button.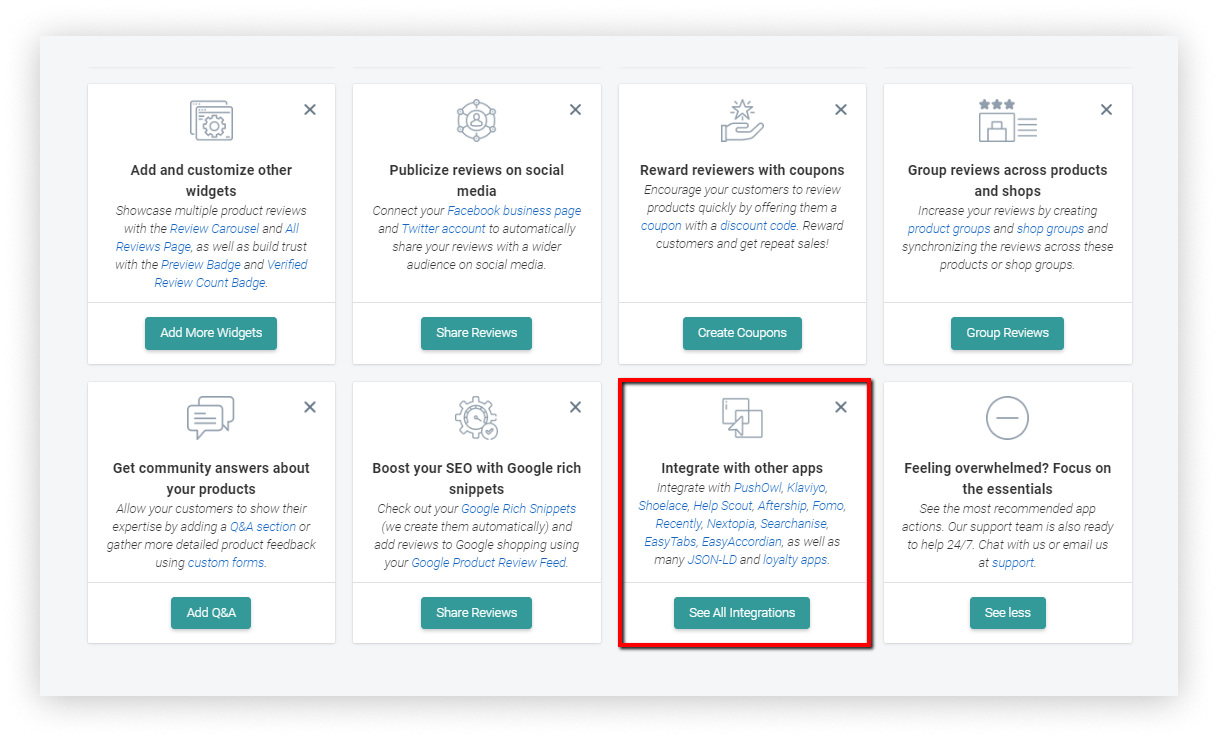 Alternatively, to get to the integration, you can also hit Settings from the homepage, and then click Integrations.

Now, to allocate Yotpo SMS & Email among all other available partners, click on Request integrations and you will be able to see SMS & Email as part of the SMS Request partner apps. Click on the logo to proceed with connecting the apps.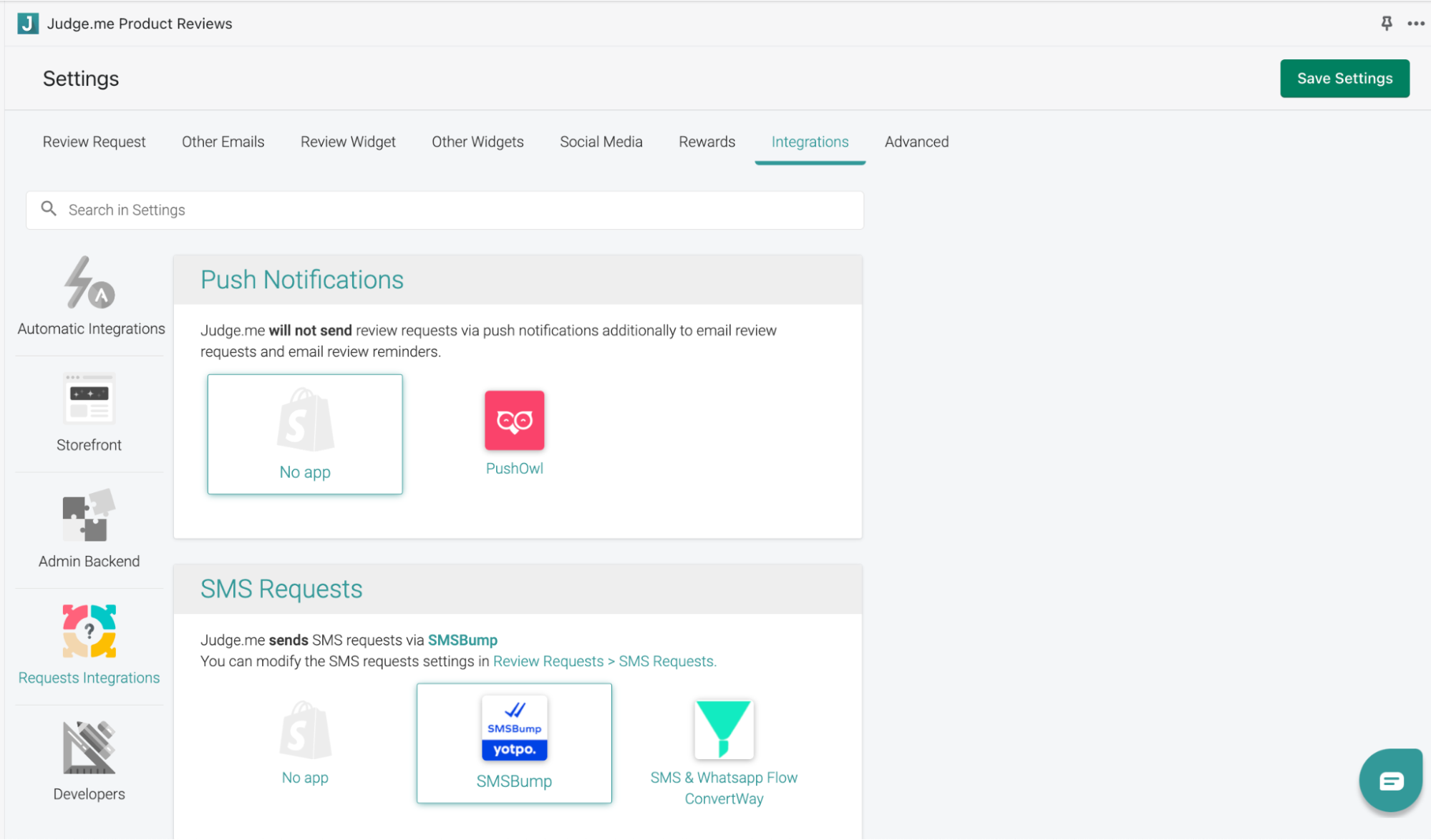 To complete the integration process, you will need to obtain the SMS & Email API key and paste it in the required field. To obtain your SMS & Email API key please contact Yotpo SMS & Email support or CSM. When you have it, paste it on the Judge.me account to activate the integration.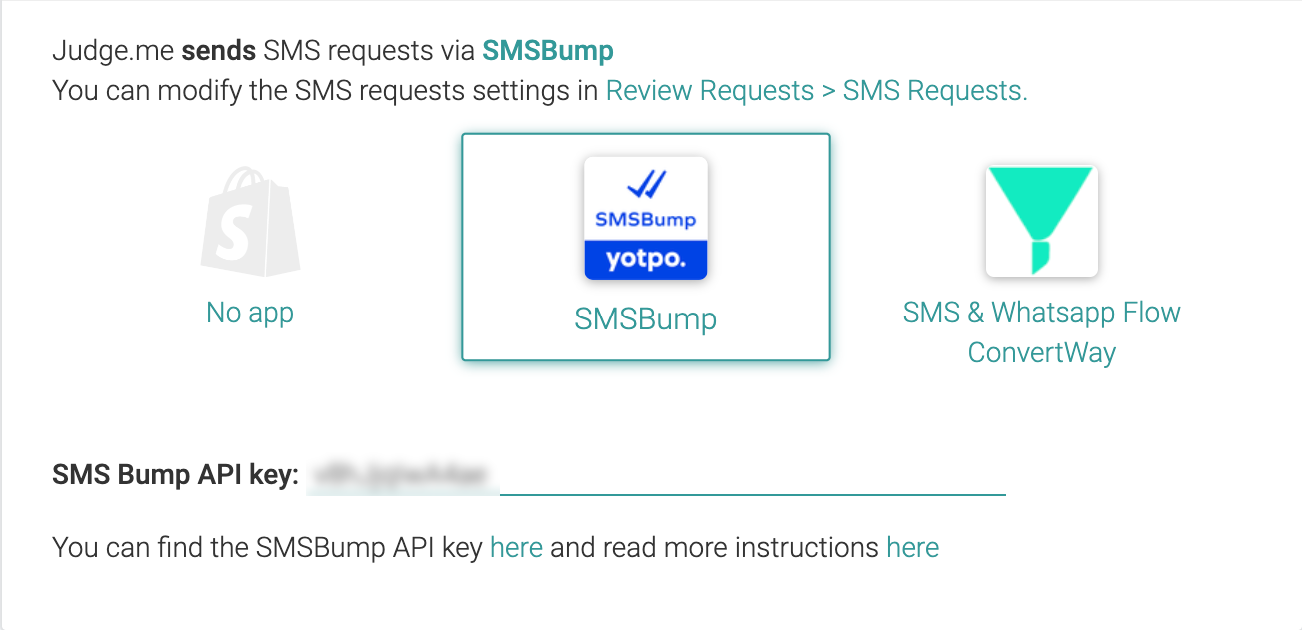 Hit Save settings and the two apps are already connected. Congrats!
Tailoring your Judge.me SMS review requests
Now, if you'd like to customize your SMS review requests further, click on the Review Requests > SMS Requests hyperlink, located above the SMS & Email icon in the previous screenshot.
From the SMS Review Request Template you will be able to customize the copy of your text message, as well as include the campaign sender for better recognition. Everything works just the way you'd set up a text marketing campaign in Yotpo SMS & Email. And the best part - you have available shortcodes to further personalize your message, which will pop up when you click the Message Template field.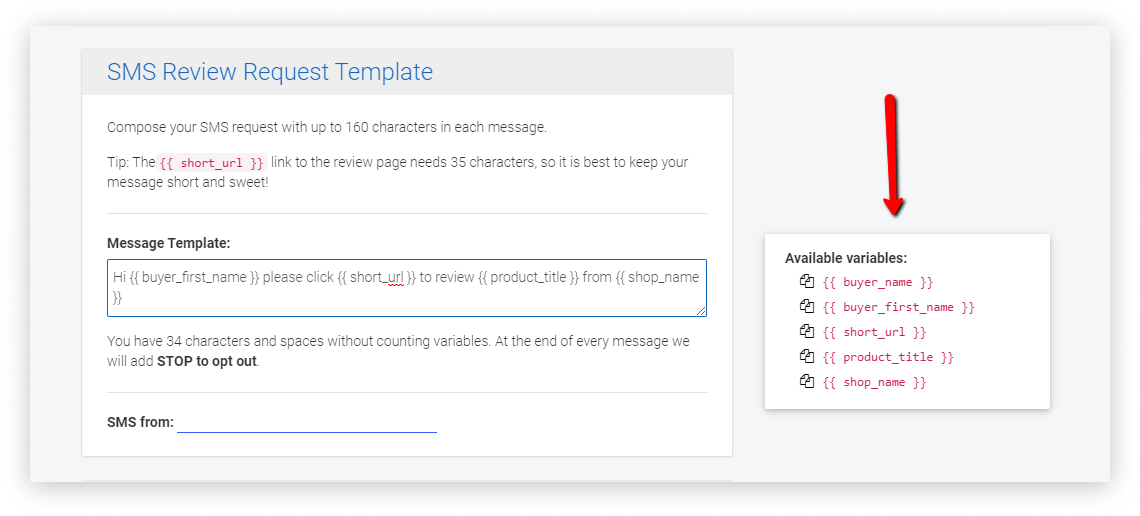 Other than the shortcodes, the integration makes sure you are compliant with TCPA and GDPR regulations, by automatically including the STOP to opt out verbiage in every text message.
In the next field, the SMS Review Request Settings, you can change other important characteristics of your SMS marketing, such as how many text messages should a customer receive per order, if you will be able to fire off requests internationally, whether you want Judge.me to turn special characters into regular ones, and if you'd like the app to limit your sending to just one 144-character message, no matter if the SMS you are sending has more characters than that.
We recommend that you:
Set the number of SMS requests to 1 per order so you don't overwhelm your customers
Don't limit your message to 144 characters when it's longer, as it will break your message and valuable information might be lost.
If you are running an international store, don't limit your review requests to just 1 country. Having reviews from multiple countries and in different languages will further boost international sales.
Enable the character translation feature, especially if you are texting in languages other than English
This is how your settings will look like if you decide to follow our recommendations: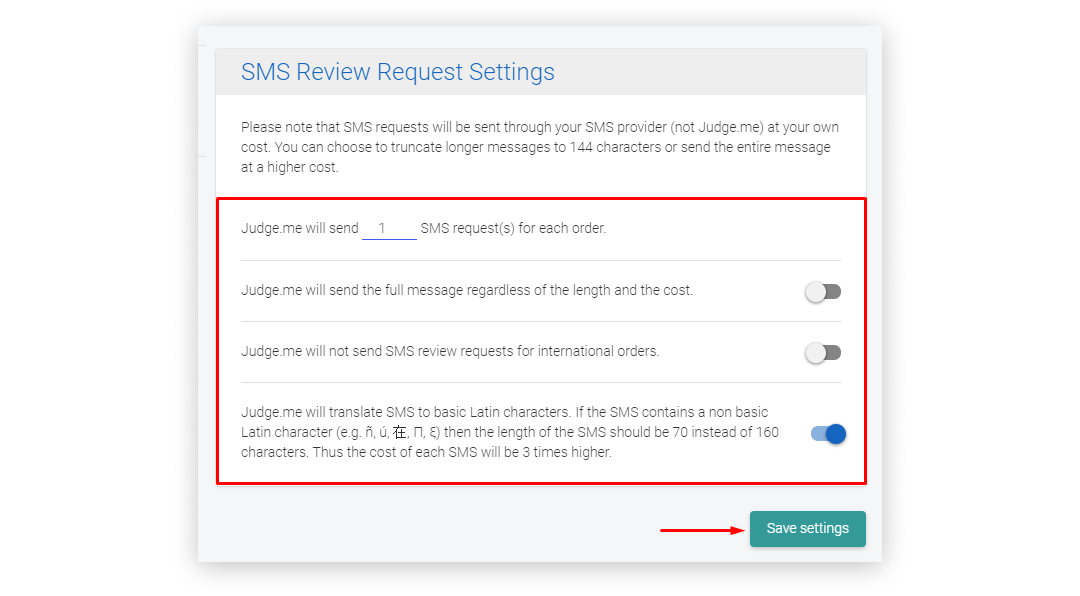 All set? Don't forget to hit Save Settings so all of your changes are updated.
SMS requests timing setup
The integration also allows you to configure the timing of your SMS review requests to ensure maximum response rate.
You can easily do this from under Timing and Format -> Request Timing.
From the fields in this box you can make amendments to the different timing scenarios, i.e. when do you want your review request to launch depending on if the order is international or domestic, do you want them to fire off based on the price or randomly, etc. For further clarification, simply hover over the exclamation icon on your right.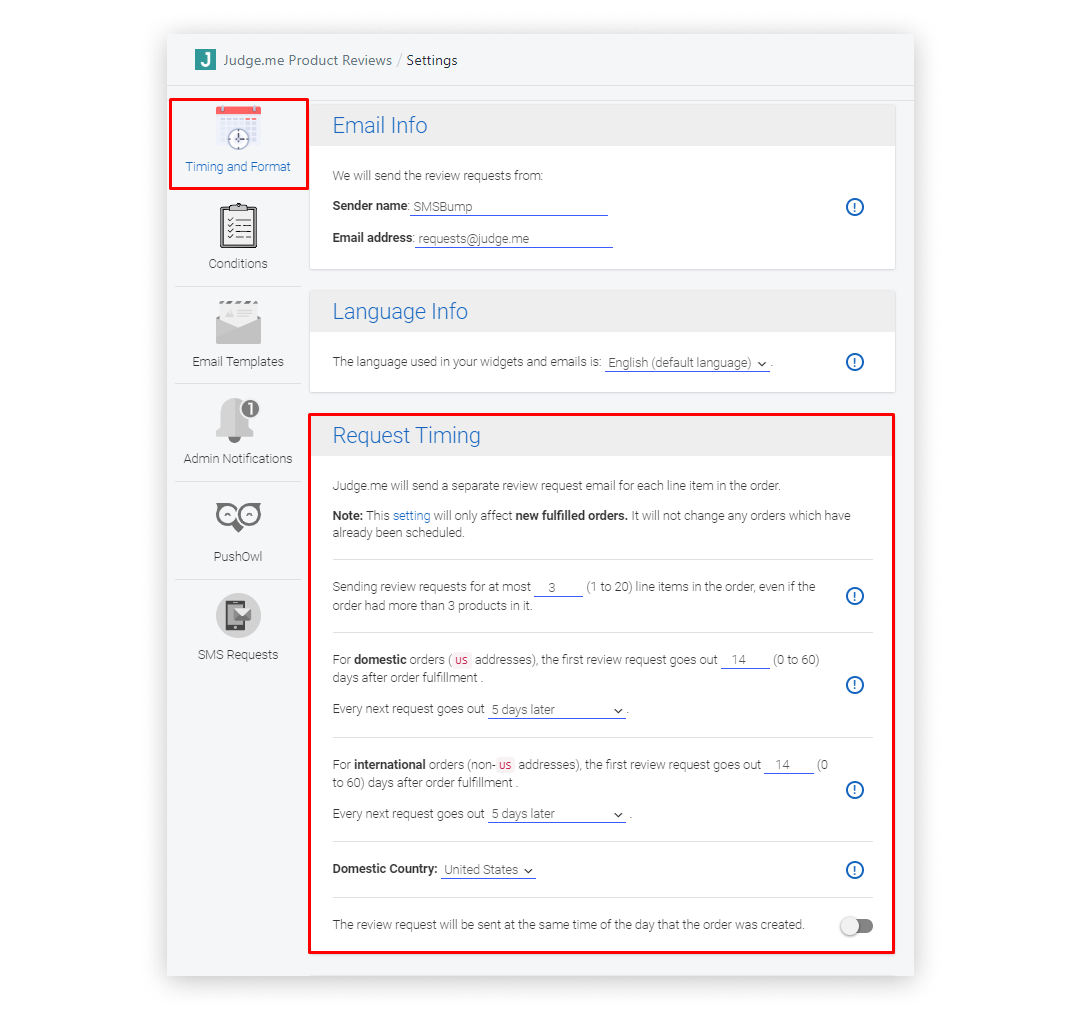 And finally, under Automatic Reminders you can configure if you want the app to send out reminders (and how many) to your customers, nudging them to leave a review.

Important:
Disregard that some of the boxes say email - this is Judge.me's default setup, but the settings you configure will work for your Yotpo SMS & Email requests, as long as you have the integration enabled.
Gathering reviews and boosting your brand's social proof is of high importance to any business. Having the ability to reach your customers in such a direct and personal way (and not to mention - easy), such as SMS, will improve the conversion of your review requests and will result in higher customer engagement.
---
Was this article helpful?
---