Share feedback
Thanks for sharing your feedback!
Supported plans
Free, Growth, Prime, Powerhouse, Enterprise
eCommerce Platform
Shopify, Shopify Plus
A well-planned and executed SMS campaign is an extremely powerful marketing tool. That's why we've made crafting a successful one intuitive and easy.
In this article, you'll learn how to build a campaign from start to finish.
Setting up the campaign
To set up the campaign:
In your Yotpo SMS & Email main menu, go to Campaigns > My Campaigns.
Click Create campaign. This is what the Campaign page looks like: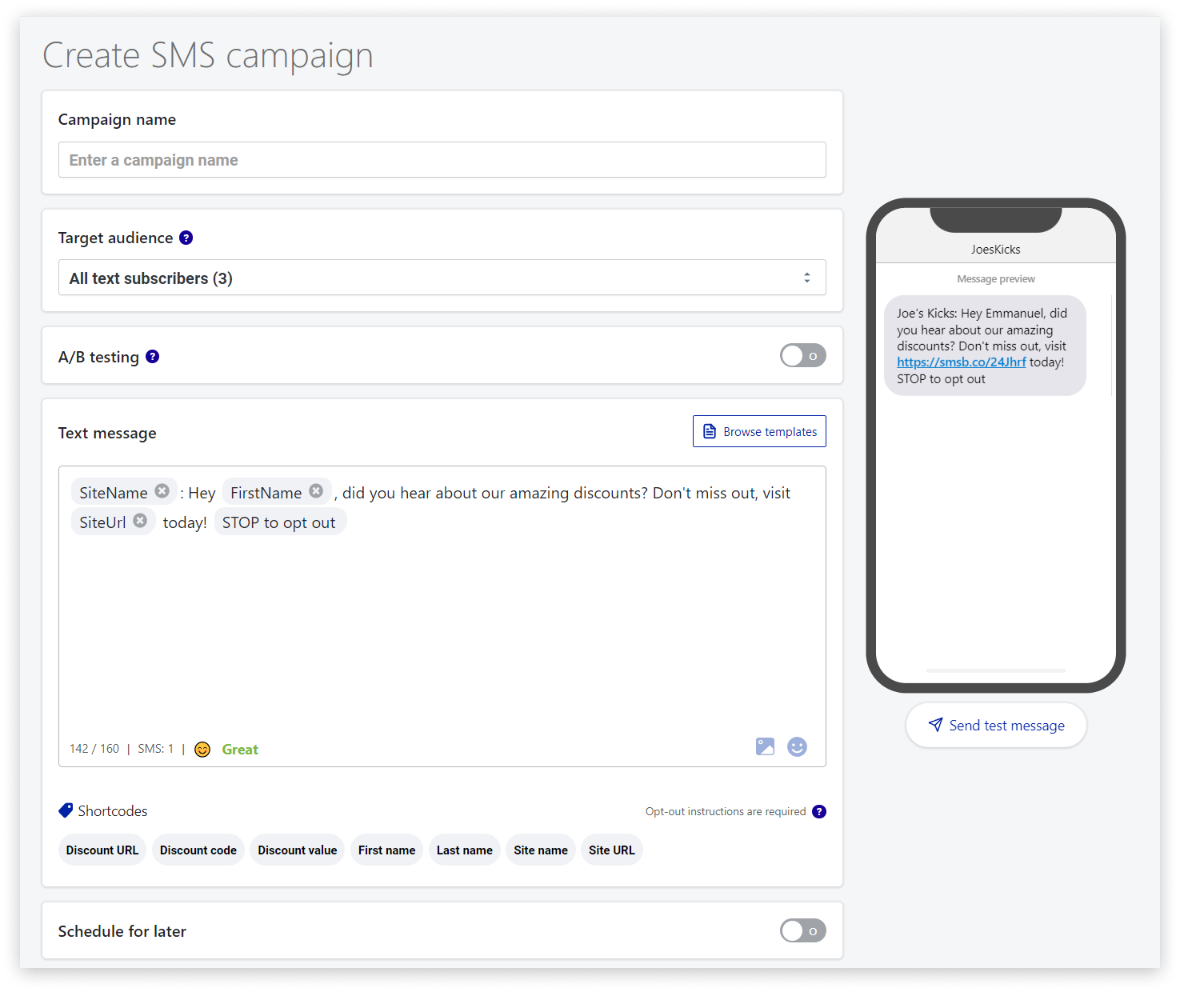 Step 1: Choose a campaign name
The first thing you need to do is give your campaign a name. It won't be visible to customers, so just put something short and simple that will help you distinguish this campaign from others in the future.
If this field is left empty, a name will be auto-assigned.

Step 2: Select your target audience
You can target up to 4 different groups of people:
All text subscribers: all your SMS subscribers
Specific customers: target certain customers by typing their names
Segments: use segments to target customers based on descriptive or behavioral filters such as: how much money they have spent in your store if they placed an order or not, the date their account was created, account status, etc.
Lists: choose from a static list of SMS subscribers, i.e., divided by subscription source.

Step 3: Set up A/B testing
The A/B testing feature lets you test different versions of your message and find out which performs best. To activate the feature, you simply need to enable it from the toggle switch, and some additional fields will appear.

First, choose the number of test groups you would like to run. Then - what percentage of your subscribers will be subject to your test for each group. In general, 10-20% is a good sample if you have a big subscriber list. Next, you can decide how long the test will run - it could be minutes, hours, or days. And finally, you can choose the winning metric - whether the most successful version of your text will be the one with the most link clicks, orders, or highest revenue.
Please note:
The A/B Testing feature is available only for Powerhouse users.
Step 4: Craft your message.
We will now walk you through the main ingredients of every successful text marketing campaign.
Copy
This is where you can unleash your creativity by writing a fun and engaging text message. A pre-set copy will appear in the Text message box, but you can always change it, so it matches your brand's voice. Click the Browse templates button in the top right corner to go through a gallery of ready-to-use top-performing message examples.

Important:
Mobile carriers require opt-out language in text marketing messages to prevent spam complaints. To make sure you stay compliant at all times, the STOP to opt out verbiage will be included in all your SMS campaigns.
Make your message visual
To make your text messages even more engaging, click on the image box in the bottom right corner of the text editor. This is how you can add an image to your SMS, turning it into a multimedia message (MMS).

Currently, you can attach images and GIFs only for U.S. recipients. Recipients outside that zone will automatically receive a standard text message.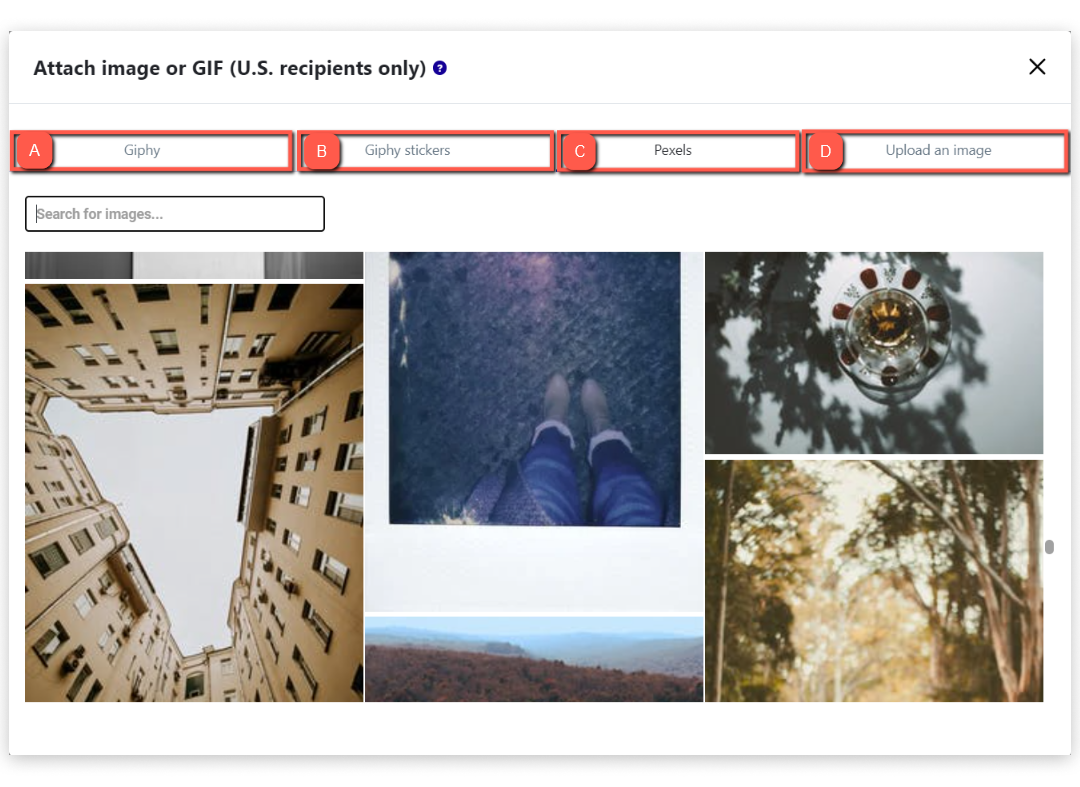 You can add a visual element by using:
А. GIF images from GIPHY
B. Animated stickers from GIPHY
C. Free high-resolution photos from Pexels
D. An uploaded image or GIF from your device
Important:
All files should be JPEG, PNG, or GIF, up to 1 MB in size and 1000 px in resolution.
Next to the image box, you'll see a smiley face button, which allows you to add an emoji to your message and even more flavor to your campaign. Just keep an eye on your character count!
Message length
You should always check the symbol counter at the bottom left of the text box. A Standard SMS contains up to 160 characters and an MMS - up to 1600 characters. If you exceed the limit, the SMS counter will show you how many text messages per subscriber you will send.
If you go over 160 characters, the count per message goes down to 153 due to the settings needed to combine those messages to one. Emojis count as special characters and decrease the character count to 70.
Important:
All special characters you add to the message will also appear at the bottom of the text box.

Shortcodes
Shortcodes fetch dynamic customer information directly from Shopify. Use them to make your text messages much more personalized and engaging. The most commonly used shortcodes are SiteName, FirstNamе, DiscountCode, and DiscountCodeURL. You can see all available options under the text box. Choose which shortcodes to add to your message by simply clicking on each one.

Discount
Including a small incentive in your message will do wonders for your campaign. To set that up, just click on one of the Discount URL, Discount code, or Discount value shortcodes.
Once you are in the Discount Setup, you can choose between two options:
We recommend sending each customer a unique code to increase personalization and avoid misuse.
When offering a personal discount, you'd need to specify a fixed amount, percentage, or free shipping from the drop-down menu. Enter the discount value (in USD) you want to give your customers and click on Apply to add it to the message.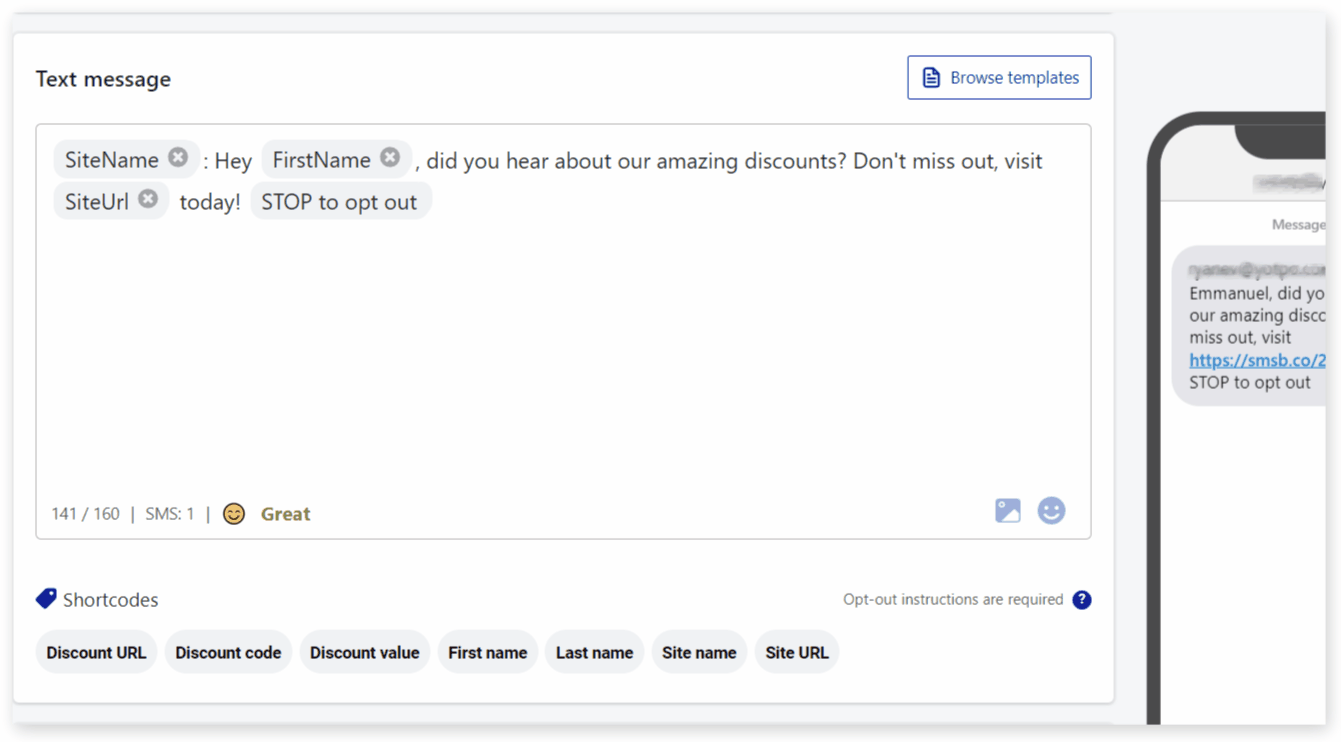 Virtual Contact Card (VCC)
Attach your virtual contact card to the campaign. This allows customers to save your contact details on their phone, helping them recognize future text messages from your brand. To attach a virtual contact card, just select the relevant checkbox. If you haven't set up your virtual contact card yet, see this article.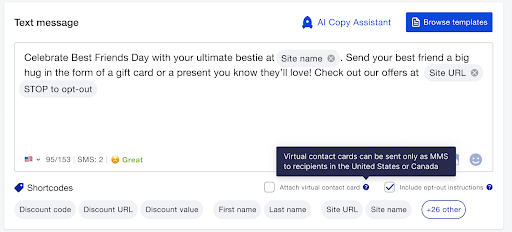 Please note:
Virtual Contact Cards are sent as an MMS and are currently available only to your customers in the US and Canada.
Message strength
Still not sure if your message is good to go?
The Strength meter at the bottom of the editor gives you helpful tips on how you can make your message even more powerful.

Step 5: Preview and test your message
The message preview on the right allows you to see how your text message will appear on recipients` phones. You can also send yourself a test message by clicking on Send test message and make sure that everything works the way it is supposed to - remember always to double-check your links and shortcodes!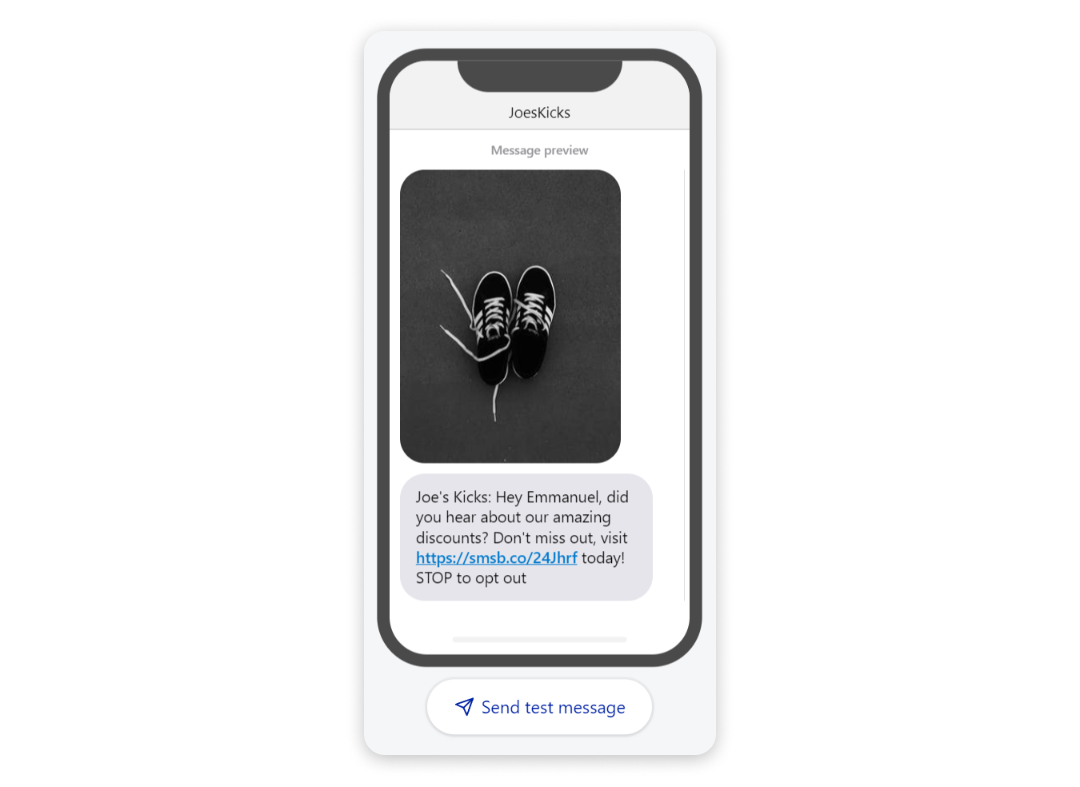 Your number will appear in the dropdown menu. You can also add more test numbers to send to if you wish.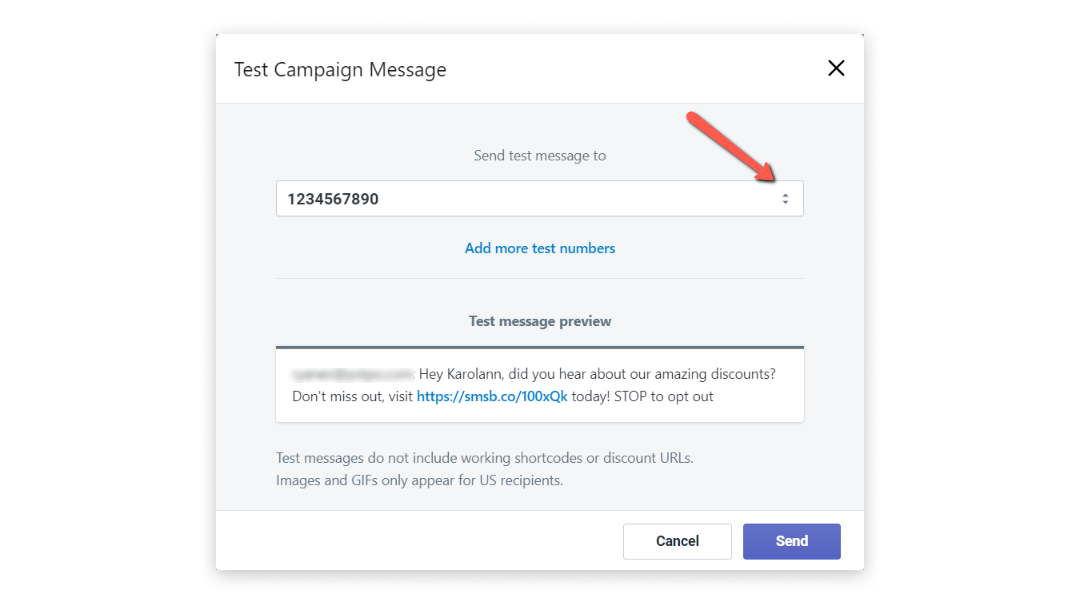 Press Send to test your campaign.
Important:
Test messages do not include working shortcodes or discount URLs.
Images and GIFs only appear for US recipients.
Step 6: Scheduling
You can select between sending a campaign right away or scheduling it for a certain time by clicking the toggle switch.

When choosing the desired hour, you'll see a star icon next to some of the choices. These are the best times to send your campaign, based on industry benchmarks and your store's historical data.
Important:
In case your store doesn't have any historical data, the algorithm will suggest times based on global statistics and trends.

The scheduling is based on your timezone but can be changed from the Settings in the app.
If you are on a Growth plan or higher, you can send messages based on your customers' timezone.
Step 7: Smart sending
Smart Sending allows you to set a specified time frame that will prevent you from sending messages too soon, one after the other, and spamming each recipient.
You can access the Smart Sending setup in your Settings. By default, we have set a 16 hours recommended period between text messages, but you can change or disable it anytime for special occasions such as holiday campaigns.

Campaign Drafts
You don't want to rush your campaign. If you need to stop, take some time, do a bit of planning, you can always save your campaign as a draft by clicking on the Save draft button.

You can find all of your drafts in the My Campaigns page.
Step 8: Final check
Click on Review campaign to get a quick overview of the main settings of your SMS campaign before it gets sent.
Тhe green checkmarks let you know if all the requirements have been met and if your messages are ready to send.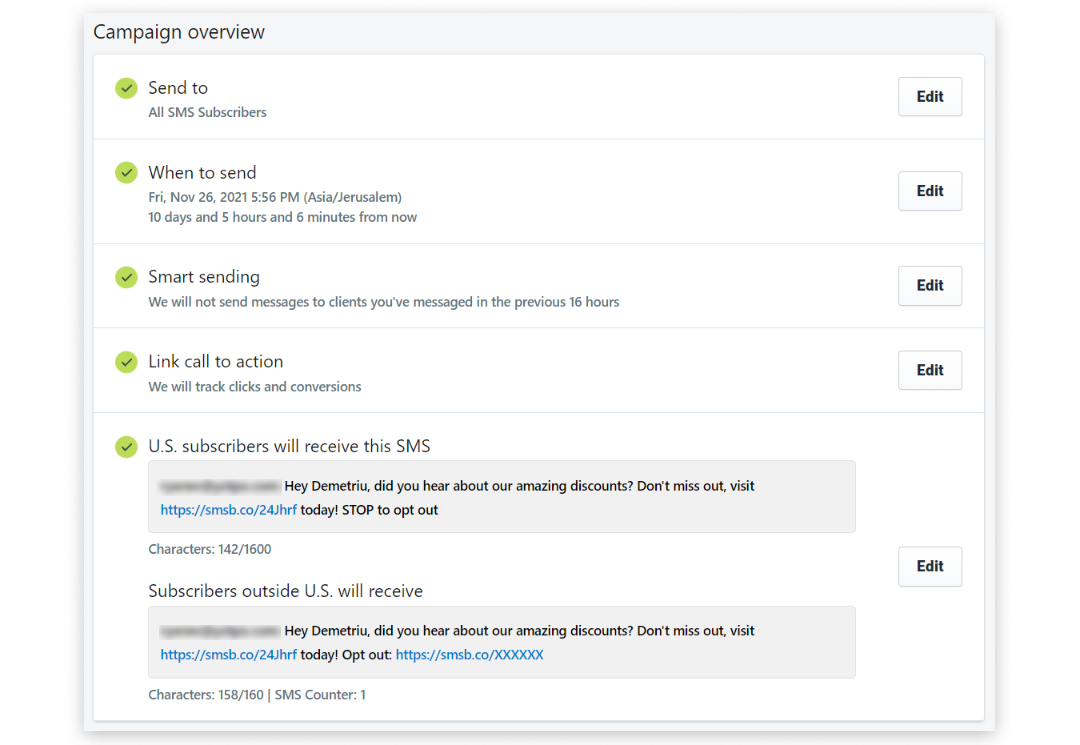 In the Campaign data section, you can see important information such as the number of SMS, MMS, and total recipients, messages per recipient, the total cost of the campaign, and more. To get the full list, you just have to click on the Expand option.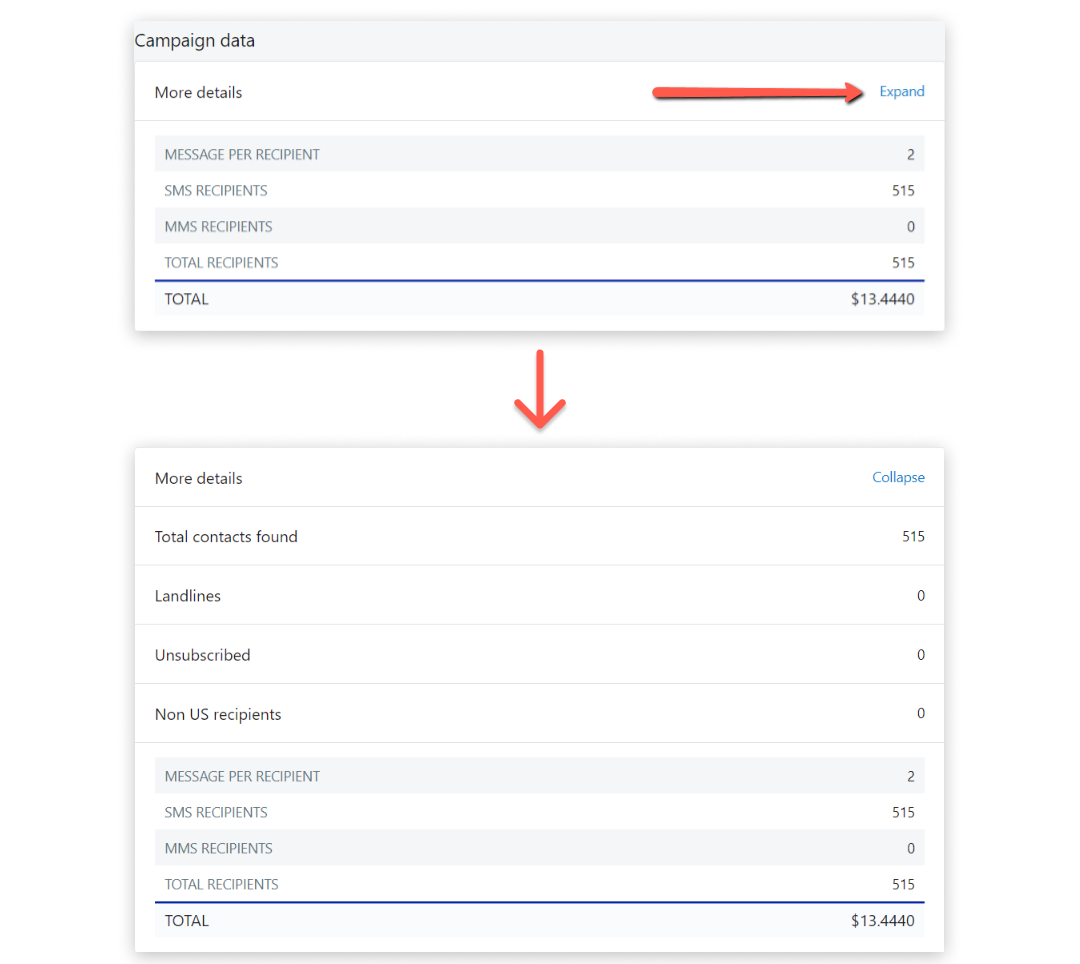 Important:
If the estimated cost of your campaign exceeds your current funds and you have enabled
Аuto reload
, a message will appear
below the total cost of the campaign
. It informs you that your credit/debit card will be charged for the additional amount.

If you have disabled Auto reload, a pop-up will appear. You can top-up your funds and continue to send your campaign.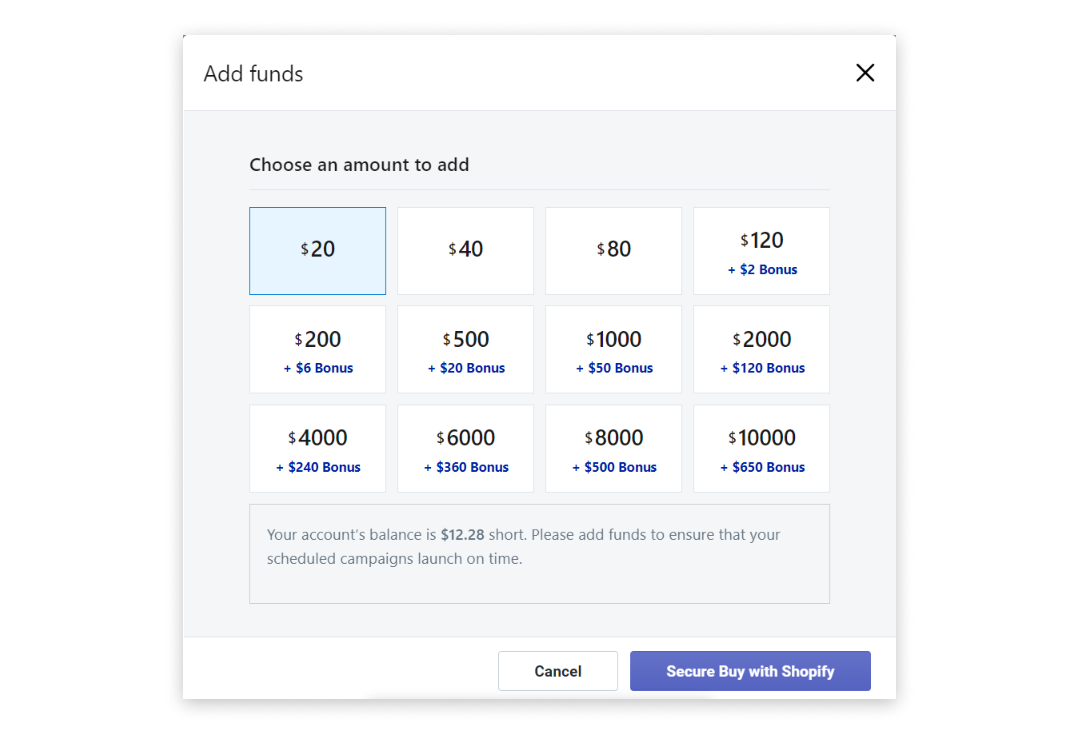 Click on Back if you want to make some more changes to your campaign or set it live by clicking Send Now!

Track your campaign's performance
The results from your campaign can be tracked in the Analytics section of the app. You can track metrics such as campaign revenue, campaign cost, conversion rate, and more.
To view your analytics, go to Analytics > Campaign Analytics in the main menu.
---
Was this article helpful?
---
---
What's Next