Yotpo Email Quick Start Guide
Yotpo Email Quick Start Guide
---
Share feedback
Thanks for sharing your feedback!
Supported plans
Free, Growth, Prime, Powerhouse, Enterprise
eCommerce Platform
Shopify, Shopify Plus
Follow the steps in this guide to get up and running with email marketing in no time. This guide includes the required steps for creating your first campaign. For each step in the process, we've included links to more detailed instructions, and to related features.
You can also watch a video tutorial.
1. Enter or update store details (optional)
Your store's default sender name (as it will appear in your campaign emails) and address will be obtained from your Shopify account. The address is required for email compliance purposes. You can also update the settings per campaign, overriding the default settings. To update your store's default settings:
In your Yotpo SMS & Email main menu, go to Settings > Email Settings.
Update your store name and address.
2. Add and verify your email address
To run email campaigns and flows, you must have at least one verified email address. The email will be used as your sender address (sent from), and as your reply-to email address (optional). If you verify more than one address, you can use different addresses for sender and reply to fields, as well as use different addresses for different campaigns.
To add and verify emails:
If you have not yet added an email, you can do so when you create your first campaign. You will be prompted to add an email when selecting the sender's email in the campaign's settings.
You can also add your first email, or add additional emails in your Email Settings. Go to Settings > Email Settings. Enter the email and click Add email.
Follow the on-screen instructions to complete the verification process.
Learn more about why and how to add and verify email addresses.
3. Authenticate your sending domain
We recommend authenticating your domain. This will ensure higher deliverability rates, and will not display a Yotpo domain in the From address. Learn how to authenticate your sending domain
4. Import existing email subscribers
Important:
Send campaigns only to subscribers that consented to receive email marketing content, to avoid compliance issues and to preserve your customer relationship reputation.
Shopify subscribers are automatically synced to your Yotpo SMS & Email account. You can import additional subscribers to use in your campaigns, for example, from third-party vendors, like email service providers (ESPs).To import emails, you must create a CSV file that contains the subscribers' details. Make sure to format the CSV file using this template.
Once the CSV file is ready:
In your Yotpo SMS & Email main menu, go to Audience > List & Segments.
Click Create list or segment.
Under Type, select List. Give your list a name.
In your new list, click the 3-dot menu, and then Import.
Follow the on-screen instructions to complete the import process.
Click here to learn more about importing subscribers.
5. Create segments
Create segments to use in your campaigns. Use segments to target customers based on previous actions, such as top spenders or purchases in the last month. With segments, you can create tailored campaigns and improve open and click-through rates, and drive more sales.
To create a segment:
Go to List & Segments.
Click Create New.
Under Type, select Segment. Enter a name for your segment.
Click Create.
From the list of available filters, select a filter, for example, Customer behavior > Placed an order.
You can now use your segment as one of your campaign's audiences.
Learn more about creating different types of segments.
6. Create a campaign
Now that your account, store, and audiences are set up, you can start creating and sending campaigns to customers.Use the following procedure to create a basic campaign. Follow the Learn more links to view detailed instructions, and to learn about additional features at each stage in the process.
In your Yotpo SMS & Email main menu, go to Campaigns > My Campaigns.
Click Create Campaign. Learn more about campaign settings

Include an audience. You can use a

predefined list or segment, a list of subscribers that you imported, or a segment that you created to target a specific audience. Learn more about audiences
Enter your store's sender's name, as it will appear in the from field.
For Sender Email, select one of the emails you previously added and verified. Learn more about adding and verifying emails
Enter the email subject and preview text. We recommend you clude emojis and add personalization tags to personalize content. Learn more about personalization tags
Click Edit Content to open the email editor.Learn more about working with the editor
Click Templates > Switch template, and choose one of the themed templates. You can customize a themed template, save it as a new template, and make it the default for new campaigns. Learn more about working with templates
Click anywhere in the email (or email template) to edit content. You can reuse and personalize content with personalization tags, and/or add products from your store.Learn more about designing your email
When done, click Save & close editor.
Congrats - you've created your first campaign!
7. Test your campaign
We recommend testing your campaign before sending to customers. Click Send test, and add the emails of the recipients that will receive the test email. Make sure the email looks good, and if needed, go back and edit the email.

8. Send your campaign now or schedule for later
Ready to launch your campaign? In the campaign settings, click Send now. To schedule your campaign for later:
Under Schedule, select a time and date to launch the campaign. For example, send a teaser email before a sale, or a reminder that a sale is about to end.
Good to know
Trigger emails automatically with Flows
Trigger emails after a specific action, for example, if a customer makes a purchase or abandons a cart. This helps maximize sales and increase the repeat purchase rate by making sure you reach your customers at the ultimate point in the buying journey. You can choose a predefined flow, or if you prefer to use your own rules, you can create a flow from scratch. Here are some ideas for flows that you can use out of the box or customize:
Welcome flow
Customer Win Back
Post Purchase Upsell: New vs. Existing
Post Purchase Cross-Sell
Learn more about creating flows
When you create your flow, select Email message as the action.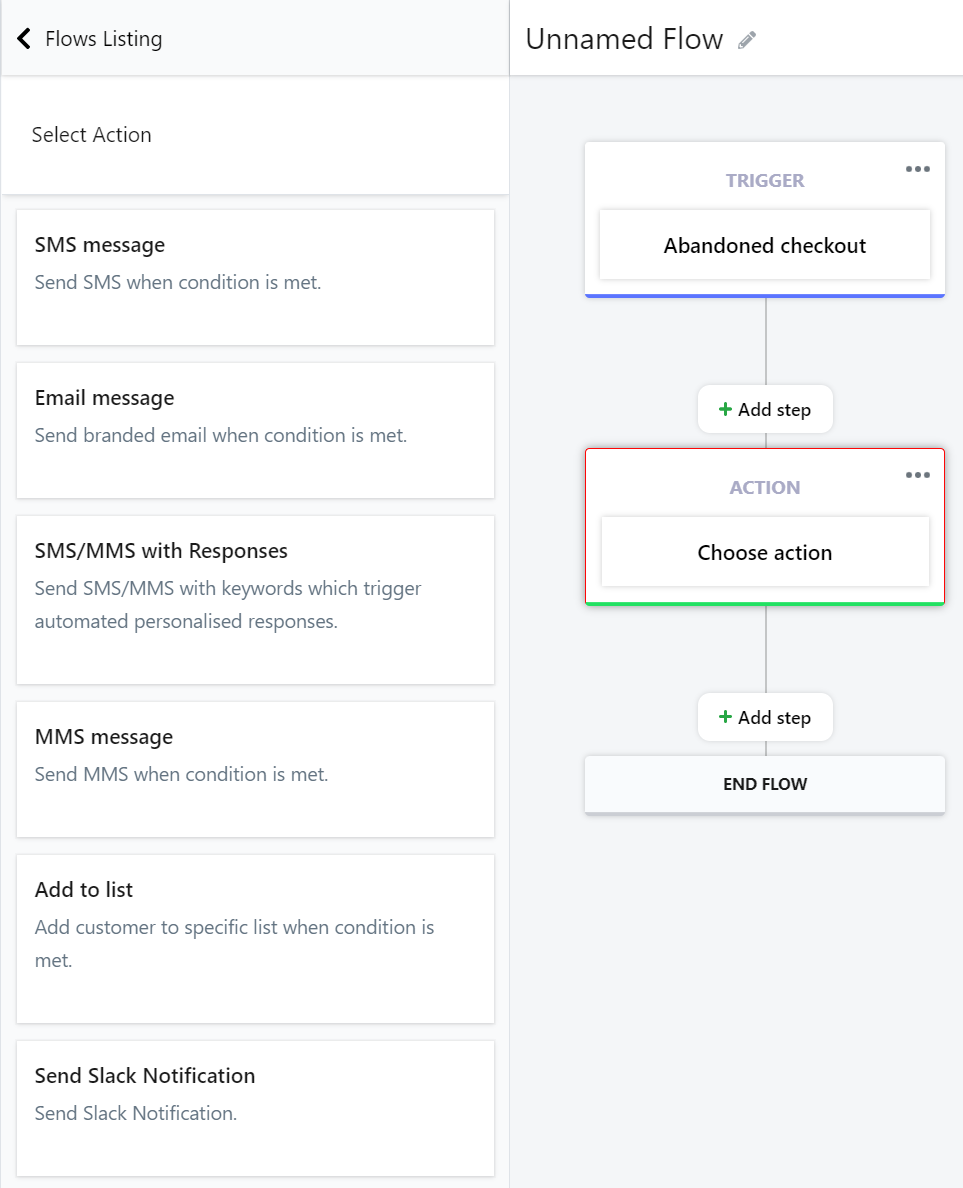 Tip:
Combine emails and SMS in your flows to reach more subscribers and generate more conversions.
Create a marketing calendar for campaigns
Create a marketing schedule, so you don't miss out on opportunities. Here are some ideas for one-off campaigns:
Monthly promotion
Weekly promotion
New products
Market events
---
Was this article helpful?
---
---
What's Next