Grow Your Yotpo SMS & Email Text Message Subscribers with CartHook
Grow Your Yotpo SMS & Email Text Message Subscribers with CartHook
---
Share feedback
Thanks for sharing your feedback!
Supported plans
Free, Growth, Prime, Powerhouse, Enterprise
eCommerce Platform
Shopify, Shopify Plus
Yotpo SMS & Email is thrilled to announce our new partnership with CartHook - a native Shopify custom checkout & funnel builder. Installing this integration will allow Shopify store owners to increase subscriptions and boost sales by providing customers an easy and intuitive checkout process and a simple opt-in method. It only takes a few minutes! Let's walk you through the process.
Step 1. In your Yotpo SMS & Email main menu, go to Integrations. Here you'll see all the apps that Yotpo SMS & Email partners with. Select CartHook.
Step 2. You will see the Overview page which will give you some useful information about CartHook and all its cool features. Once you have familiarized yourself with them, go ahead and click Install to proceed with connecting the two apps.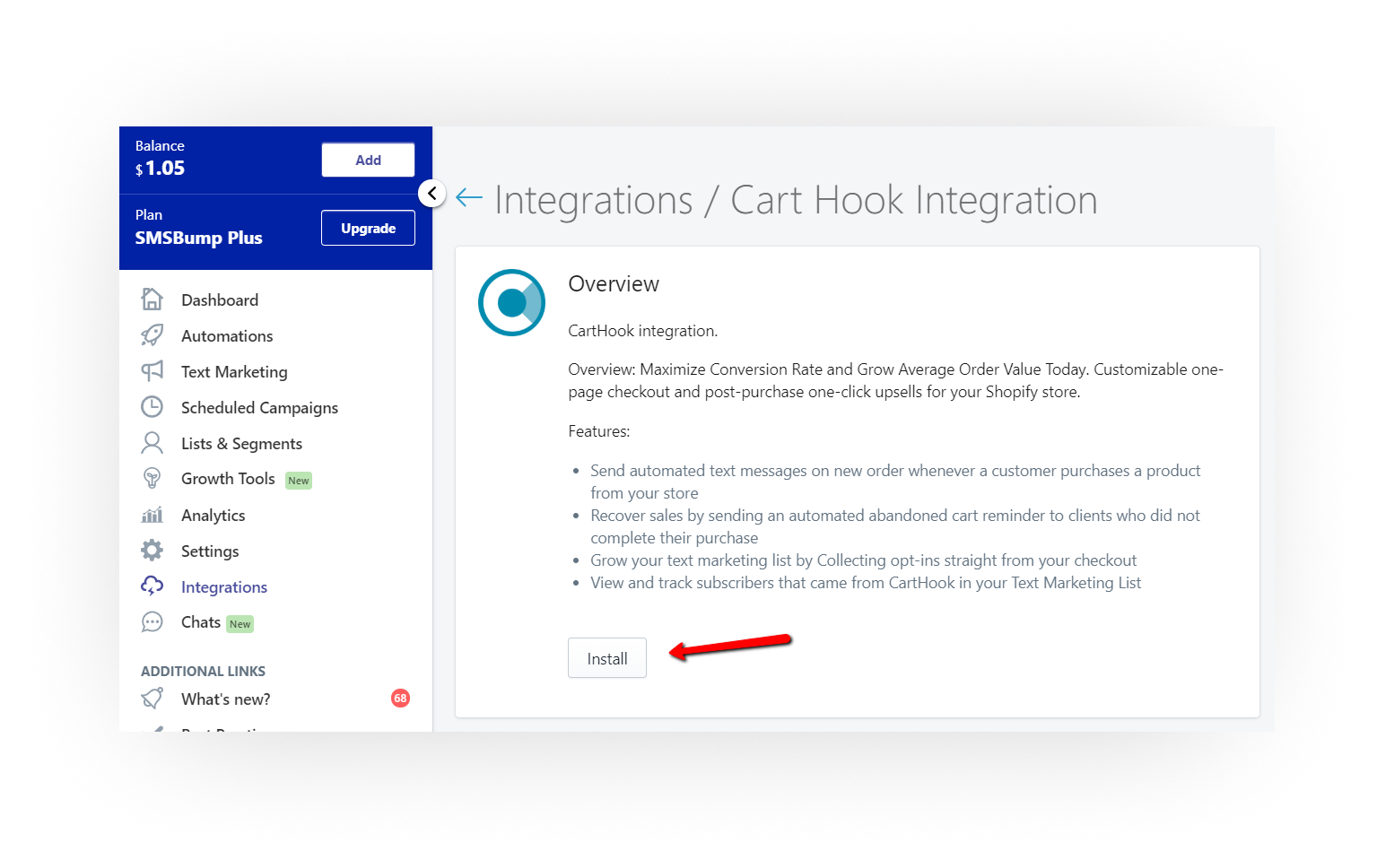 Step 3. You will be redirected to your CartHook Dashboard where you will be asked to accept SMS & Email's invitation to connect.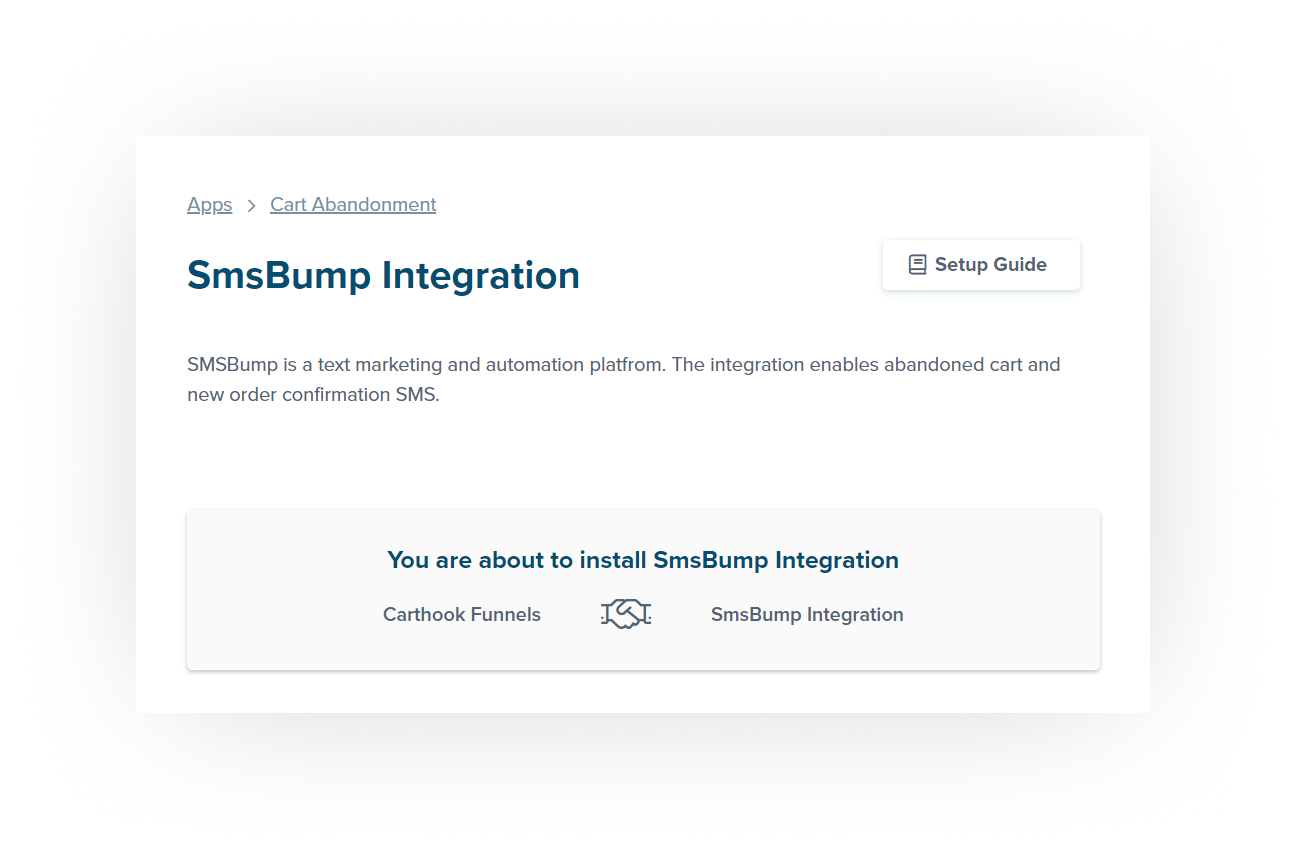 Step 4. Before you connect the two apps, scroll further and take a look at what data will SMS & Email have access to once integrated with CartHook. If you wish to proceed and activate the handshake between the two apps, simply click Install app.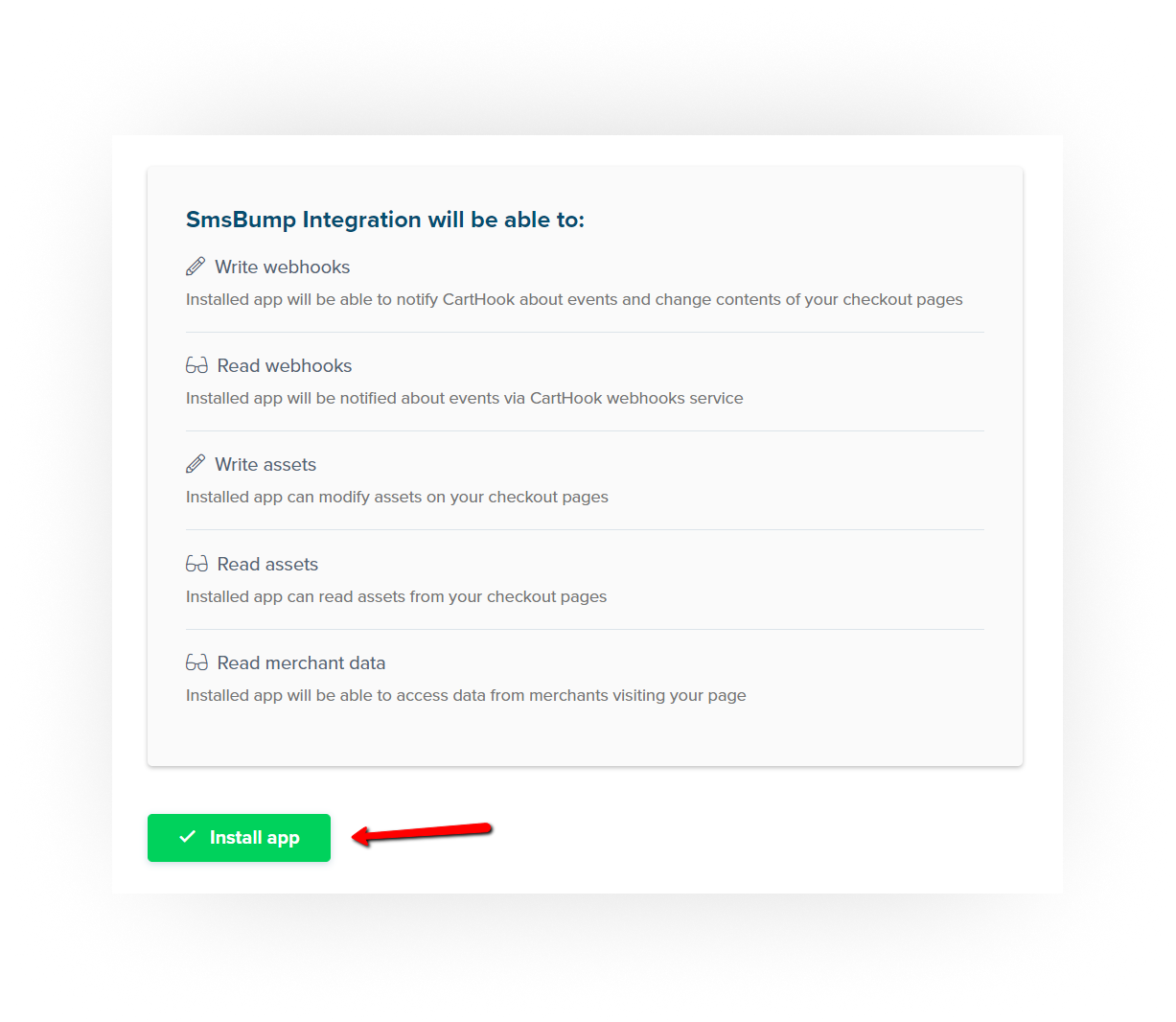 Important:
Yotpo SMS & Email will not request or have any access to your customer's credit card information.
Awesome! You've successfully connected SMS & Email and CartHook! Now let's see how to customize the checkout subscription text and create product funnels so you can enjoy a greater number of subscribers.
Tag Funnels
Step 5. Go back to your Yotpo SMS & Email app Integrations page and refresh it. You will see that you've successfully connected SMS & Email and CartHook. To configure the checkbox promo text and the privacy text, press on the CartHook field.
Step 6. A default checkbox promo text and privacy text is already available. We recommend to keep the text as is, but you have the option to amend it to your liking. Just keep in mind that the checkbox promo text should be appealing enough for your customers to decide to subscribe for your text marketing, while your privacy policy text should be clear and informative so they know exactly what they are agreeing to.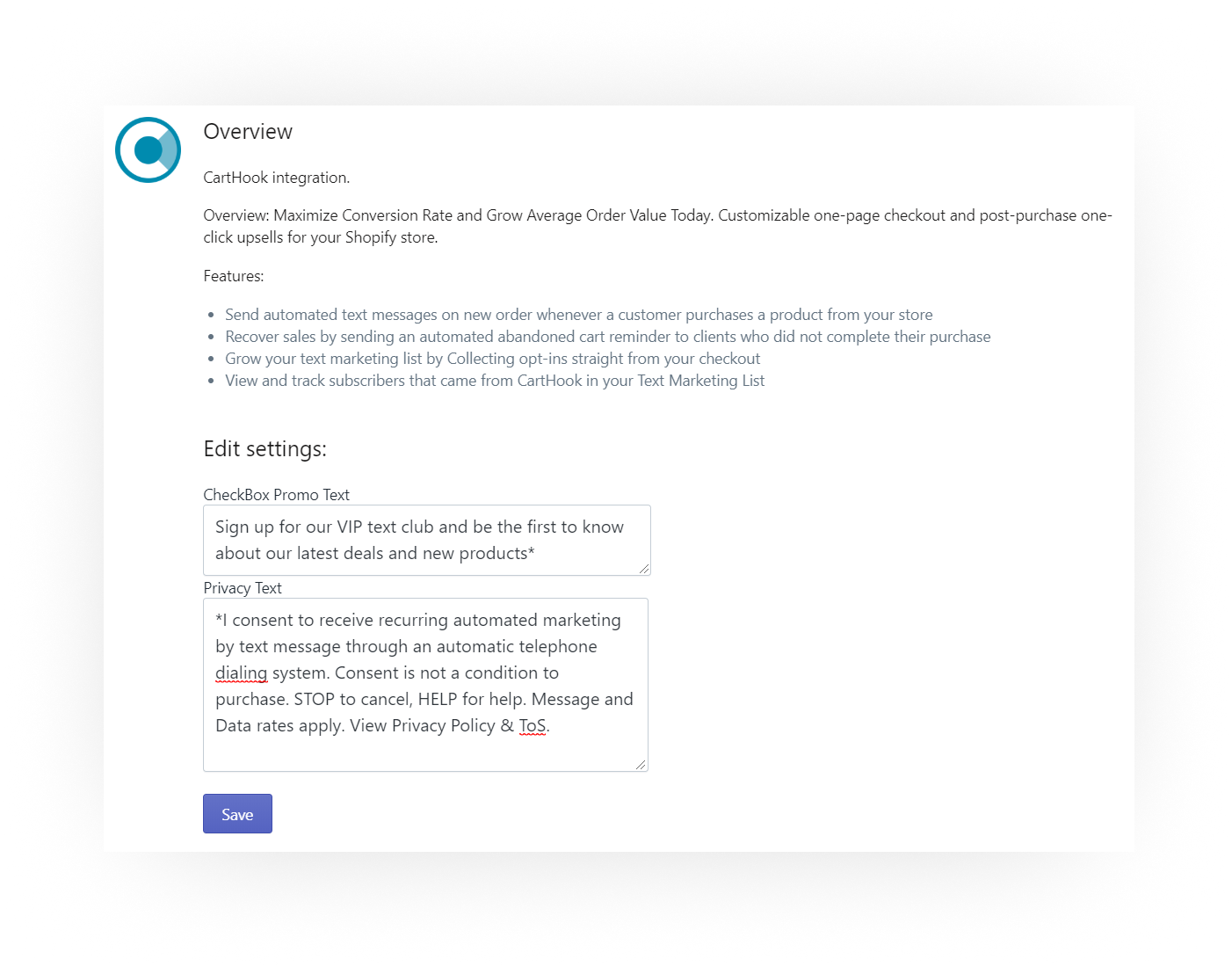 Hit Save when you are done editing.
Step 7. Next step is to create a funnel from your CartHook dashboard. This is where you configure which product from your Shopify store you want the custom checkout and subscription checkbox to be available for.
To set it up, go to your CartHook dashboard and click the Funnel option in your banner menu, then click Tagfunnel.
Once you select Tag funnel, you will see the default tag funnel - Shopify Checkout Replacement, which includes all products tagged with the carthook_checkout label.
To create a new tag funnel, simply click + Create New Funnel button.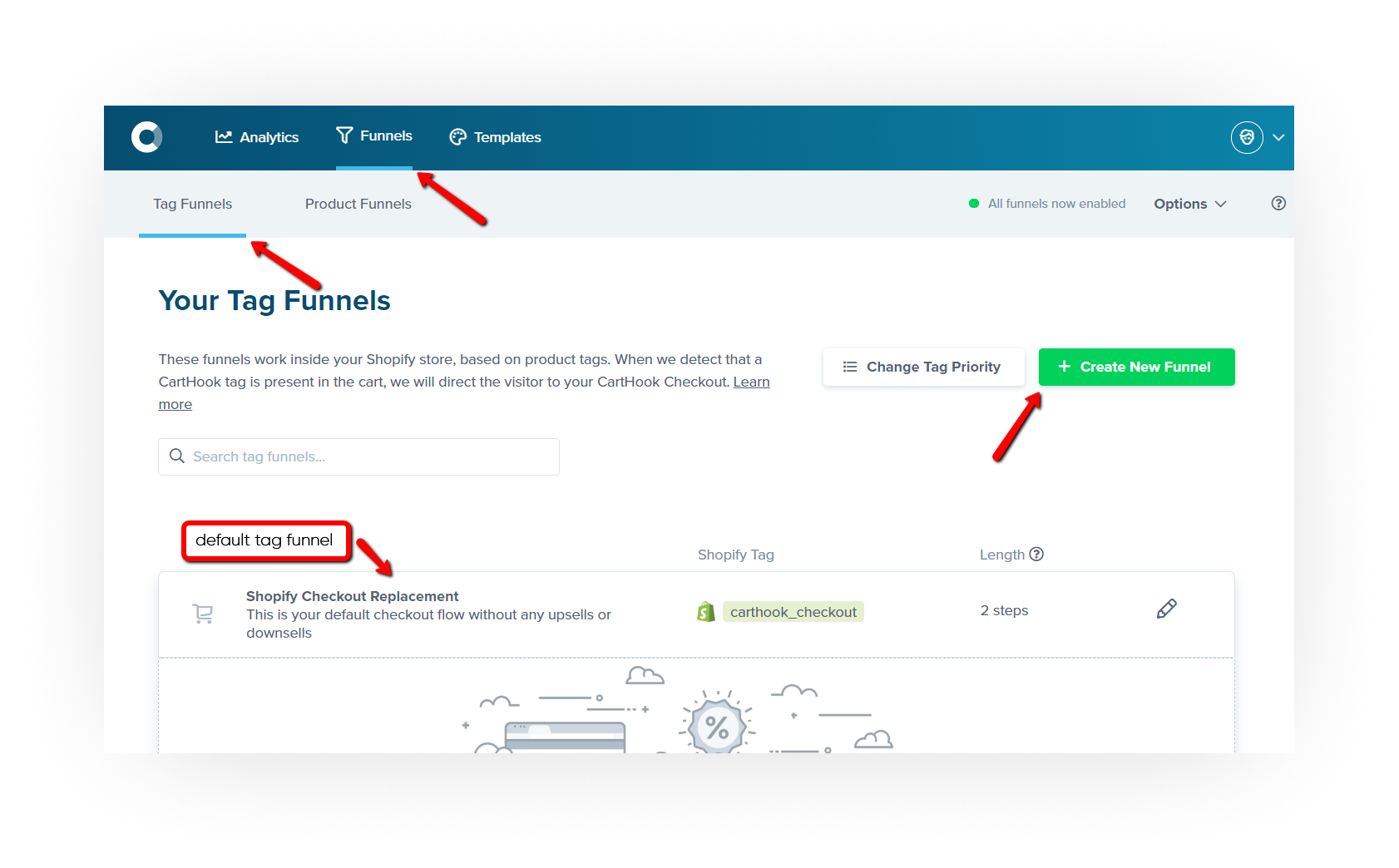 In order to have the custom checkout present, the products you want it to be available for all need to be tagged with the carthook_checkout label. You do this from your Shopify > Products, then select the product you want to have the custom checkout for, and in the Tags side bar type incarthook_checkout . Hit Enter and don't forget to save.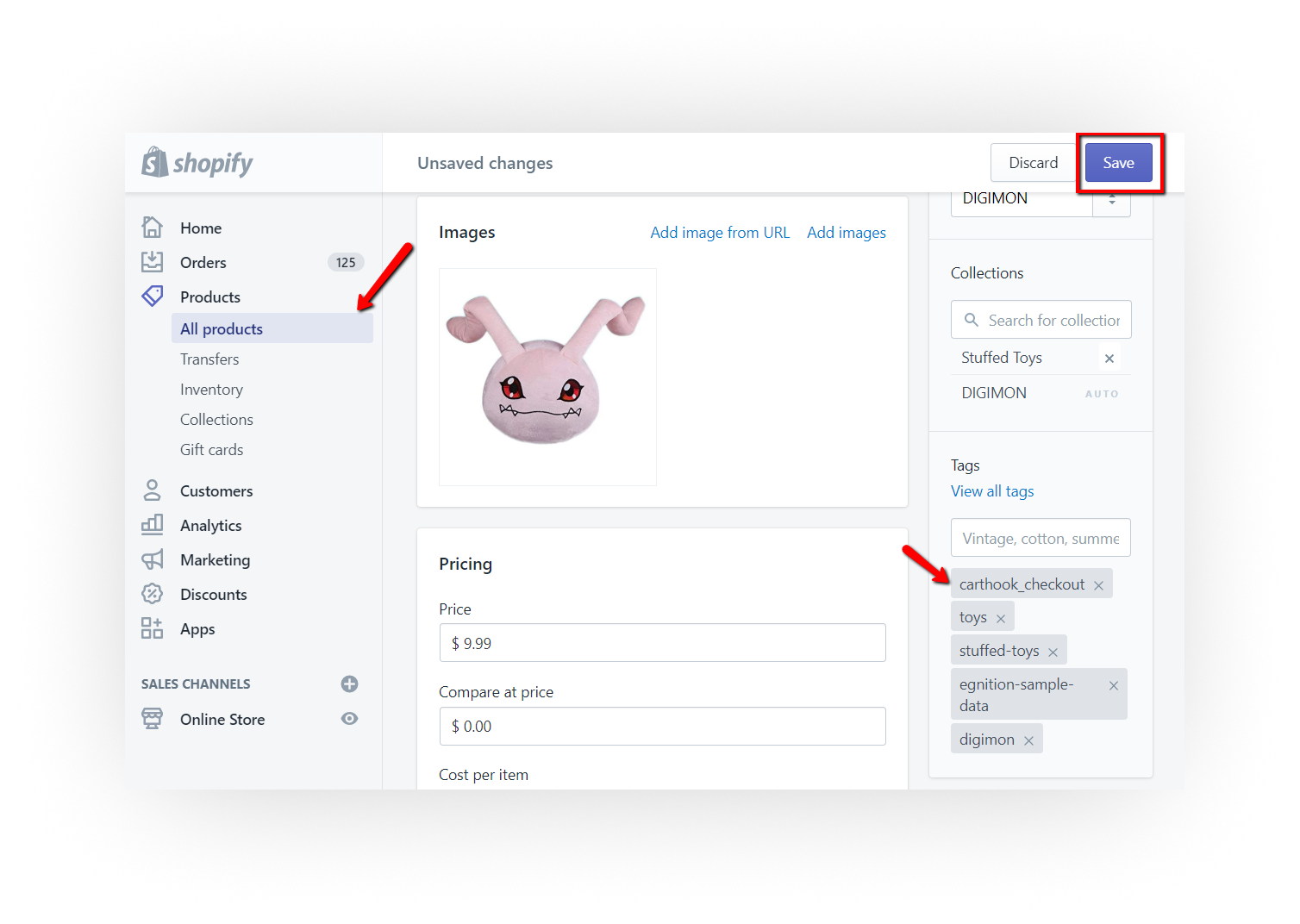 If your CartHook <> YotpoSMS & Email integration was completed successfully, your checkout page preview for your default tag funnel should have a subscription checkbox included, with the text we specified in step 6.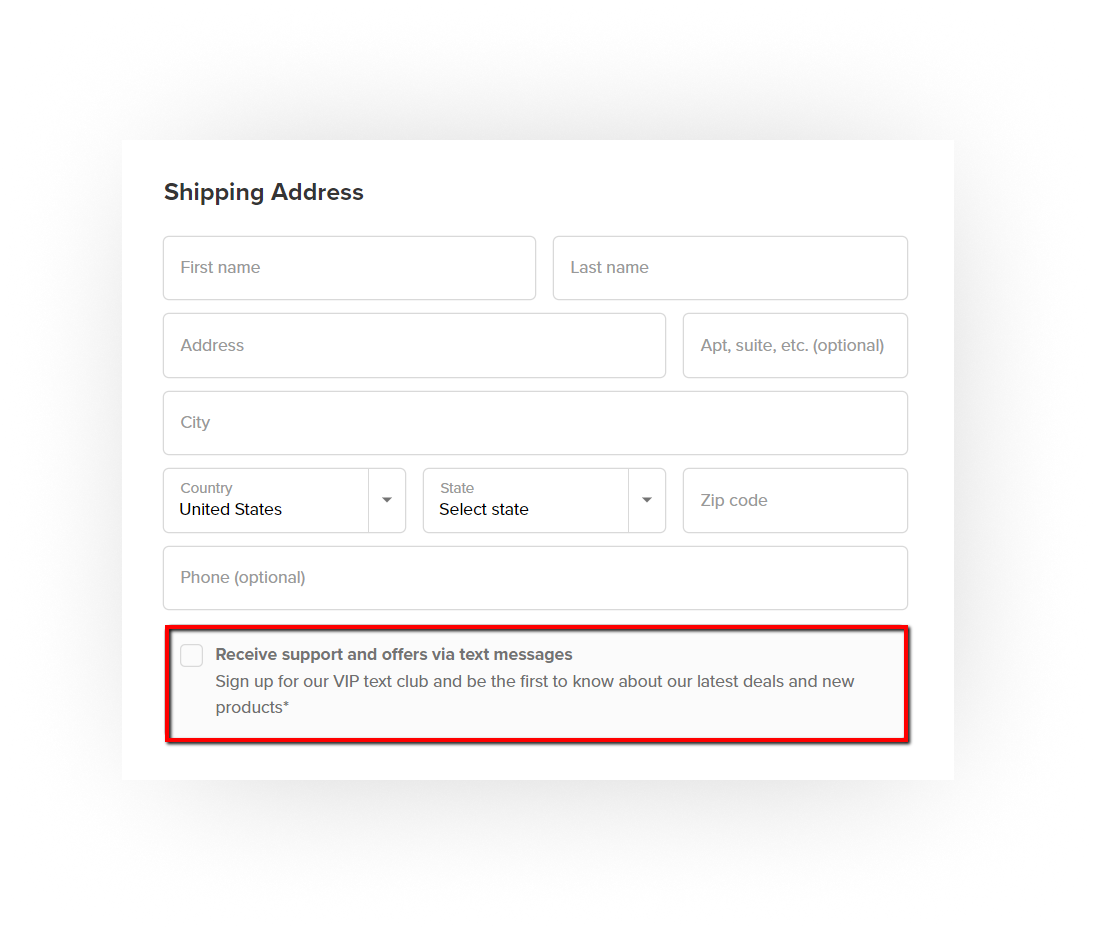 You should also see the privacy text. It will be in the very bottom of your checkout page, but you can easily move it around if you wish to place it elsewhere: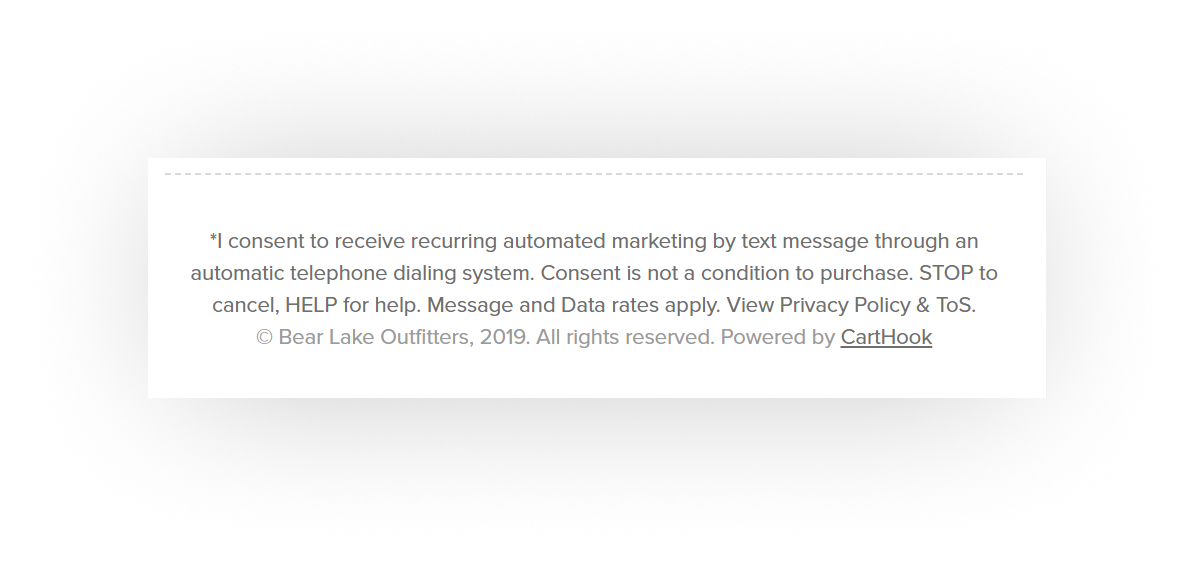 This is how the whole checkout page will look like once you have completed the integration: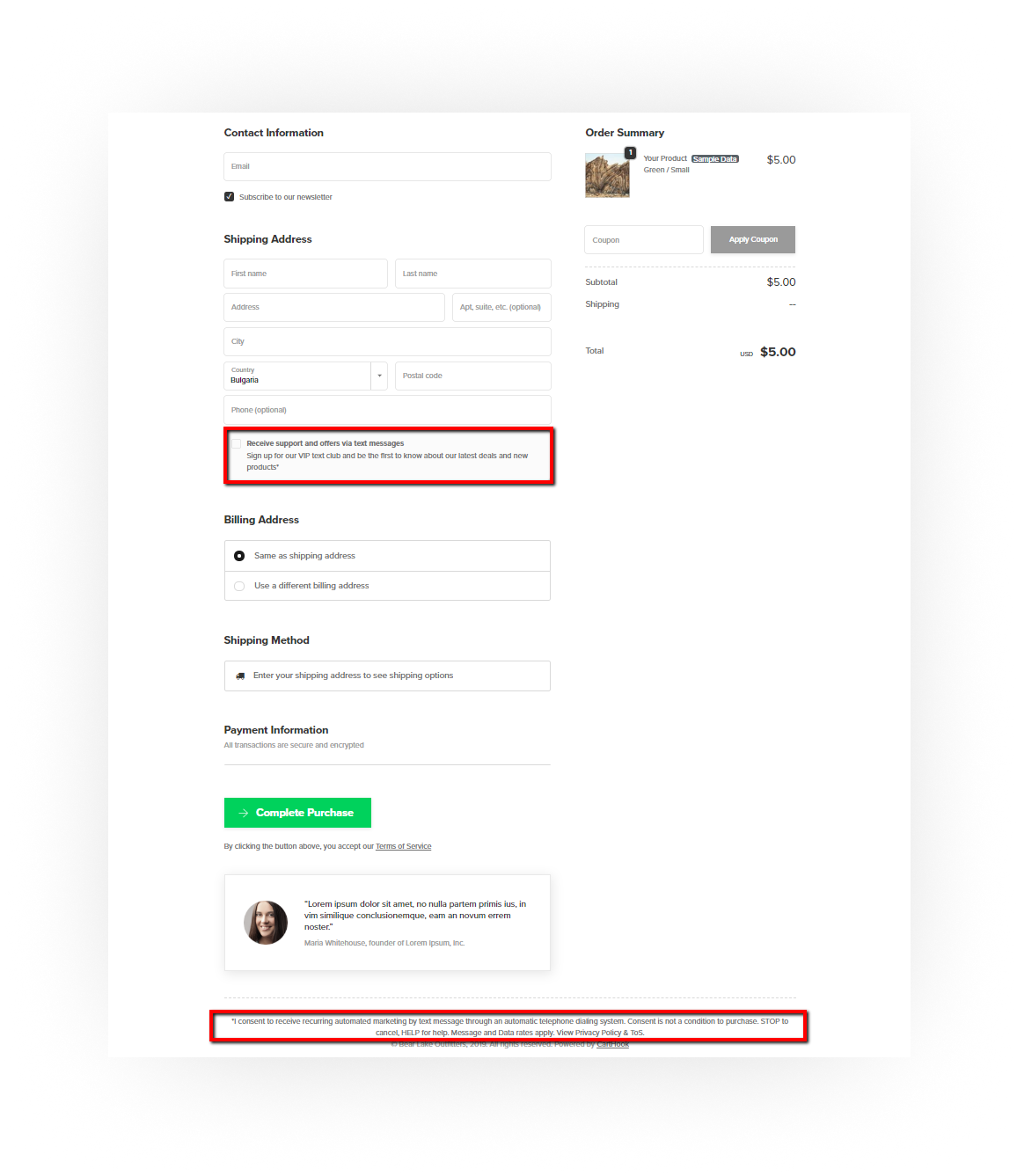 CartHook Automations - Abandoned Checkout Reminders and New Order Confirmation
Once you've configured the CartHook <> Yotpo SMS & Email integration, you will also be able to fire up automated abandoned checkout reminders and new order confirmation notifications to all customers who have accepted text marketing and provided their phone number through the CartHook custom checkout.
From your Yotpo SMS & Email side menu click on Automations > Create new automation. In the Automation type drop down menu you will see Integrations and the two new available options for automated text messages: CartHook Abandoned Checkout and CartHook New Order.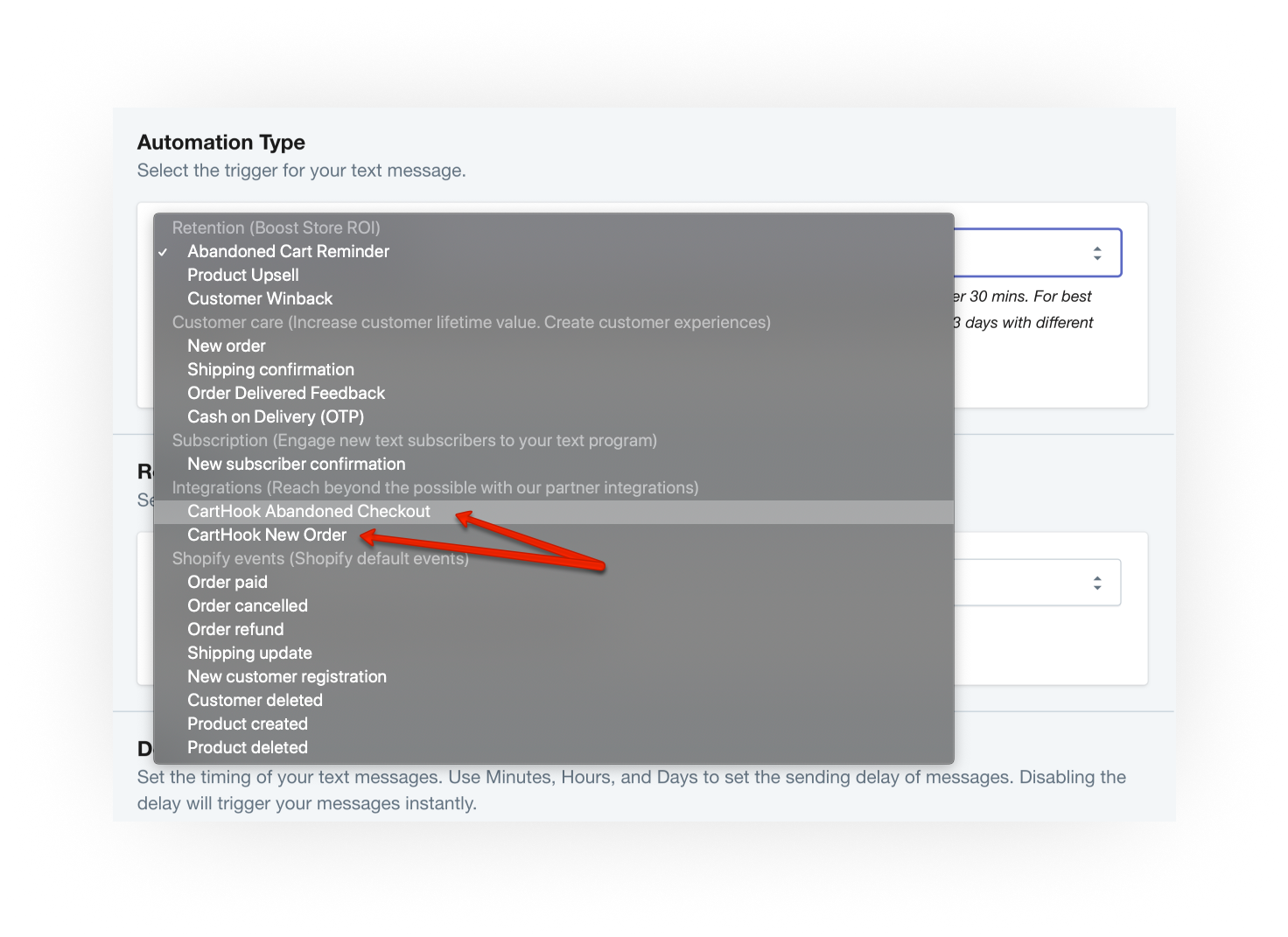 CartHook Abandoned Checkout Automation
By enabling this automation, you will be able to send out abandoned cart reminders to all customers who subscribed through the custom checkout form and placed items in their cart, but haven't completed their order. The process of setting up CartHook abandoned cart reminders is the same as configuring the regular abandoned cart reminder, simply follow these steps. What is different is the short code with the URL, leading to the abandoned cart, which is now specific for CartHook.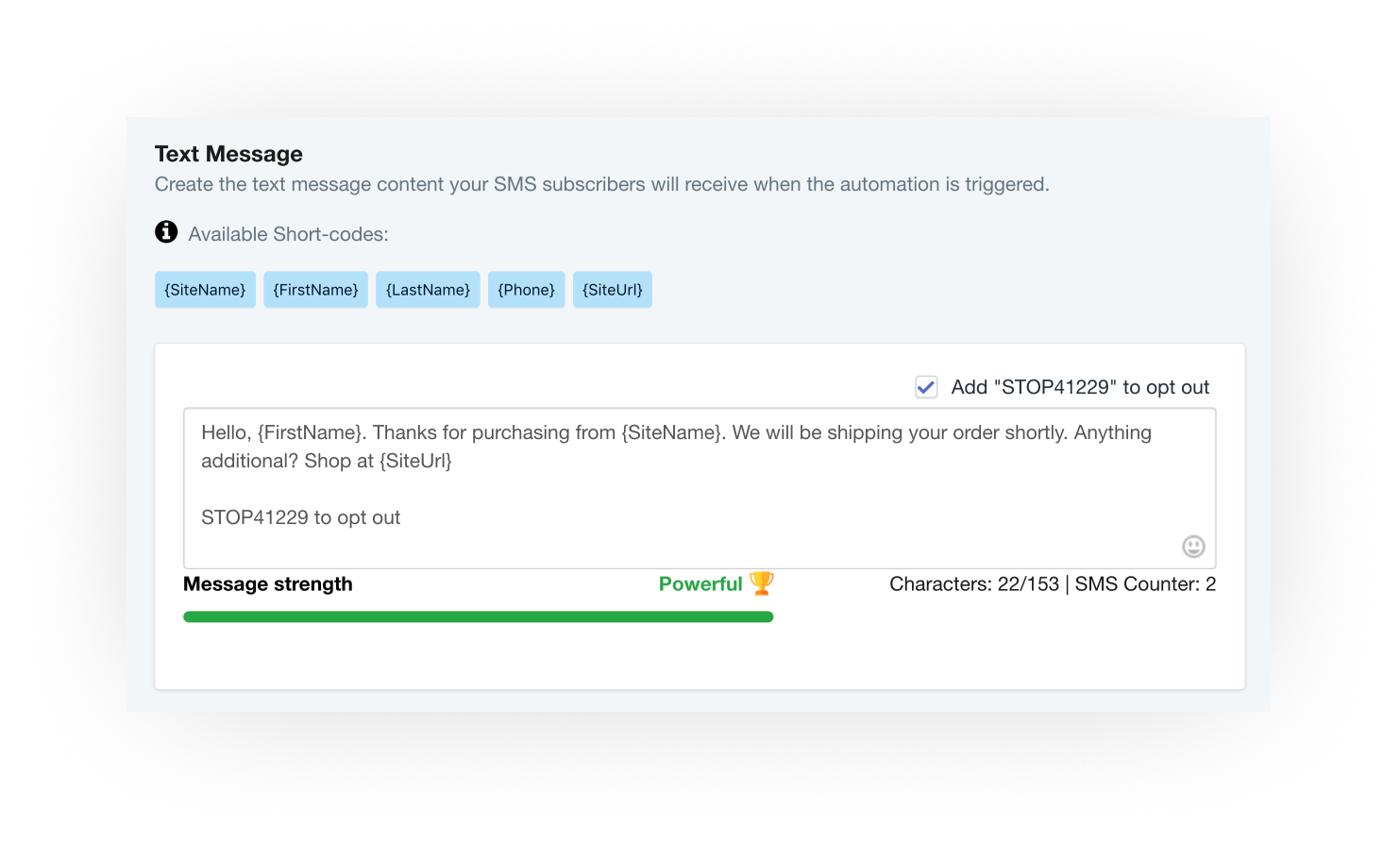 CartHook New Order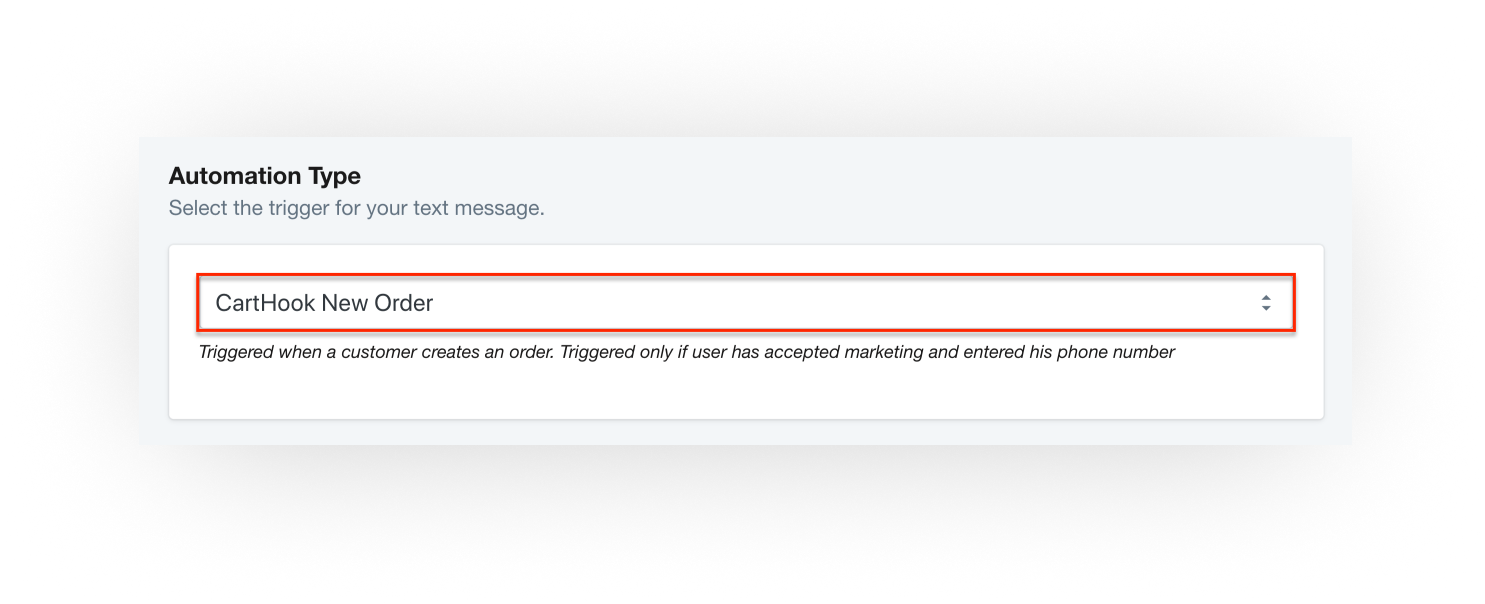 Always keep your customers in the know about their order. With the CartHook New Order automation you can let all customers who accepted marketing using the custom checkout subscription form, and made a purchase, know that their order was received and successfully processed.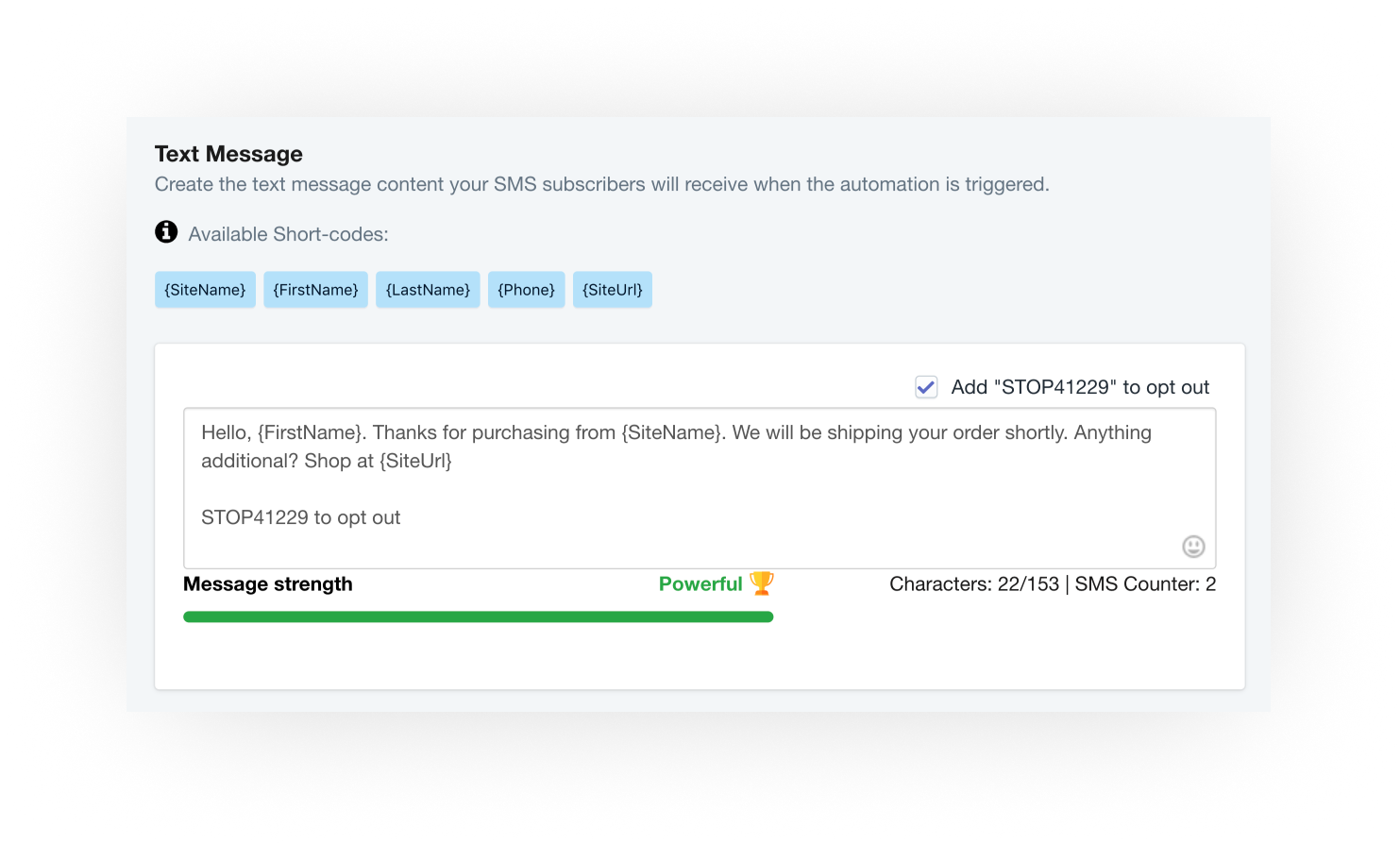 These two automations will help you maintain a close relationship with your new customers, make them feel appreciated and gain their trust. This, on the other hand, will increase customer lifetime value and your store's performance.
You are now all set to start gathering numbers with your Yotpo SMS & Email app and the CartHook custom checkout! Start today!
---
Was this article helpful?
---
---