Enabling Auto-Reload for Text Message Credits in Shopify
Enabling Auto-Reload for Text Message Credits in Shopify
---
Share feedback
Thanks for sharing your feedback!
Supported plans
Free, Growth, Prime, Powerhouse, Enterprise
eCommerce Platform
Shopify, Shopify Plus
Have you experienced a situation where your text messages aren't sending and you have no idea why? Sometimes, this might be caused by insufficient funds in your account. One way to fix this is to simply add some credits every time manually. Another way is to make this automatic. The Auto-Reload option is created so we can deliver text messages as a default and constant communication channel for your Shopify store. This way, there will be no interruptions in your message delivery and your SMS marketing campaign can run smoothly.
To enable auto-reload of your Yotpo SMS & Email credits:
In the top left corner of Yotpo SMS & Email, click Add.
Set up the automatic funds reload.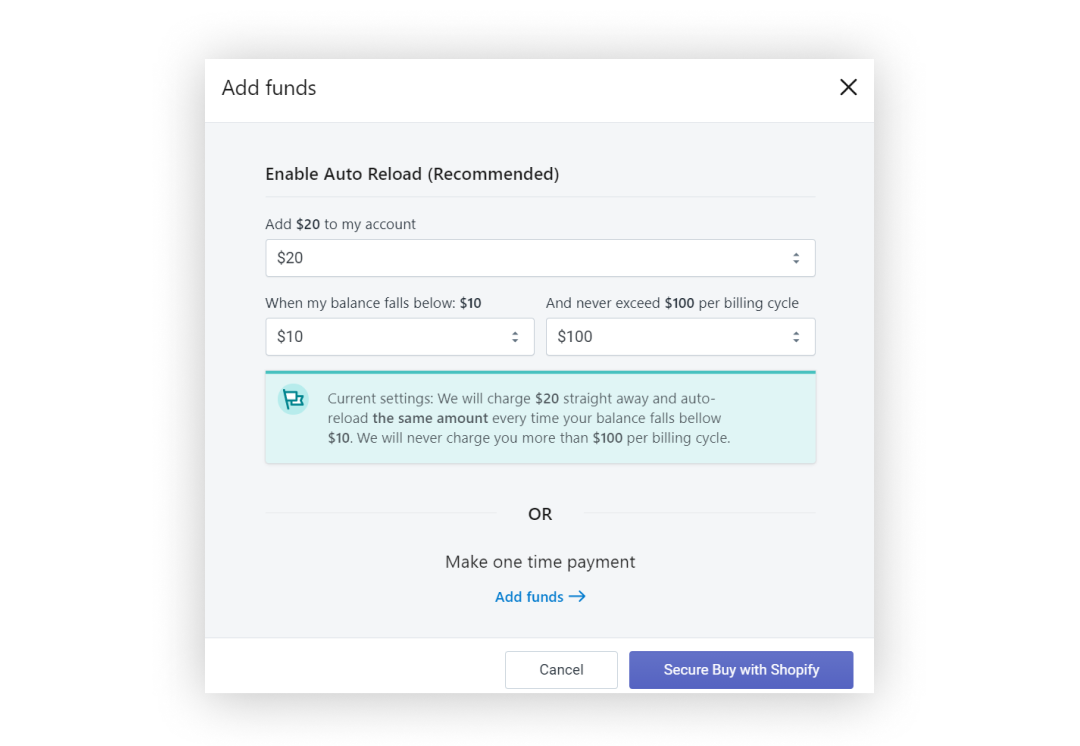 Add $X to my account: This is the amount that you set to be recharged to your account automatically.
When my balance falls below $Y: This is the amount that will trigger the auto-reload. Meaning that every time your account funds fall below this amount, it will automatically get recharged with the amount from the previous field.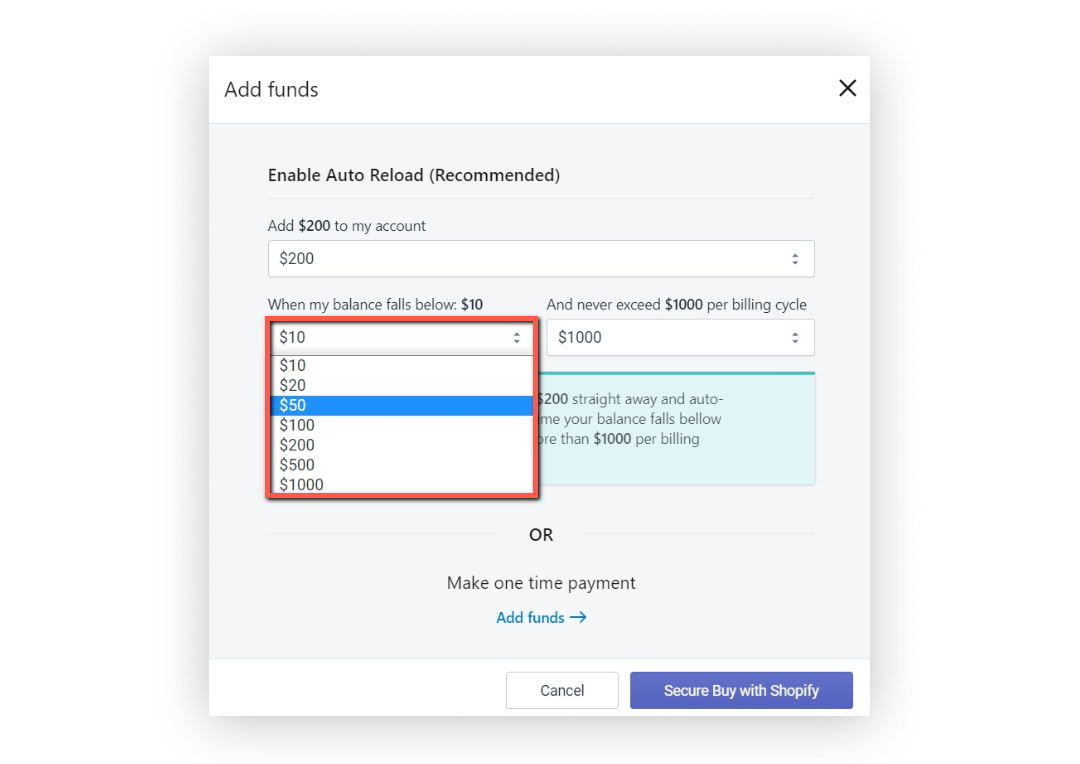 Never exceed $Z: This is the maximum reload cap that you can set per month, so you don't get overcharged. Meaning that no matter how many times your funds get recharged, they will not exceed this amount.
Note that we've provided automated suggestions, based on the amount you've said you want to be recharged when you drop below a certain balance. So for instance, if you've specified that you want $120 to be added to your account when your balance drops below $10, we've suggested your cap to be 500; however, you can pick any of the other options available. This is to protect your funds from getting out of control.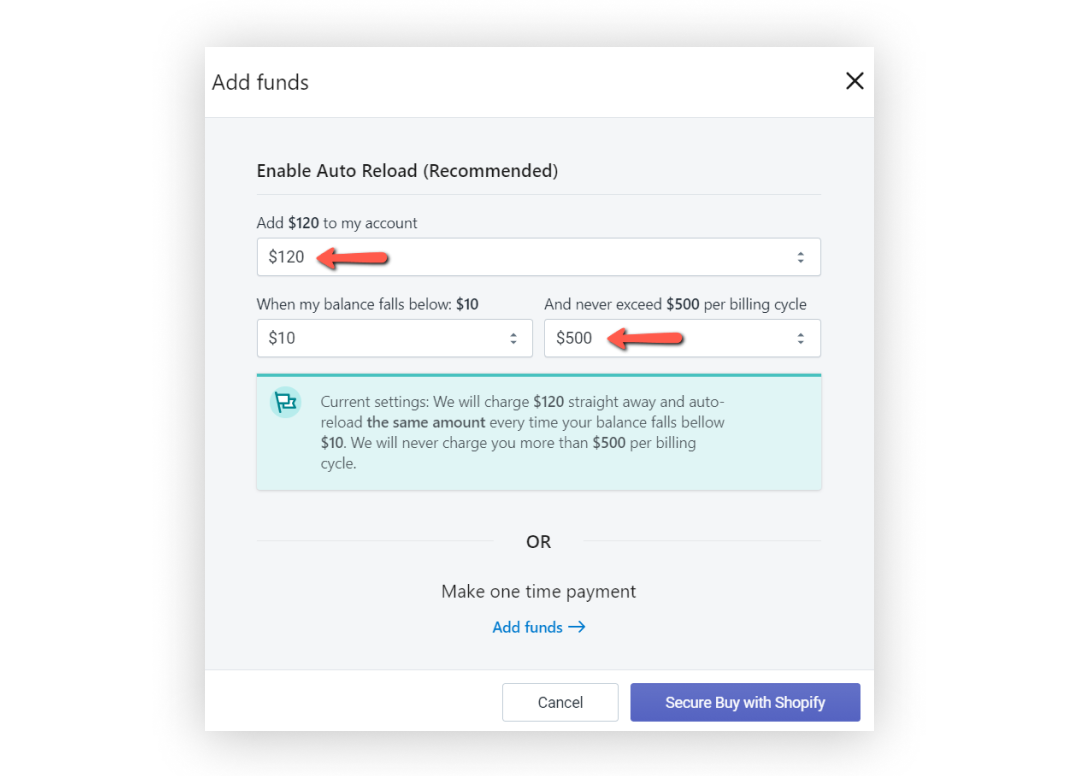 3. To proceed to approve the auto-reload update, click on Secure Pay via Shopify.
4. Click Approve Update to confirm that you wish to enable the auto-reload option, or if you are already using it - to confirm the update you are looking to make. If you wish to make additional changes, click Cancel and you will go back a step.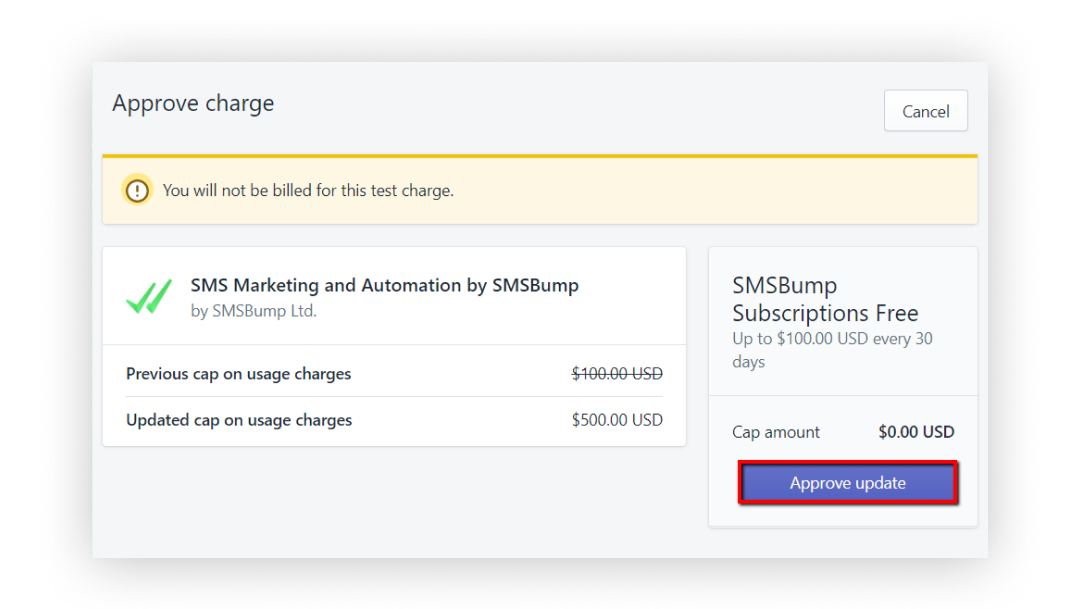 Your auto-reload is now enabled!
With the settings we showed here, your account will automatically be recharged with $120 each time your balance falls below $10 without exceeding the maximum of $500 per month.
You can control and adjust your auto-reload settings at any time from the app settings.
---
Was this article helpful?
---
---
What's Next