Sending a Click-to-buy SMS Campaign
Sending a Click-to-buy SMS Campaign
---
Share feedback
Thanks for sharing your feedback!
Supported plans
Prime, Powerhouse, Enterprise
eCommerce Platform
Shopify, Shopify Plus
Immediacy is one of the advantages of SMS marketing, and customers want everything at their fingertips as soon as they can get it. Yotpo SMS's Click-to-buy feature responds to that need for immediacy, taking the customer directly from the message to checkout with just one click.
In this article, you'll learn how to create a Click-to-buy campaign.
How it works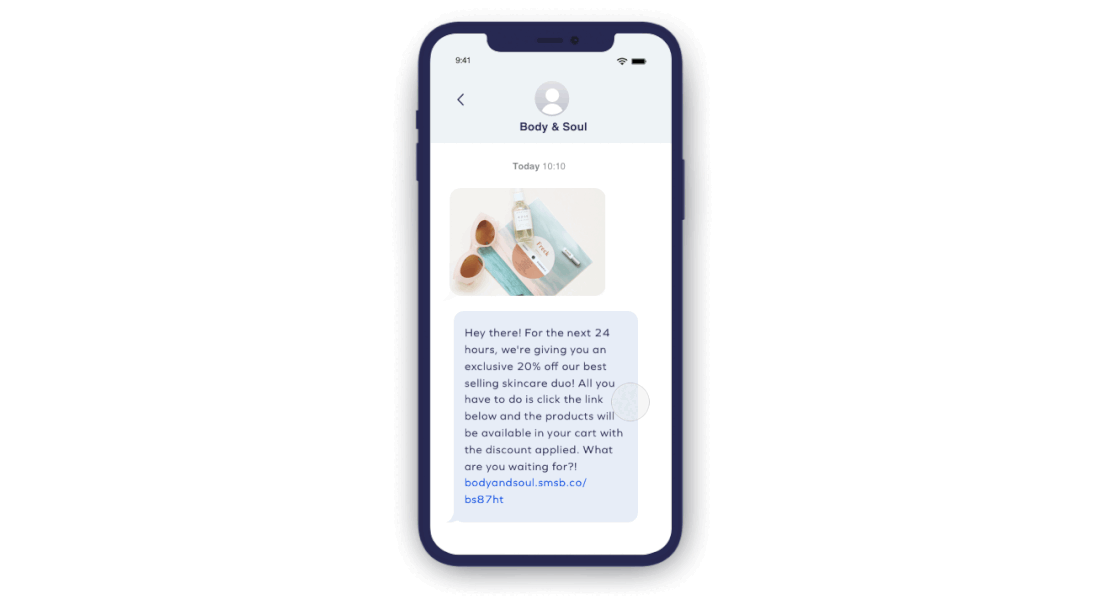 Click-to-buy uses our native integration with Shopify and creates a personalized link that takes each customer to a pre-populated cart experience - expediting the path to purchase and increasing conversions. Brands can promote different products depending on the selected audience and have the option to apply a discount all within the SMS campaign setup.
Please note:
Click-to-buy can be applied to both campaigns and the following flows: Customer Winback, Yotpo Loyalty birthday reminder, Yotpo Loyalty points reminder, Yotpo Loyalty redemption reminder, Yotpo Loyalty VIP tier earned, Product created, Order refund, New subscriber confirmation, and Product update.
Setting up Click-to-buy
The Click-to-buy feature can be easily added to your SMS campaigns with just a few simple clicks.
Step 1: Create a new campaign
In your Yotpo SMS & Email main menu, go to Campaigns > My Campaigns.
Click Create campaign.
Select SMS, and click Create campaign.
Set up your campaign, including choosing your target audience, A/B testing, and message copy.

Step 2: Add products to Click-to-buy
Go to the shortcodes below the Text message box and choose the Click-to-buy URL option. This will add a link to your message, leading customers directly to their checkout page.

A new window will appear, giving you the option to choose the products that will be added to customers' shopping carts after clicking the link. Simply tick the desired product, select a variant (if applicable) and click Next.

The Click-to-buy link leads shoppers directly to their checkout, where they cannot change an item's size or color.
If you are promoting size-specific items (shoes, clothes, etc.), it's important to be mindful of targeting the right measures to customers. In this case, we recommend sending a campaign in advance, asking shoppers for their size, segmenting them accordingly, and only then sending the Click-to-buy campaign.
Step 3: Include a product GIF
The next step will allow you to include a GIF tо showcase the product(s) you offer. The feature automatically takes the product images from your store and you can enable it from the toggle button. To pick new products simply click on Change products.

Step 4: Add a discount
You can add a discount to your campaign by clicking on the toggle button.
Set up your discount as always: Choose a type, enter the value (in USD) you want to give your customers, and click on Apply to complete the Click-to-buy setup.

Set up the rest of the campaign as usual and send your Click-to-buy campaign!
---
Was this article helpful?
---
---
What's Next