Setting Your Auto Reload Cap Limit
Setting Your Auto Reload Cap Limit
---
Share feedback
Thanks for sharing your feedback!
Supported plans
Free, Growth, Prime, Powerhouse, Enterprise
eCommerce Platform
Shopify, Shopify Plus
To all our Auto Reloadusers: With the new Cap Limit feature, you can rest assured that all your campaigns will run smoothly with no interruptions. Every time you are close to reaching your Cap limit, a notification will appear right under your balance, informing you about the amount left for you to spend.
Tip:
With holidays around the corner, you should definitely increase your cap limit to reach the widest audience. You can always increase or change your cap limit by pressing the yellow Increase button when your cap limit is visible, or head over to Settings > Payments. In contrast, if you're running a small campaign, you can simply click the Add button to add a bit more balance.
Setting Your Cap Limit
Follow these three simple steps to set your cap limit, and have it appear in the app side menu.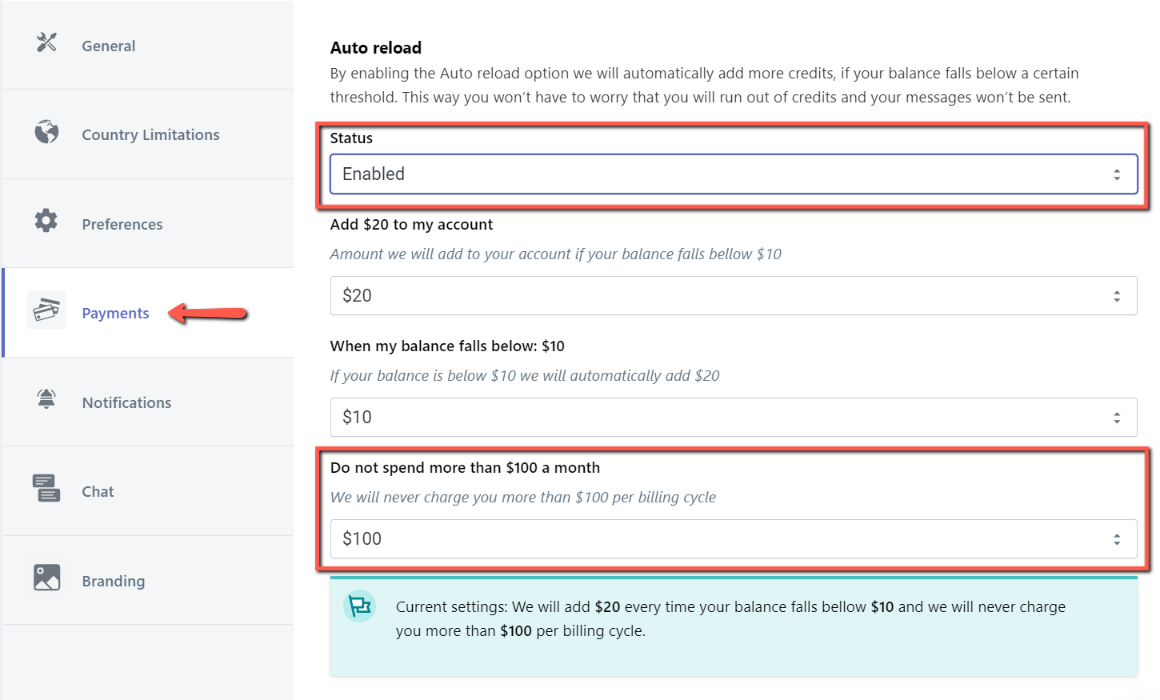 Make sure that you have enabled Auto Reload from Settings > Payments. To learn more about the Auto Reload option, read here.
Scroll down to Do not spend more than… and select an amount in intervals of $100 from the dropdown.
Click Save to place the cap limit in effect. We will not charge you anything above the indicated sum per billing cycle.
---
Was this article helpful?
---
---
What's Next