Combine Multiple Lists and Segments for Optimal Customer Targeting
Combine Multiple Lists and Segments for Optimal Customer Targeting
---
Share feedback
Thanks for sharing your feedback!
Supported plans
Free, Growth, Prime, Powerhouse, Enterprise
eCommerce Platform
Shopify, Shopify Plus
Shopify merchants can now combine multiple preexisting lists or segments to turn them into one master segment. This comprehensive segment will additionally narrow down your target audience so you are even more efficient when reaching out to customers with your awesome offers.
Creating a master segment
To start creating a master segment:
In your Yotpo SMS & Email main menu, go to Audience > Lists & Segments.
Click Create list or segment.
Give your segment a name that will stand out so you can easily track results later. Let it be something relevant to the campaign you are looking to launch.

Next, to add multiple lists in this segment, you click on Is Part of Lists located under the SMSBump category.

A drop-down menu will appear with all of the lists you've imported or have created to store all of your keyword, pop-up etc. subscribers.



How do you choose which lists to put together in the master segment?
One occasion where combining lists could be of great use to you, is when you are looking to launch an exclusive store-wide sale. Say your store sells sports attire and accessories, and some time ago you launched keyword campaigns based on specific products, for instance running shoes, yoga pants and wristbands, and you created three independent lists to separate your subscribers.
Putting these three lists together will ensure that your new store-wide campaign will only reach customers who are passionate about sports and about your store. It will only contain those who bought running shoes, yoga pants and wristbands, using the designated keywords, but will exclude any subscriber who only bought shoes and yoga pants, but no wristbands, for instance.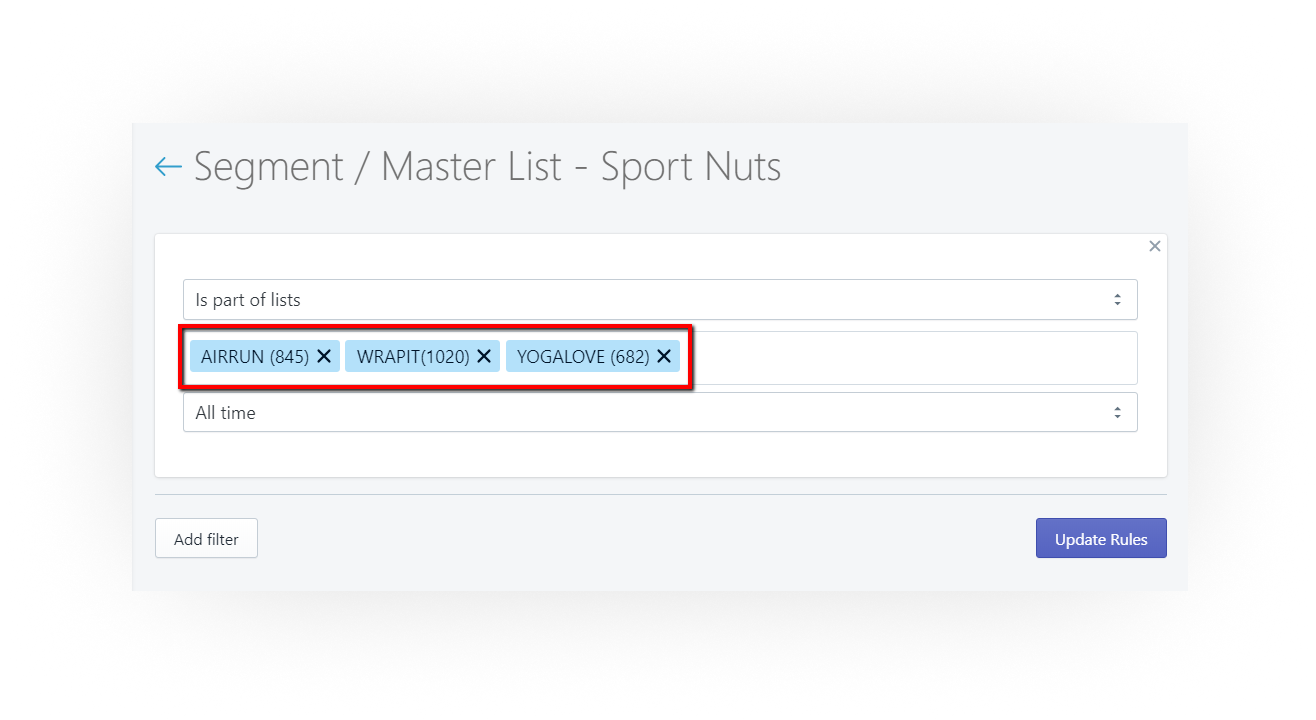 As the time frame of this segment is set to All time, it will now target all of your subscribers that subscribed at any point in time, using these keywords.
If you're looking to narrow it down even more, you can select a particular time-frame to only get your most recent subscribers.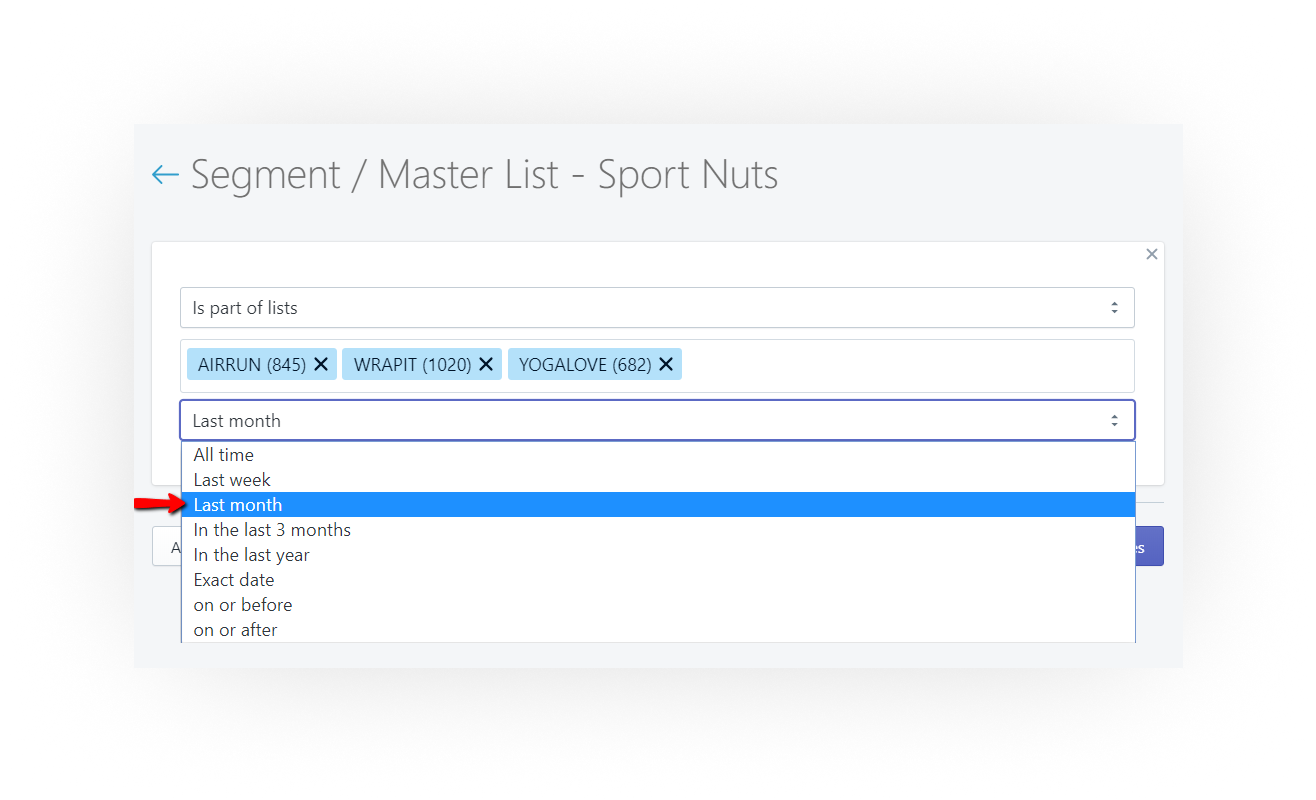 Combining segments
To bring together different segments, you need to select the Is Part of Segments filter, located under SMSBump.
Unlike lists, segments are dynamic and they auto refill when someone meets the criteria you've specified in the particular segment. In the master segment, they work the same way as lists - if you combine two segments, the contacts that will be targeted need to meet all criteria configured in both segments.
Segment combos you can successfully use if, for example, you want to launch an exclusive campaign only for high-value customers based in a specific location, that have purchased a particular item, to upsell them something relevant to what they've already bought and offer it at a good deal.
Instead of creating a whole new segment, to save time you can just put together three (or more) you already have created and filter out all customers that meet the criteria.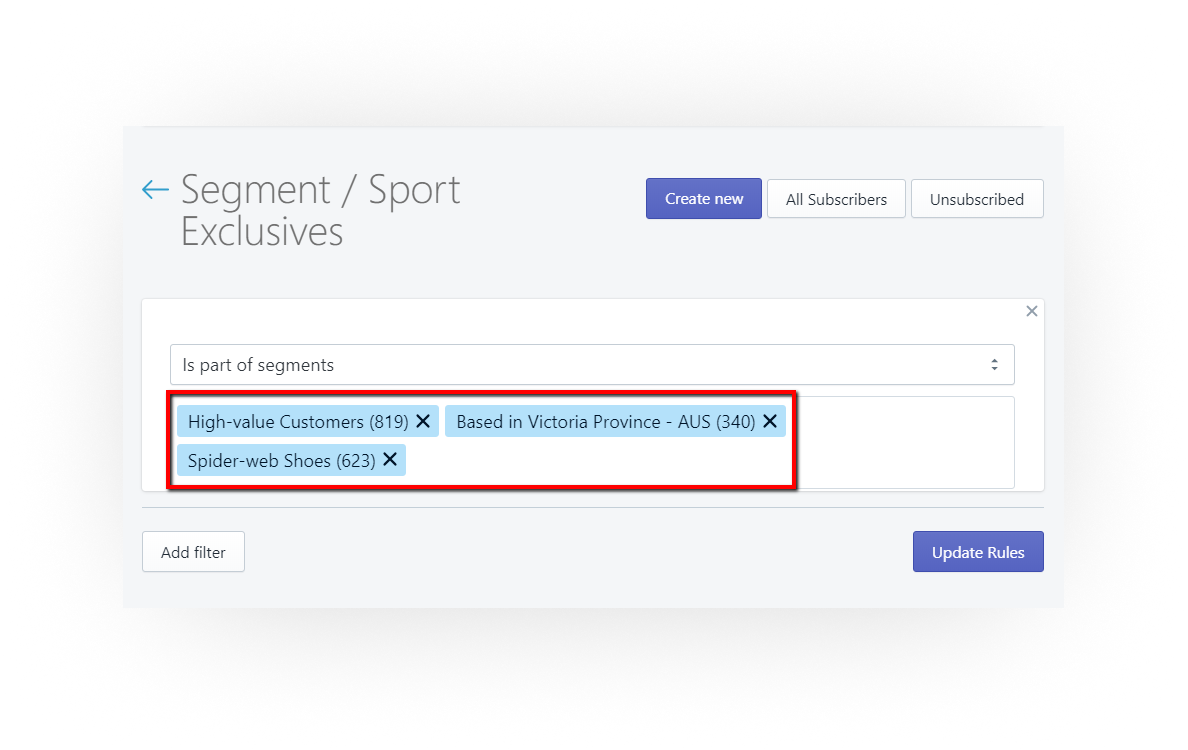 You can still add additional rules, if you want to set a time-frame, e.g., especially if you don't have a designated segment that contains that rule.
Over to you
The option to mix and match different lists and segments into one bigger segment, allows Shopify merchants to save some precious time and recycle segments and lists they've already imported or built.
Just remember that the master segment will only contain subscribers who are part of all lists or segment you've selected to bring together. So do not be alarmed in case your master segment contains a smaller number of subscribers than either one of your lists/segments - it just means that they shared fewer subscribers.
---
Was this article helpful?
---
---