Adding a Virtual Contact Card to Personalize Your Customer Interactions
Adding a Virtual Contact Card to Personalize Your Customer Interactions
---
Share feedback
Thanks for sharing your feedback!
Supported plans
Free, Growth, Prime, Powerhouse, Enterprise
eCommerce Platform
Shopify, Shopify Plus
Personalization in SMS marketing is key to improving conversion rates and building a strong brand identity. Thanks to our virtual contact card feature, you can now personalize your communication starting from the very first customer interaction. It allows you to create a personalized contact ID for your brand and send it to your subscribers as an MMS.
In this article, you'll learn how to set up your virtual contact card and add it your welcome flows.
Available for:
Customers in the USA and Canada only.
Setting up your virtual contact card
In your Yotpo SMS & Email main menu, go to Settings > General Settings.
Scroll down toVirtual Contact Card. You will see 3 sections: Logo, Store data, and Text message.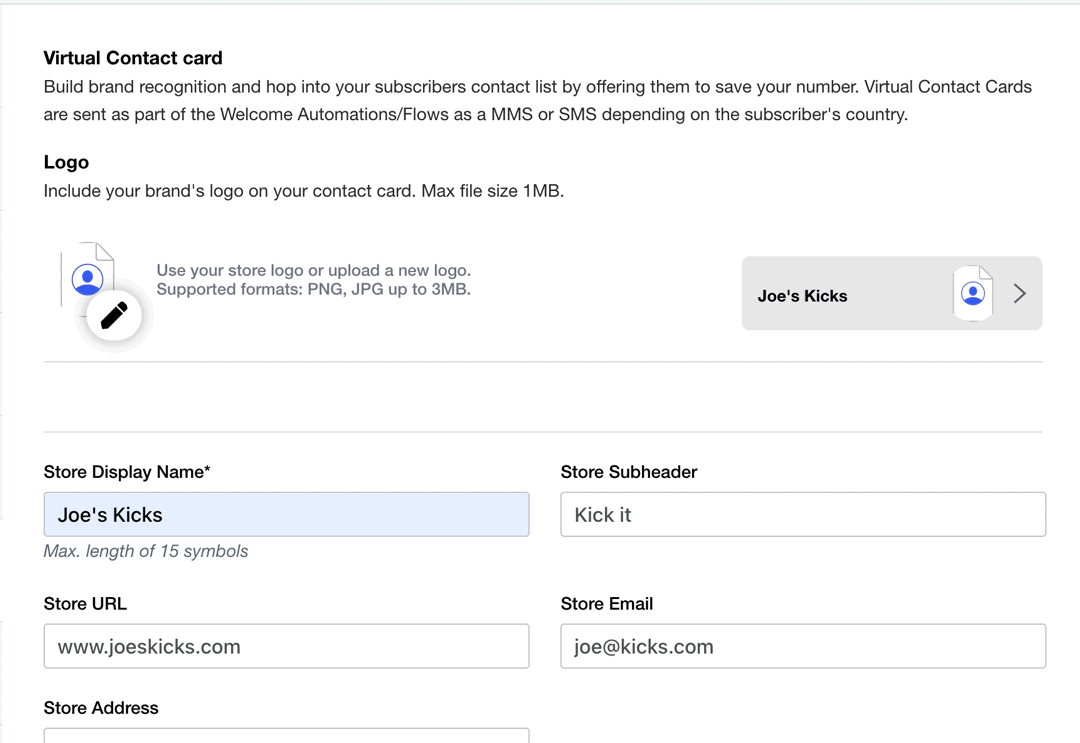 Logo: This is where you upload your unique brand logo. Simply click on the edit button and choose the image from your computer. For best experience, we advise you to use a square image (1:1 ratio), with a max size of 3MB.
Store data: Choose your store Display name, subheader, email, URL, address or social media link. All the information will be added to your customers' phones.
Important to know:
Depending on the device, customers may see your virtual contact card as an icon with the .VCF filename, or they may just see your brand's name instead without the .VCF filename.
Message: Let customers know why you are sending them your contact info and invite them to save it on their phones. We've already set a message for you, but you can tailor it to your brand, so it feels more personal.
Each Card (the contact ID + the follow-up message) will be treated as a separate MMS message, apart from the welcome text you have crafted for your customers.
Important to know:
Different devices and operating systems may have varying compatibility with the formatting or display of virtual contact cards. As such, it's not always possible to ensure that a virtual contact card will appear as intended on every device.
Enabling a Welcome flow with a virtual contact card
Virtual contact cards can be added to your welcome messages, so subscribers can save your number right after the very first message they receive from you.
If you haven't enabled a welcome flow, simply go to the flow templates and search for the Welcome new subscribers flow.

A pop-up describing the flow will appear. By default this template includes your virtual contact card and a pre-written welcome message. If wish to make changes, click on the Edit flow button. If you are happy with the template, click on Enable flow.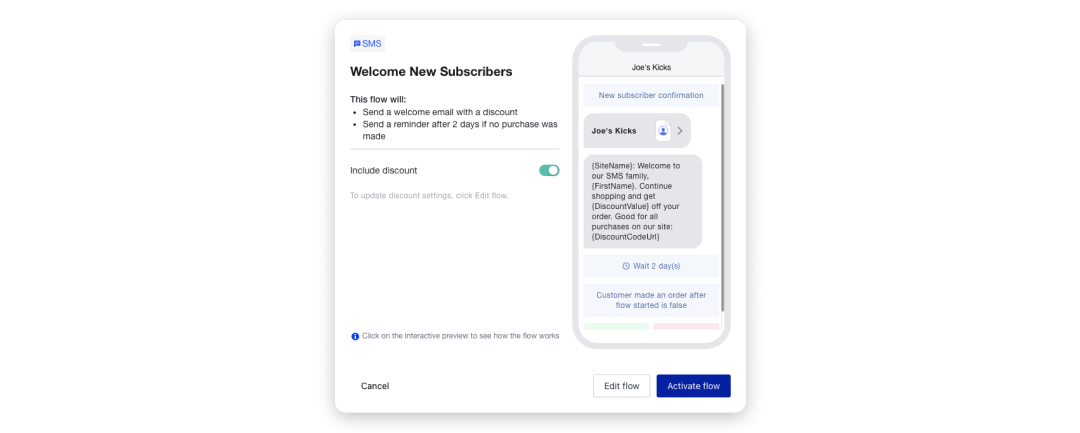 Adding a virtual contact card to an existing welcome flow
If you already have a welcome flow enabled and you want to add a virtual contact card to it, go to your existing flows, and simply click on the edit button of that flow.

Once in the editor, just tick the Enable Contact Card above the text editor, and it will be added to your message.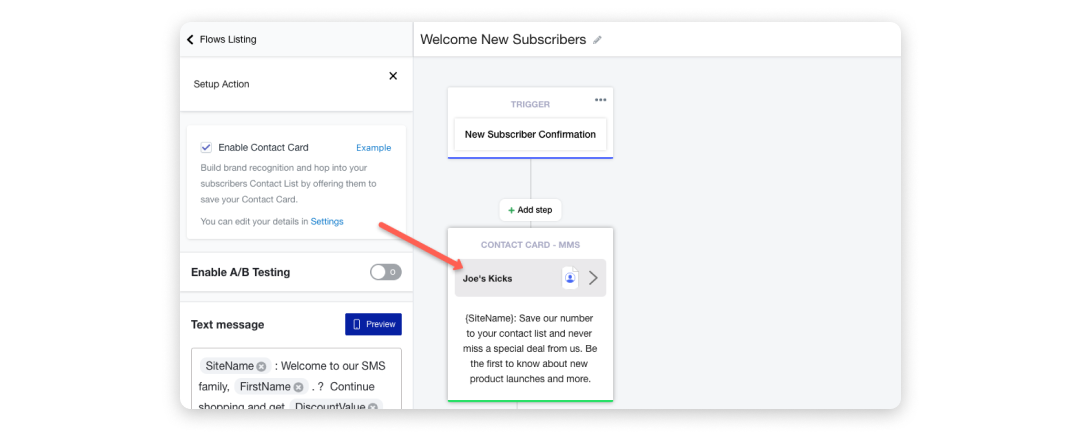 ---
Was this article helpful?
---
---
What's Next