Synchronizing Privy Campaigns with Yotpo SMS & Email
Synchronizing Privy Campaigns with Yotpo SMS & Email
---
Share feedback
Thanks for sharing your feedback!
Supported plans
Free, Growth, Prime, Powerhouse, Enterprise
eCommerce Platform
Shopify, Shopify Plus
Privy offers plenty of conversion tools that enable businesses to create effective marketing campaigns using website pop-ups and banners, abandoned carts, and order follow-up emails.
By connecting Yotpo SMS & Email and Privy, you will be able to rapidly increase your list of subscribers and benefit from the combined strength and effectiveness of both applications: gather mobile phone numbers, segment subscribers, and launch personalized SMS marketing campaigns to boost sales even more!
Synchronizing your active Privy campaign with Yotpo SMS & Email
First, you need to make sure you have both Privy and Yotpo SMS & Email installed in your Shopify Store.
Next, create an Embedded Form from the Audience > Collect Subscribers menu.
Once you are done customizing the form, click on the Publish button in the top right corner.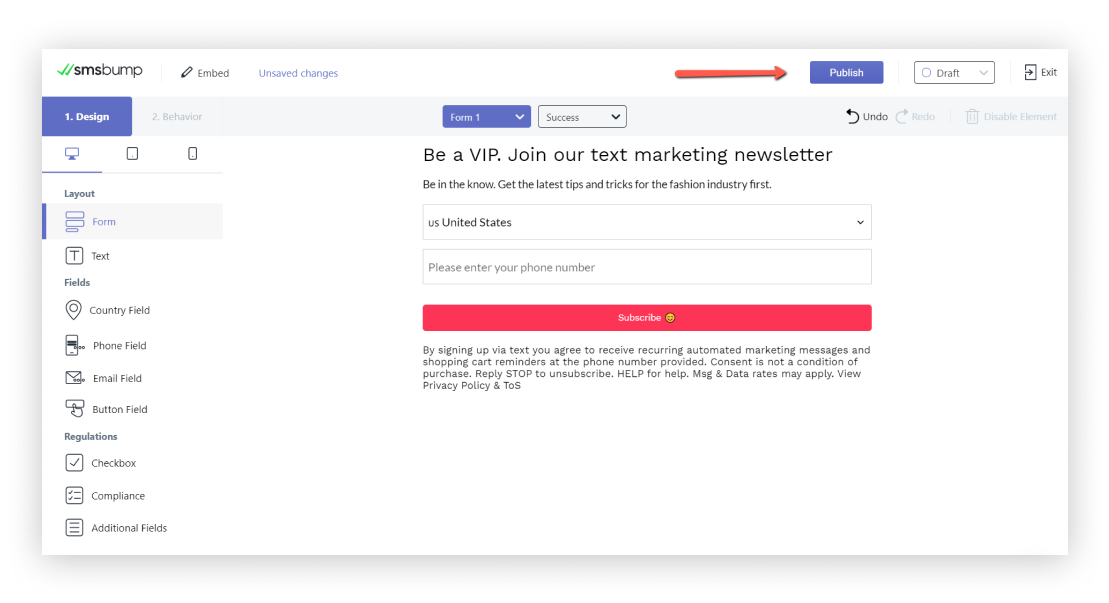 Once you confirm you want to publish the form, select the 3rd tab - Privy Integration and click the Copy to Clipboard button.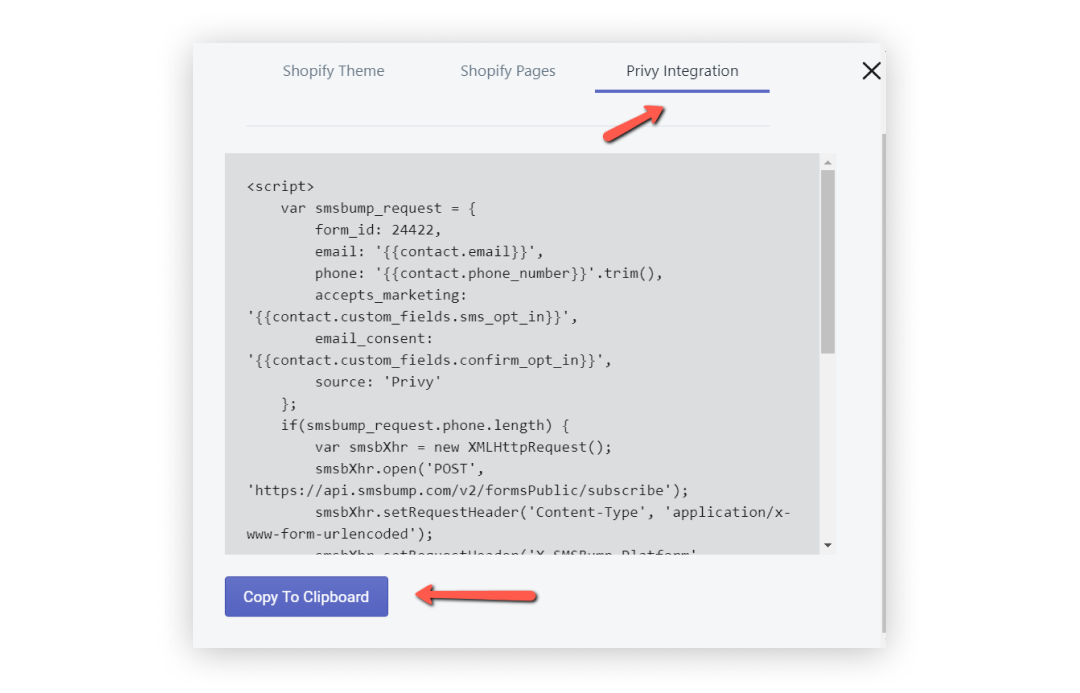 Then simply open Privy in your Shopify store and select Customizations from the menu on the left.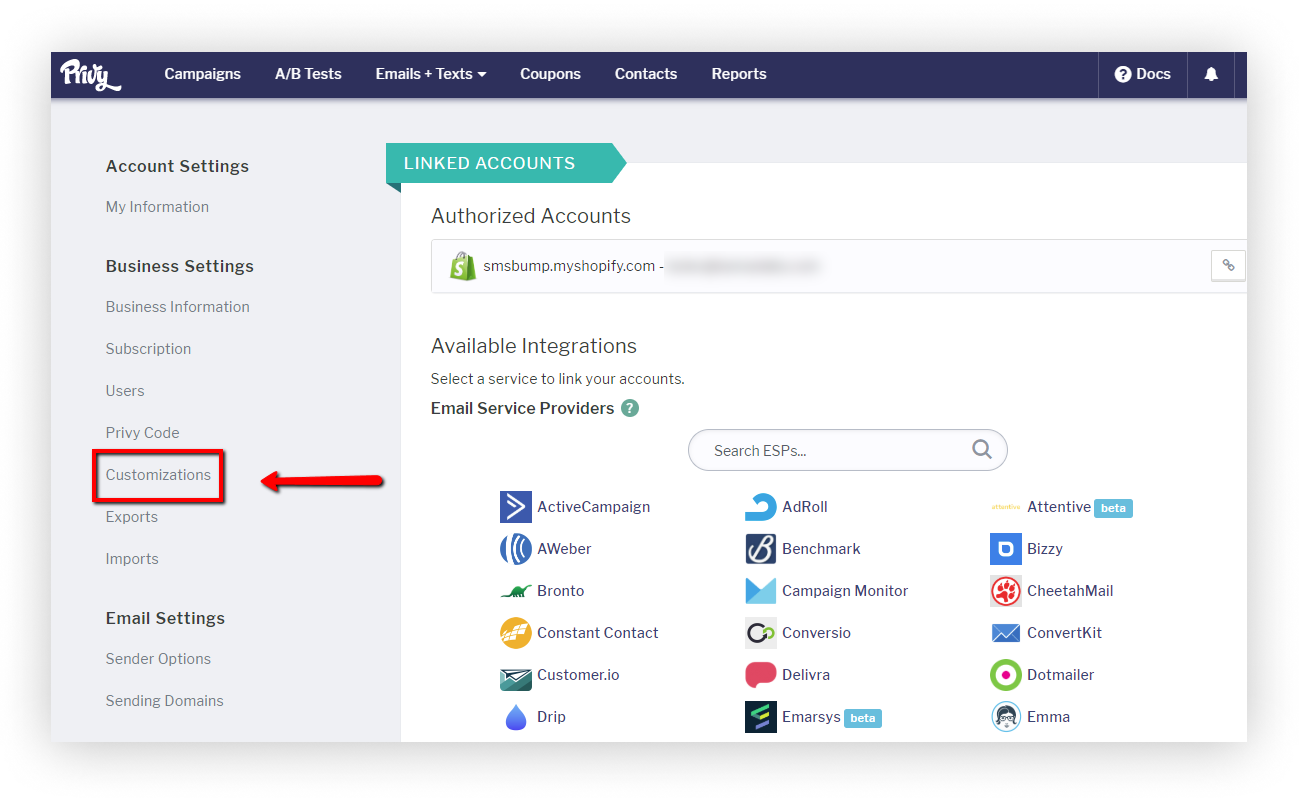 Paste the script code in the Conversion Pixels field (second box on the right).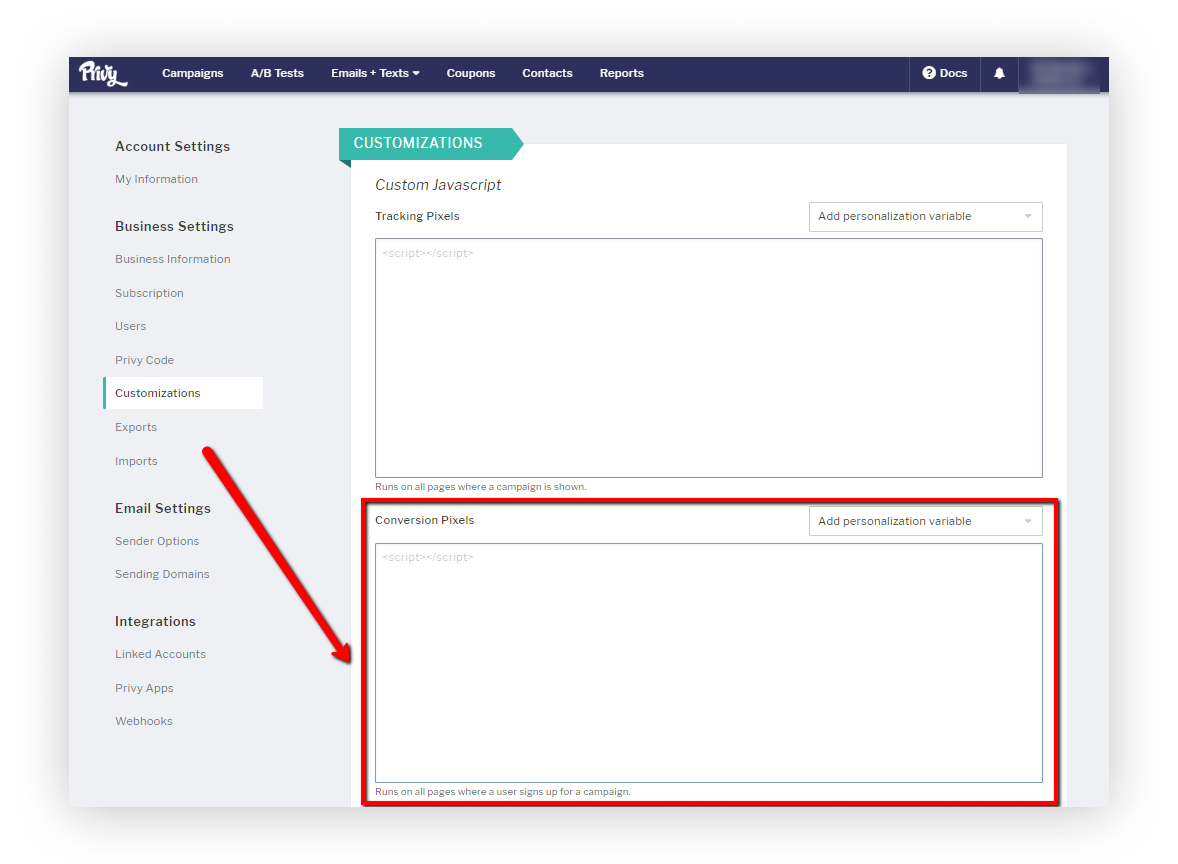 The last step is to scroll down and click the Save Changes button, located at the bottom of the page.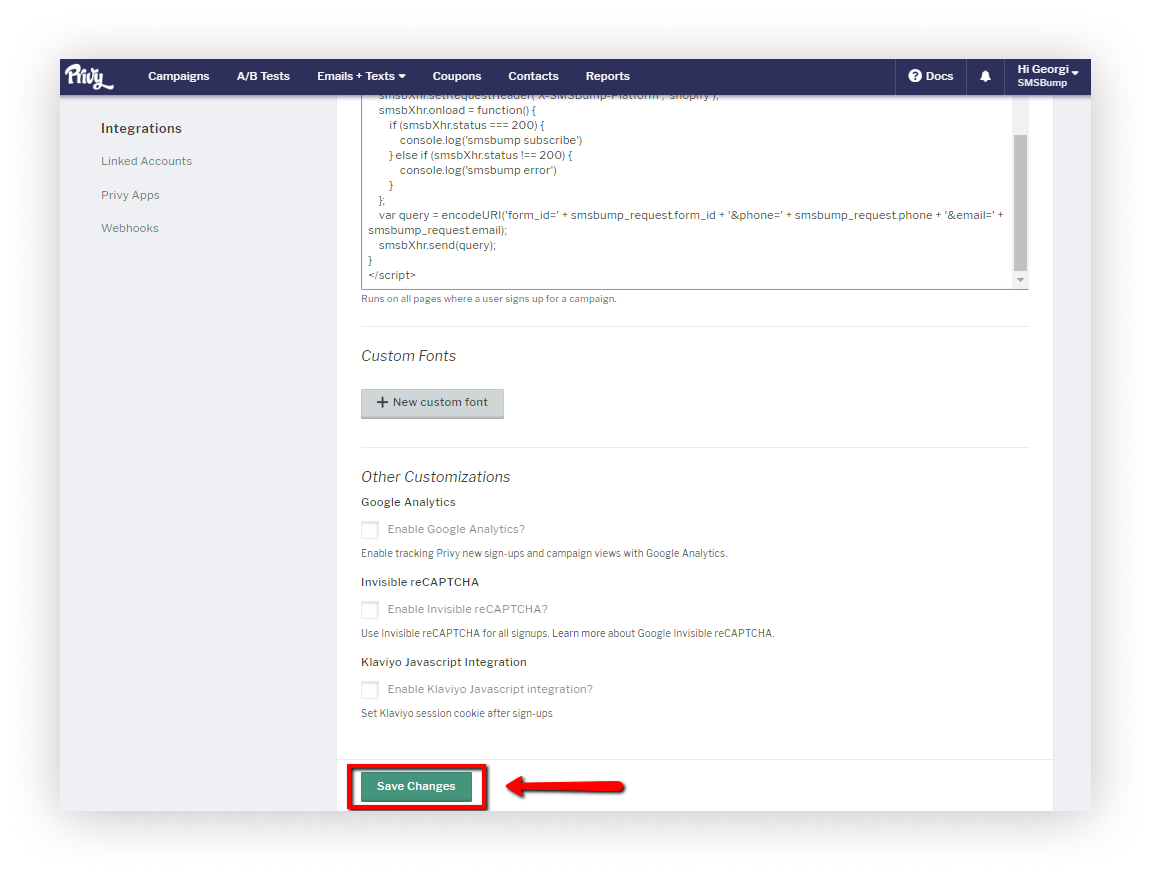 With these few simple steps, the integration between Privy and Yotpo SMS & Email is completed.
Creating a new Privy campaign
The next step is to learn how to create your first Privy campaign.
From the main Header menu in your Privy account, click on Campaigns.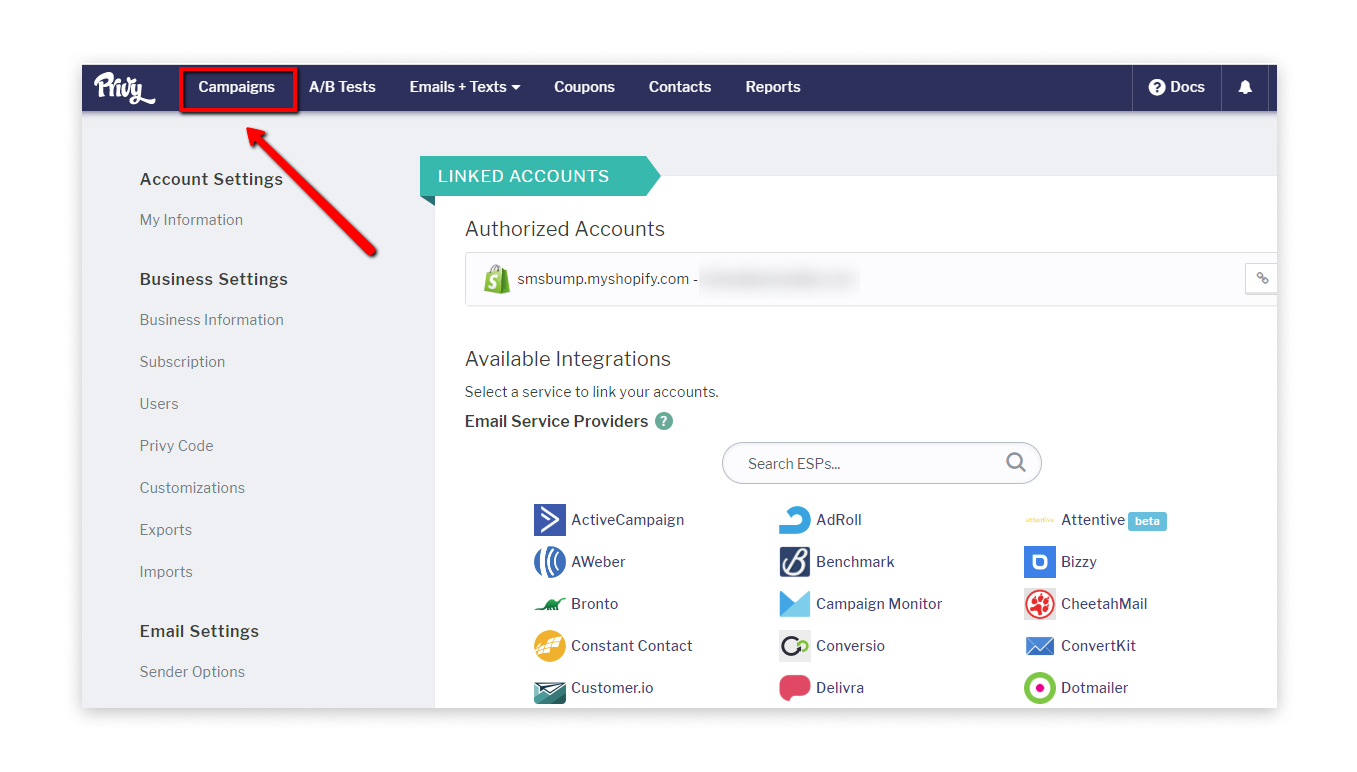 In order to set up a new campaign, simply click on the New campaign green button on the right side of the page.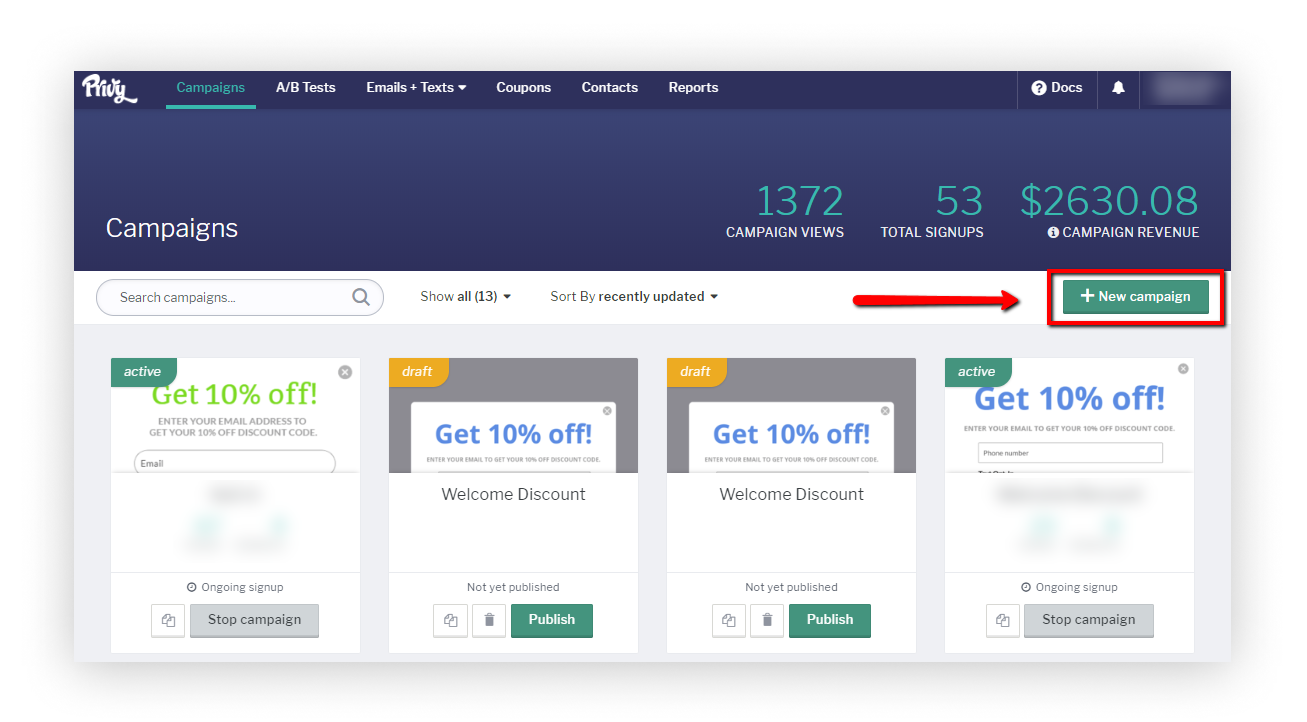 You will be able to choose among 6 basic types of campaigns:
Welcome Discount - increase subscriptions by offering visitors special discounts they will receive upon opt in
Mobile Signup Discount - another discount option, but with focus on mobile users
Exit Email Capture - exit pop-up subscription
Announcement Bar - create a pop-up for special announcements, located on the top of your website
Advanced Cart Saver - target your customers, based on the size of their cart value
Build Your Own - choose this option if you want to build your own template from scratch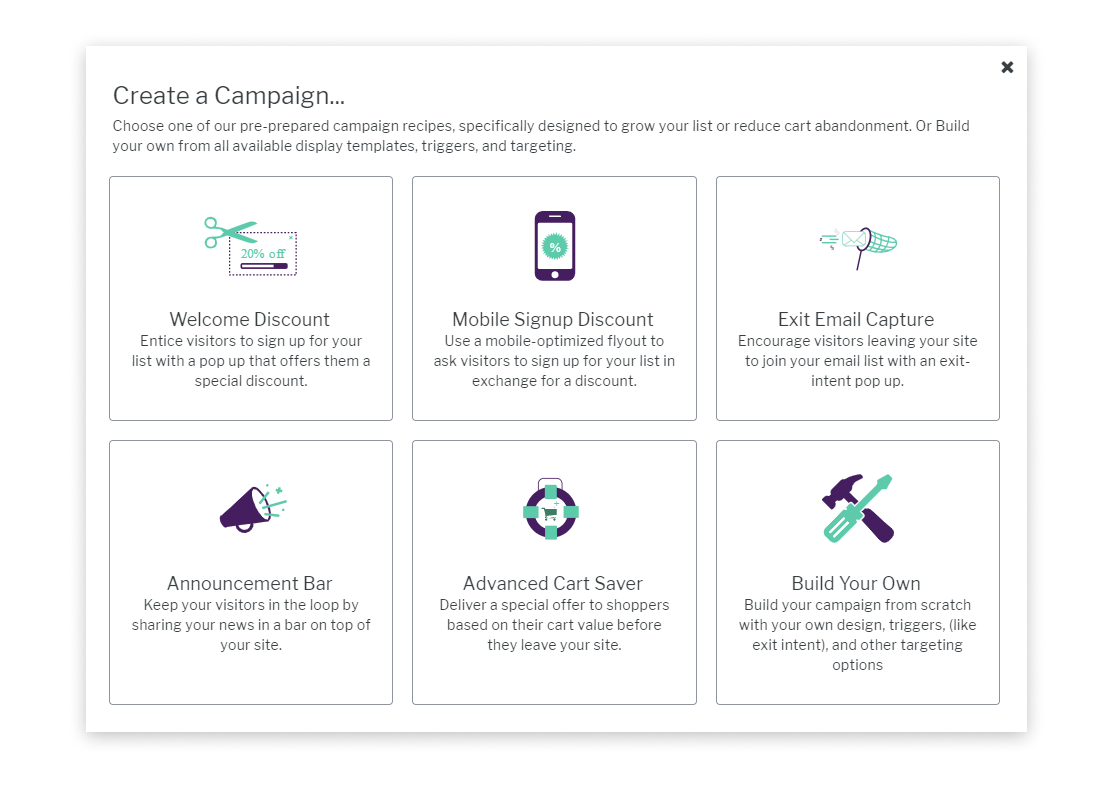 All these templates are synchronized with Yotpo SMS & Email, so choose the one you need for the purposes of your text marketing campaign.
After you choose a campaign template, a pop-up will appear where you will be able to customize all campaign settings. Just remember to always enable this option: Form Field → Phone.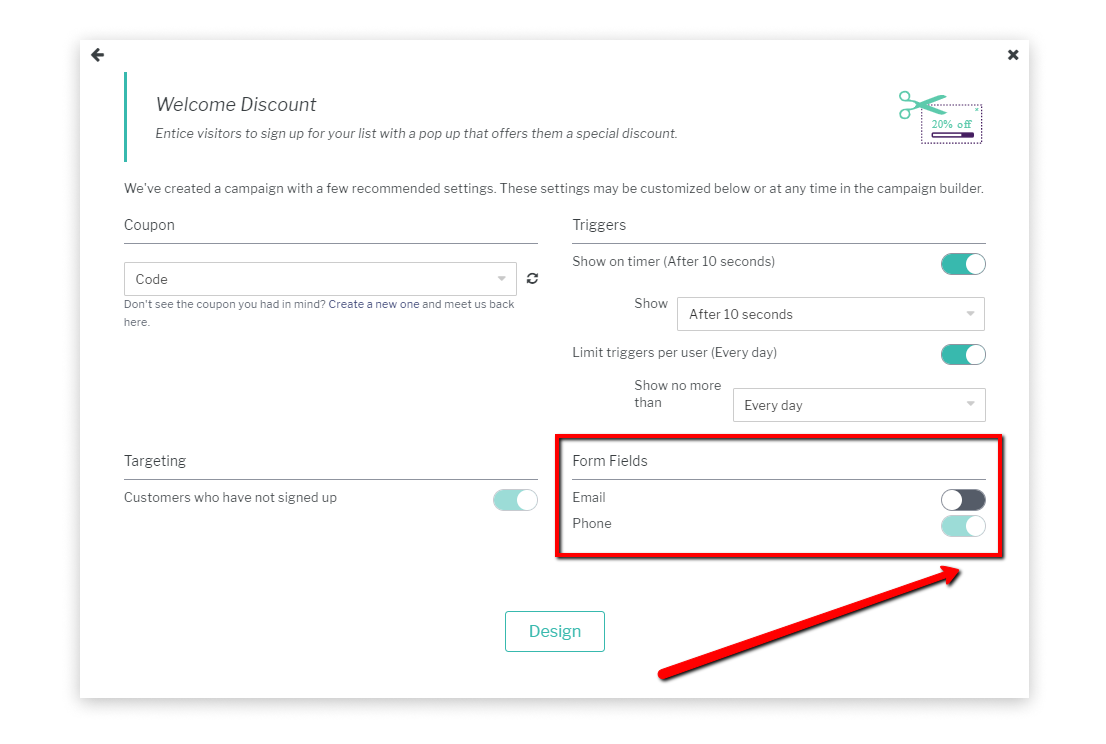 To find out more on how to customize your campaigns in Privy check out their Knowledge Base here.
Compliance check
It is very important to make sure that your pop-up campaign is compliant and that you collect phone numbers following all TCPA & GDPR regulations.
In order to do this, simply add the following compliance text below the Call-To-Action button in your popup:
By signing up via text you agree to receive recurring automated marketing messages at the phone number provided. Consent is not a condition of purchase. Reply STOP to unsubscribe. HELP for help. Msg & Data rates may apply. View Privacy Policy & ToS.
Here is how to do it in the Privy Campaign Builder:
When you add the Phone field, click on Add Field and select the option Text Opt-in: After that paste the compliance text in the box on the left as shown:
Please note:
Your pop-up form won't be able to send any contacts to your SMS & Email account, unless you have the Text Opt-in Field in it. Adding this field ensures that you comply with the TCPA and GDPR regulations on how to obtain text marketing contacts.
Test the integration
It's always good to double-check and make sure your integration was set up properly and works successfully.
To do that, go to your store's website and fill your mobile phone number in the pop-up.
Your phone number should appear in your Signups section in Privy, located in ongoing Campaigns: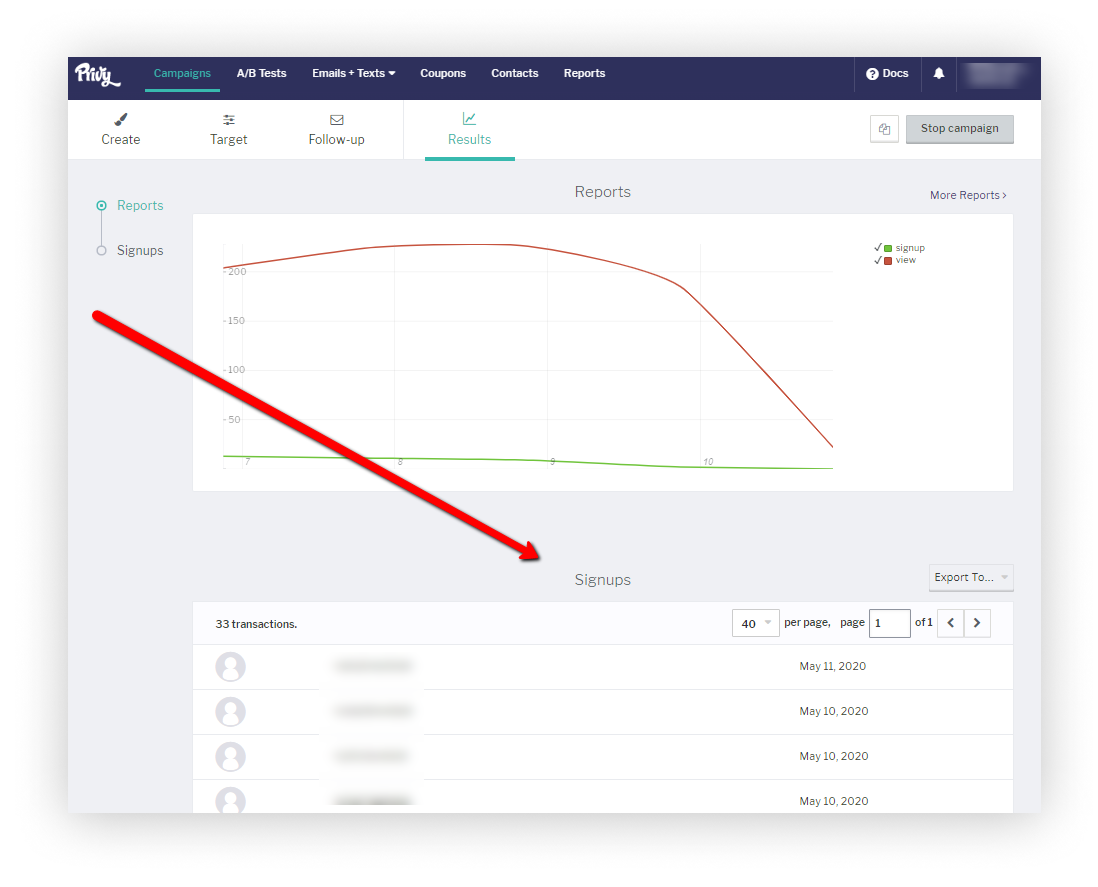 At the same time, you should be able to see it in your Yotpo SMS & Email Lists & Segments, as part of your default Text Marketing List.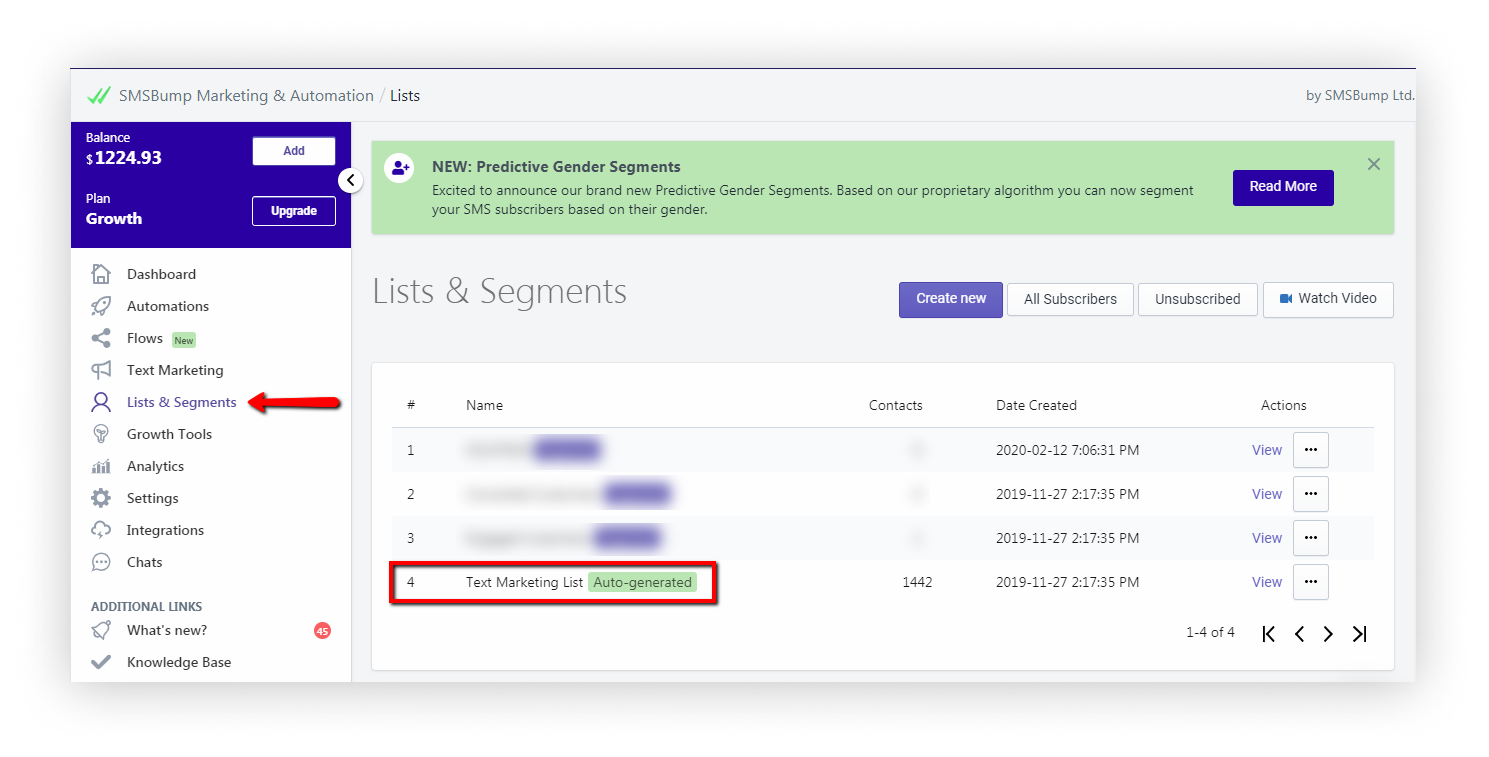 These subscriptions will be listed as Privy under the Source column, as shown: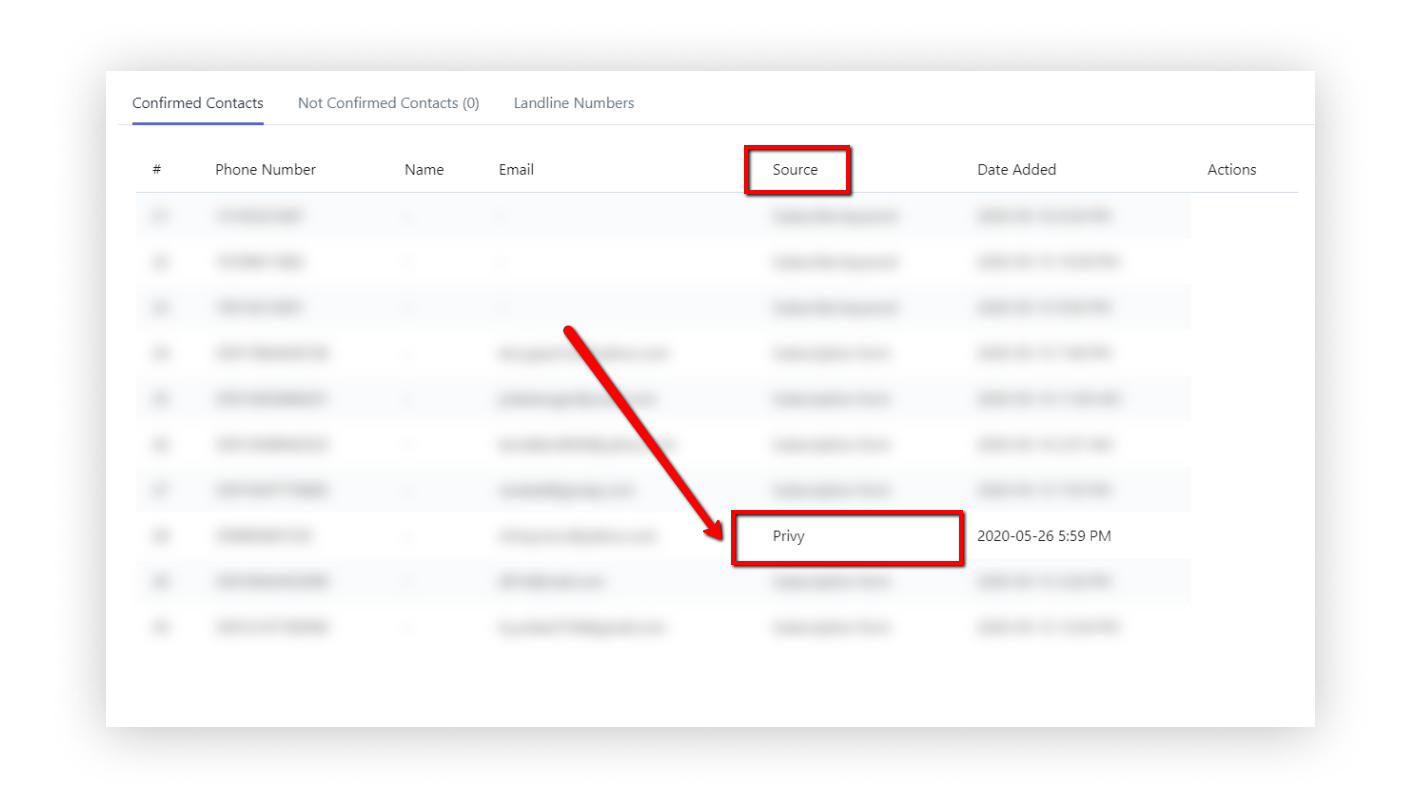 Gathered phone numbers go directly to your Yotpo SMS & Email lists allowing you to use all useful tools and features, such as Segments, Flows, and Analytics.
This was our quick tutorial on how to draft your first campaign using Privy and Yotpo SMS & Email, and enjoy a major increase in subscribers and blooming sales numbers.
Now you can start creating campaigns and pop-ups, gather mobile phone subscriptions, and start prepping for your next SMS & Email text marketing campaign!
---
Was this article helpful?
---
---