Customizing Your Shopify Checkout Opt-In Box
Customizing Your Shopify Checkout Opt-In Box
---
Share feedback
Thanks for sharing your feedback!
Supported plans
Free, Growth, Prime, Powerhouse
eCommerce Platform
Shopify, Shopify Plus
SMS marketing is consent-based. This means that for legal and privacy reasons you need to make sure you send text messages only to customers who have explicitly agreed to receive marketing messages from your online store.
Shopify customers can subscribe to your SMS marketing program through a checkbox in the checkout section of your store. Once they provide their phone number, agree to receive your offers via the dedicated sign-up checkbox, and complete the purchase process - they become your SMS subscribers.
In this article, you'll learn how to customize your checkout opt-in box for new and existing Shopify customers.
New Shopify customers
Step 1. Go to Shopify Settings and click on Checkout where you will be able to edit your checkout process.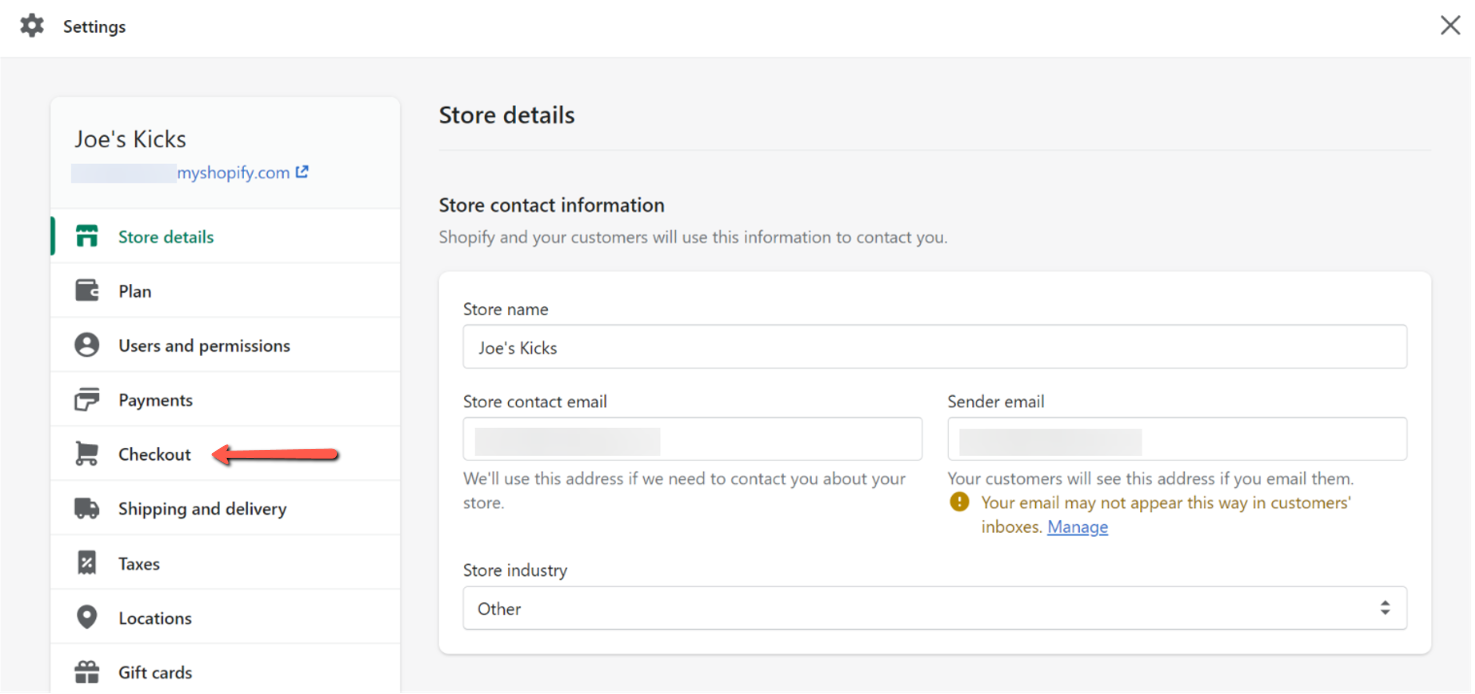 Step 2. To add a sign-up checkbox to your checkout, in the Marketing consent section, check Show an option to subscribe at checkout.

Step 3. Click Save.
Step 4: Update Terms of Service and Privacy Policy.
Please note:
If you haven't already done so, Shopify will require you to set up your terms of service and privacy policy in your legal settings for your store to be fully compliant. In order to do it, click on the link in the blue box below the checkbox, or go to your
Shopify Admin → Settings → Policies and
insert the full compliance text in the
Terms of Service and Privacy Policy
sections from the button link below.
Recommended Terms of Service and Privacy Policy texts
Step 5. Customize checkbox.
From your Shopify Admin Settings go to Online Store → Themes → Actions → Edit Languages → Checkout & System.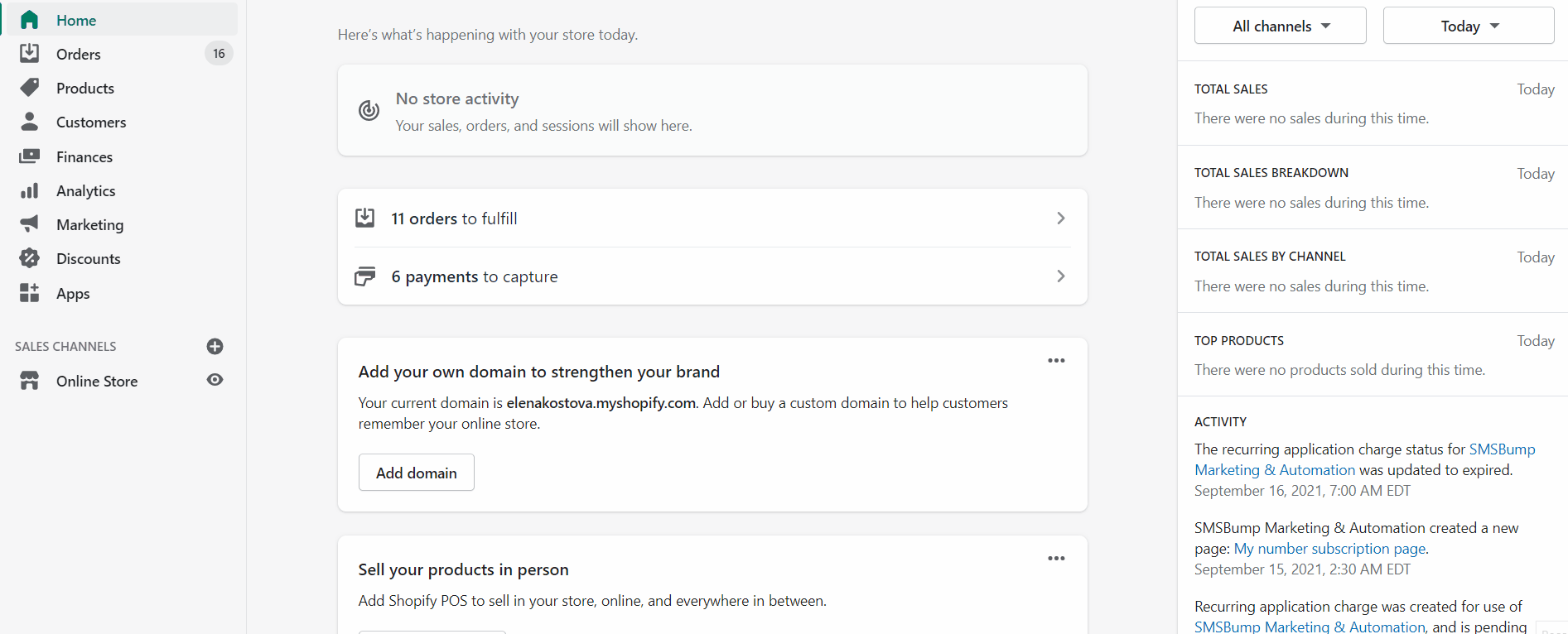 Type "sms" in the filter items bar to quickly locate the related fields.

This is where you get to customize your checkout checkbox. You can fill in:
The "accept SMS checkbox" label message: i.e.,Text me with news and offers.
Privacy policy: leading to the Privacy Policy compliance text in the Legal section of your Shopify Admin.
Terms of service: leading to the ToS text in the Legal section of your Shopify Admin.
Description html: feel free to use the preset compliance text or edit it to better reflect your brand tone of voice.
"By signing up via text you agree to receive recurring automated marketing messages and shopping cart reminders from [Brand Name] at the phone number provided. Consent is not a condition of purchase. Reply STOP to unsubscribe. HELP for help. Msg frequency varies. Msg & Data rates may apply. View Privacy Policy & ToS".
How it looks in the admin panel:
How it looks on your checkout page: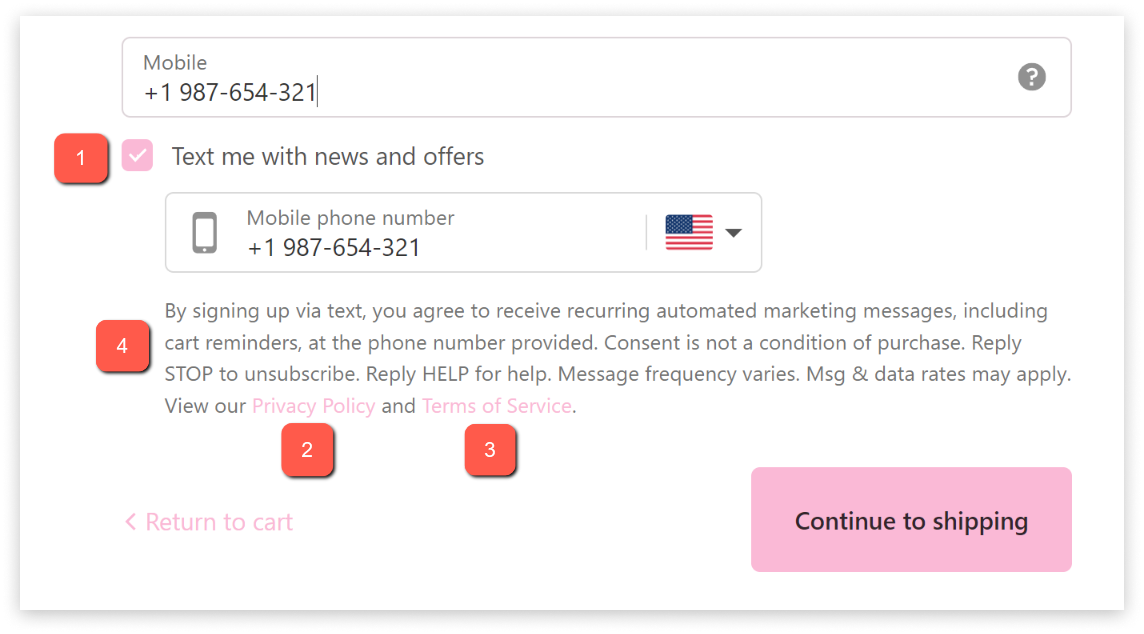 Please note:
Customers can now

choose a different phone number - other than the one provided for shipping purposes.

Keep in mind that for the SMS marketing subscription preference to be saved, the customer needs to complete the checkout and finish their order. If the customer doesn't complete the checkout process, they won't be signed to your text marketing services, and no SMS automations or flows will be triggered.
Here is an example of a checkout page with email and SMS subscription options: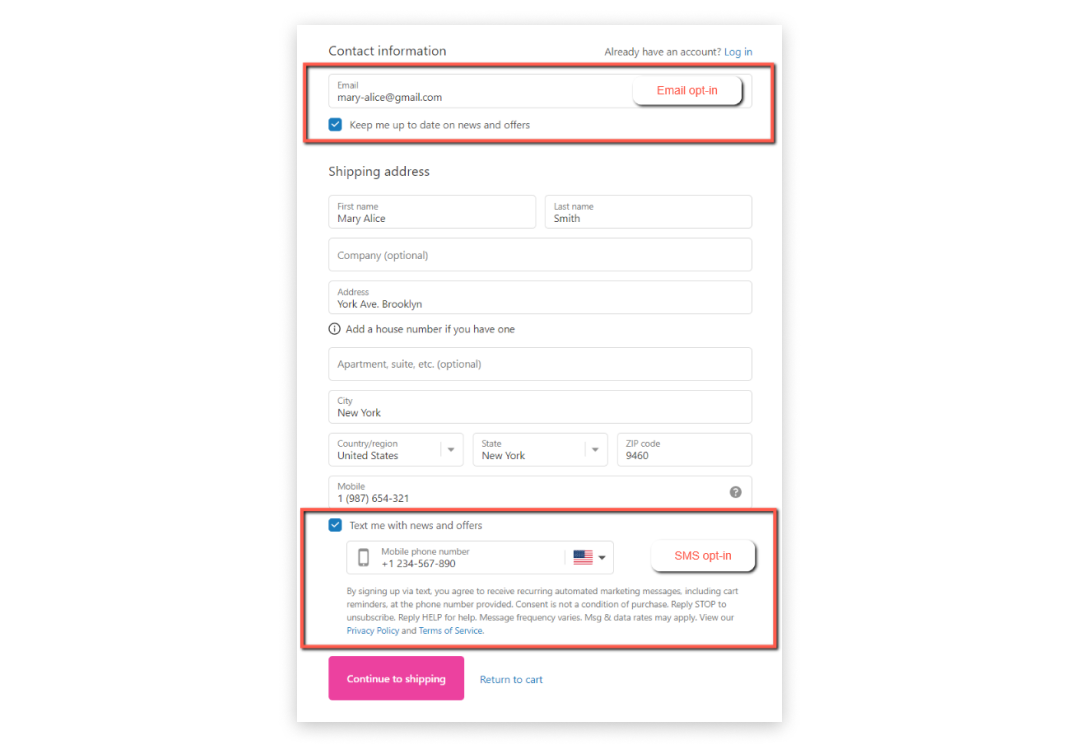 Existing Shopify customers
If you are an existing Shopify customer and you want to switch to the new checkout opt-in method, just make sure to first remove all existing compliance content from your checkout page via Shopify admin.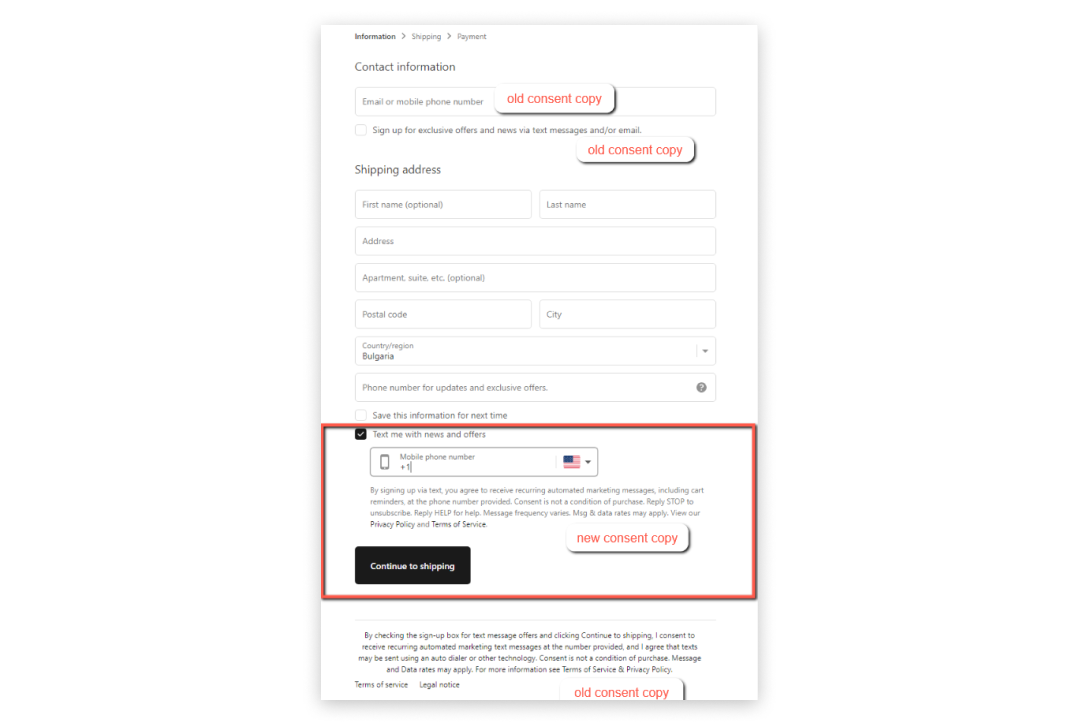 Step 1: Switch the text "Email or mobile phone number" in the Contact information section to "Email" from Online Store → Themes → Actions → Edit Languages → Checkout & System. Section:Email or phone label.

Step 2: Switch the checkbox text below from "Sign up for exclusive offers and news via text messages and/or email" to "Email me with news and offers" from Online Store → Themes → Actions → Edit Languages → Checkout & System. Section:Accept marketing checkbox label.

Step 3: Remove the old consent copy above the footer of the checkout page Online Store → Themes → Actions → Edit Languages → Checkout & System. Section: Checkout shop policies, subsection Privacy Policy.

Then, follow the setup instructions as if you are a new Shopify customer, as shown above.
---
Was this article helpful?
---
---