Configuring Your Yotpo SMS & Email Settings
Configuring Your Yotpo SMS & Email Settings
---
Share feedback
Thanks for sharing your feedback!
Supported plans
Free, Growth, Prime, Powerhouse, Enterprise
eCommerce Platform
Shopify, Shopify Plus
Your Yotpo SMS & Email Settings is the place for configuring and personalizing important features that influence the way the app works. It's where you can configure your Sender, Time zones, Quiethours, Maximum price per sent message and more.
Let's give you the tour.
To get started, click on Settings on the Dashboard main menu.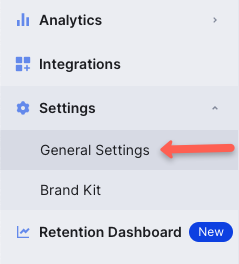 All the Settings are grouped into 7 different categories: General Settings, Country Limitations, Payments, Preferences, Branding, Chat and Notifications.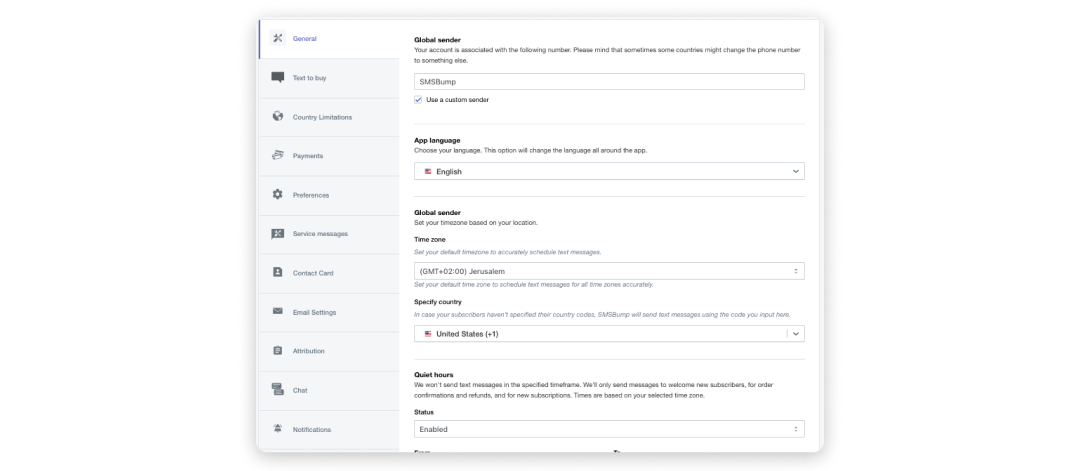 1. General Settings
This is where you choose your sender, language, timezone, quiet hours, smart sending and opt-in preferences.
Global Sender
The Global sender field lets you choose who the recipient sees as the sender.
This can either be a dedicated Yotpo SMS short code (for United States phone numbers),81787 short code (for Canada phone numbers)or the +46765196160 short code (for international customers).
In case you have a paid plan you can also use the custom sender option and change the number to your own brand name. Please keep in mind that some countries such as U.S. or France do not allow the usage of brand names as custom sender. In these situations your brand name will be replaced by a short code.

App Language
This is where you get to choose the language that will be used everywhere inthe app. Currently there are 2 options: English and French.

Timezone Settings
Available for Yotpo SMS & Email Growth Plan and above.
In Timezone settings you can set your timezone according to the location of your Shopify online business.
For example, if you're based in the United Kingdom, but your customer base is in the United States, the timezone setting here should be set at United Kingdom.
Sometimes your customers will give you their phone number but they will forget to add their country code. To increase your chance of still successfully reaching these customers you can use Specify country. The feature allows you to set a pre-defined country code, which will be added to the phone number in case the customer hasn't specified their country.
So, if the majority of your subscribers are based in Canada, then you should specify your country to be Canada.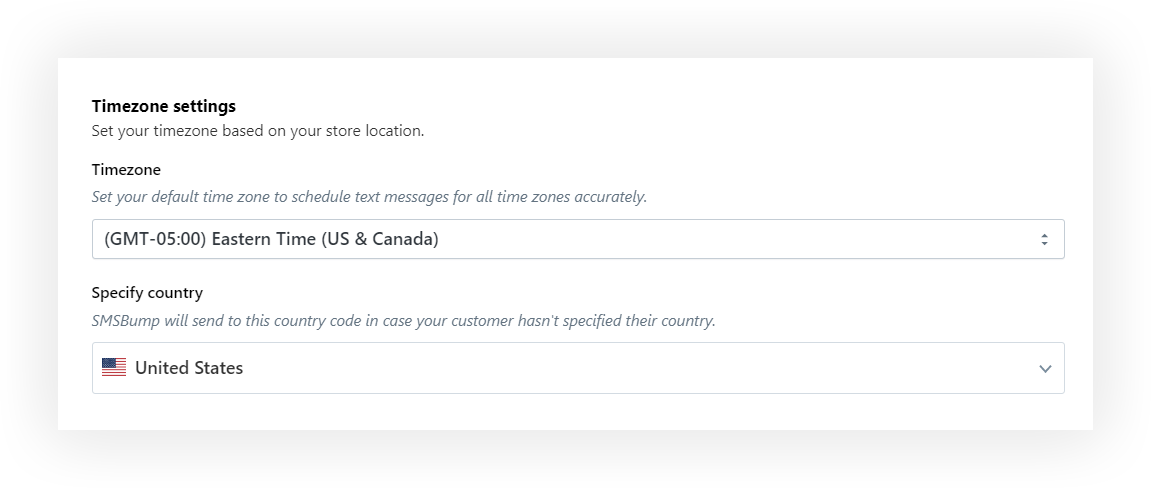 Quiet Hours
Quiet Hours lets you choose a time period during which text messages will not be sent to customers.
When Enabled, you can choose the desired time span. The feature works based on the timezone you have set in the setting above.
Important:
Quiet hours are ignored for the following user-triggered transactional flows: Order created, Order refund, New subscriber confirmation, and ReCharge Subscription Created. This way customers will receive timely notifications, related to their order or subscription.

Learn more about Enforced Quiet Hours (U.S. stores only).
Smart Sending
Smart sending helps Shopify store owners avoid double-texting the same customer in a short periods of time. Use the field to select theamount of hour/s that should pass before sending another message to the same number. In general, we recommend you use a time span between 16 and 20 hours.
Type in "0" if you want to keep this feature off.
You can exclude transactional messages from Smart sending by ticking the Ignore transactional emails and text messages checkbox. By doing this, customers will receive the following order and shipping updates as soon as they are triggered:
New order
Shipping confirmation
Shipping update
Order update
Yotpo Product Review Request
Order paid
ReCharge failed charge
ReCharge upcoming charge
ReCharge subscription canceled
Order canceled
New ReCharge subscription
Order refund
Customer deleted
Shipping created

Subscriber opt-in preference
You currently have a total of 3 options on how to set up your subscriber collection method:
Single opt-in: Customers who sign up for your text program will not be required to confirm their opt-in in order to begin receiving SMS marketing messages from you.
Double opt-in (Standard): Customers who sign up from on-site subscription tools, such as checkout, subscription forms, shareable subscribe links and integrations, will be required to confirm their opt-in by replying "Y" (Yes) to a confirmation text message.)
Double opt-in (Strict): All customers who sign up for your text program, regardless of the subscription source, will be required to confirm their opt-in by replying "Y" (Yes) to a confirmation text message.)

2. Country Limitations
Limitations
The Limitations feature lets you send texts only to customers in certain countries, or exclude customers in other countries.Under Send SMS only to the following countries, click on Include o rExclude and choose the countries by typing them in. Click on Not set if you'd like to disable this option.

TheMax Message Pricefield lets you set a limit on the cost spent per message. This way the app doesn't send any messages that go over the limit you have set here.
UnderMax message price, clickEnabledto set the maximum price you want your messages to be. The way this will work is when your Shopify store tries to send a text message that goes above the price you set here, we will not send out that message.

3. Payments
Auto-Reload
Enabling the Auto-reload feature automatically adds credits to your balance when it falls below a certain amount.
Under Status click on Enabled to specify the minimum balance that will trigger the reload. Set the amount you want to recharge automatically and set a monthly limit of the auto-reload, so you don't accidentally lose track of your spending.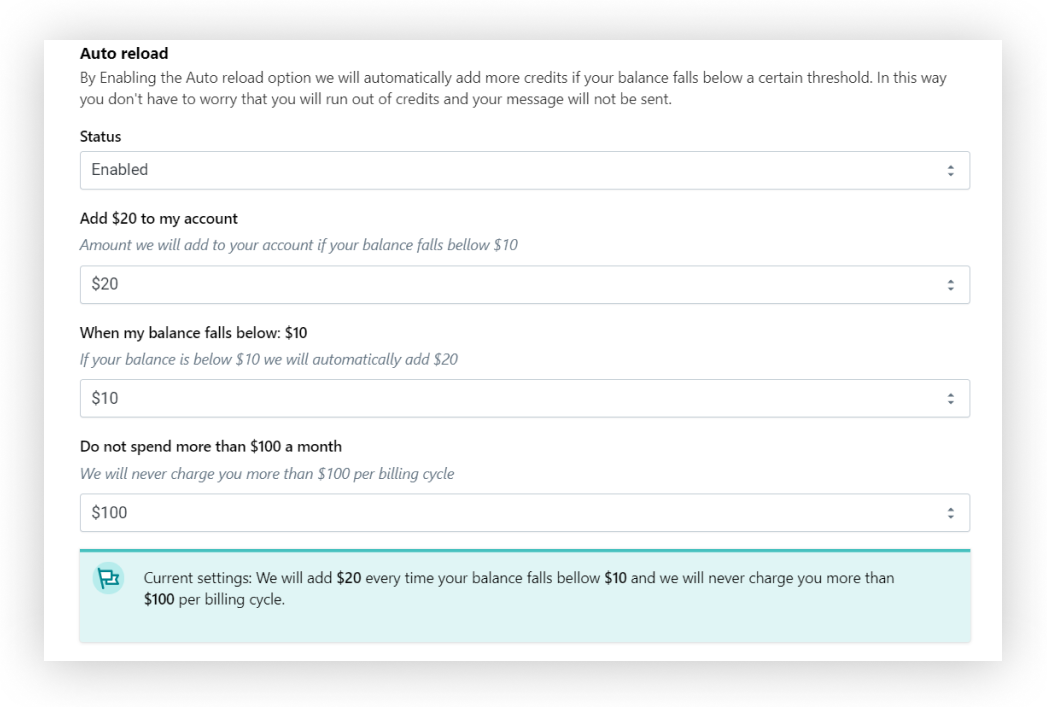 4. Preferences
This is where you can set your staff phones, short URLs, discount code prefixes and smart encoding.
Staff Phones
Staff phones allow you to add staff phone numbers that will receive admin notifications and test messages before sending. The country code of the store location you set will automatically appear when adding a new number.
If you want to add a number from a different country, type in the international country code manually.

Global Short URL
Global Short URL lets you set how customer will see links in a text message.
It also shortens them, giving you more character length and the ability to track results in Google Analytics and in the Yotpo SMS & Email Analytics section. In the drop-down menu, you can either choose the default SMSBump shortening option with less characters, or the Brand name of your store.

Additionally, you can choose a custom domain. Tick the box "Use a custom domain" to activate thisoption.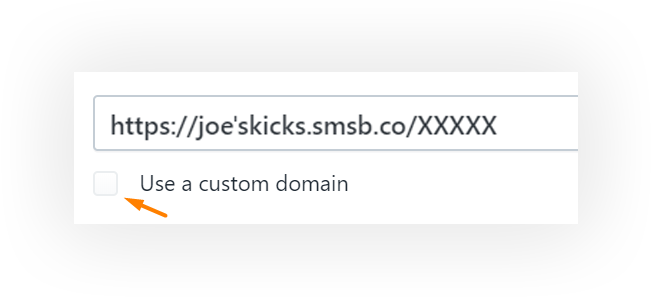 Discount Code Prefix
When enabled, the Discount Code Prefix will allow you to set general prefix rules for all your SMS campaigns.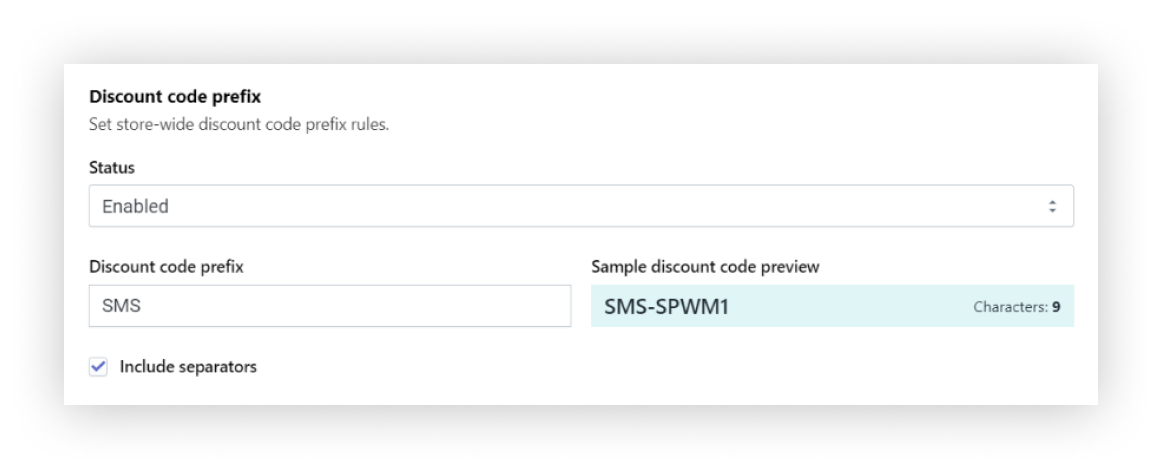 Smart Encoding
Smart encoding replaces all special characters in your text message to their Latin equivalent.The purpose of this feature is to maximize your use of the allowed character count.
(Special characters allow for 70 characters, while standard allow for 160).
Make sure to keep an eye on the SMS counter while creating your text messages.

5. Service messages
Service messages are SMS responses customers will receive when they reply to your numbers with a predefined keyword. They are used to inform subscribers about their opt-in status or provide help. Service messages are mandatory for US and Canadian recipients therefore, the message cannot be edited. However, merchants with international customers can now fully customize their service messages, opt-out keywords and language, and provide a more personalized and multilingual experience from this section!

6. Contact Card
This is where you get to configure your Contact Card preferences. Add your company logo and set up a message foryour subscribers tomake them save your number to their contact list.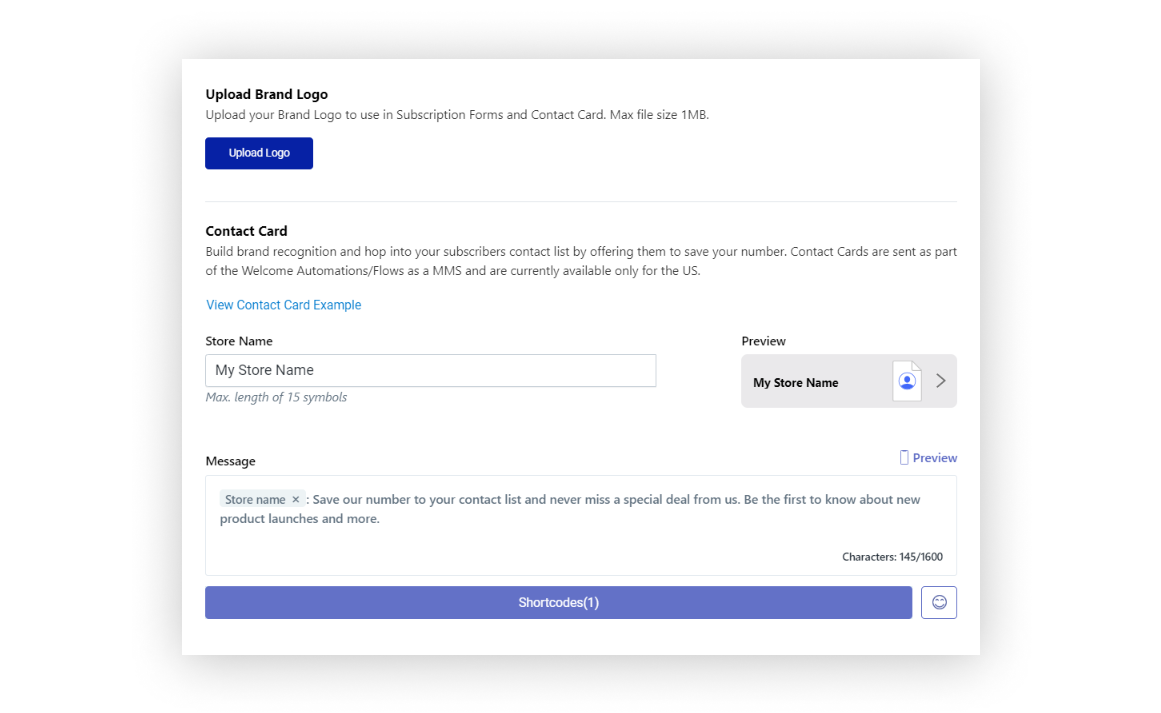 7. Email Settings
Here you can set up all the relevant sender information for your store, so email subscribers know who's writing them.

8. Attribution
Attribution is the process of connecting user interactions to a specific marketing campaign, or, in other words - where and how your customers came across your product or service. This section allows you to set up your email and SMS conversion windows as well as your UTM tracking.

9. Chat
This section allows you to enable Chat and set up a greetings message your customers will get when they contact you for the first time.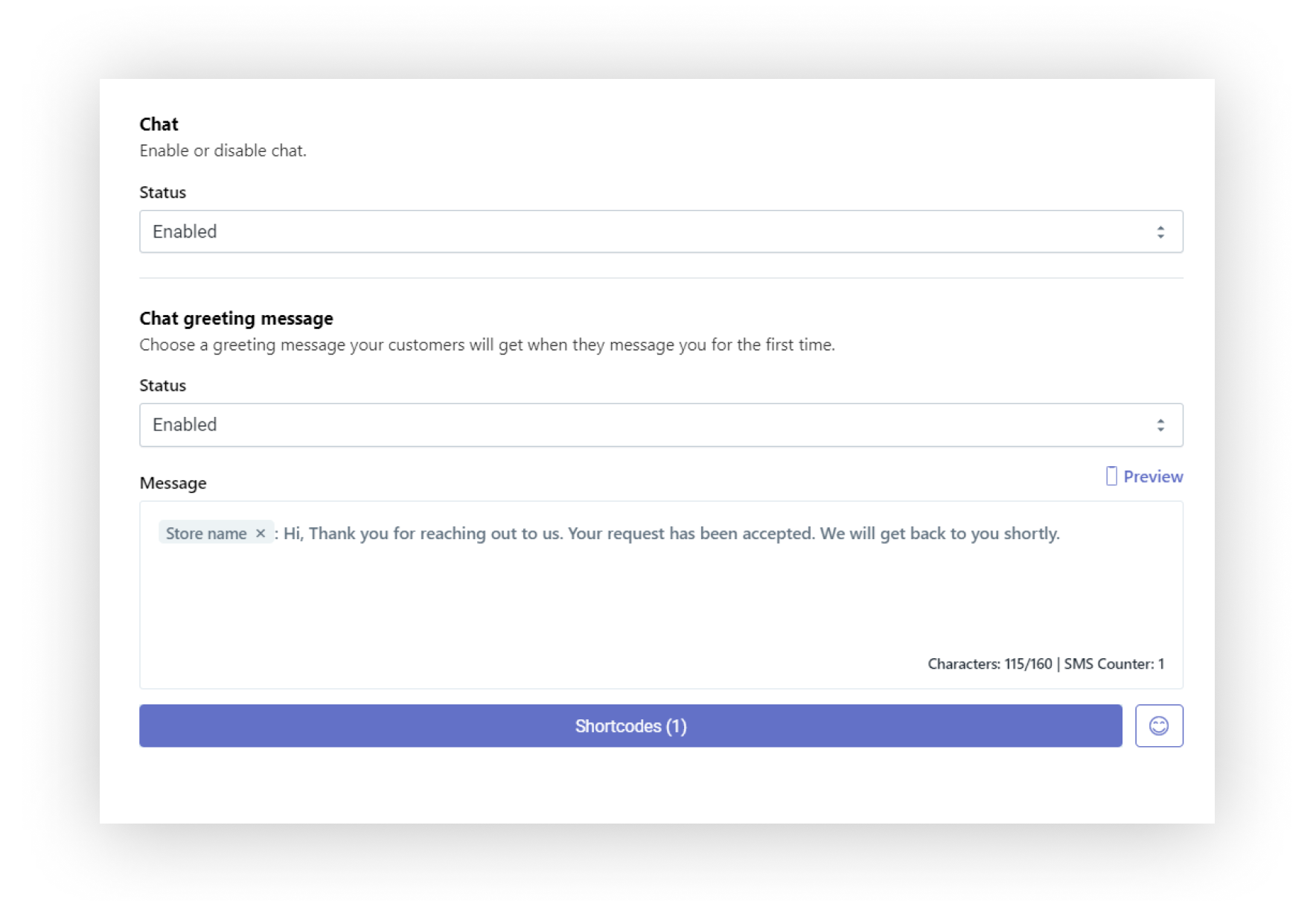 10. Notifications
Use this section to set which notifications you would like to receive on your email.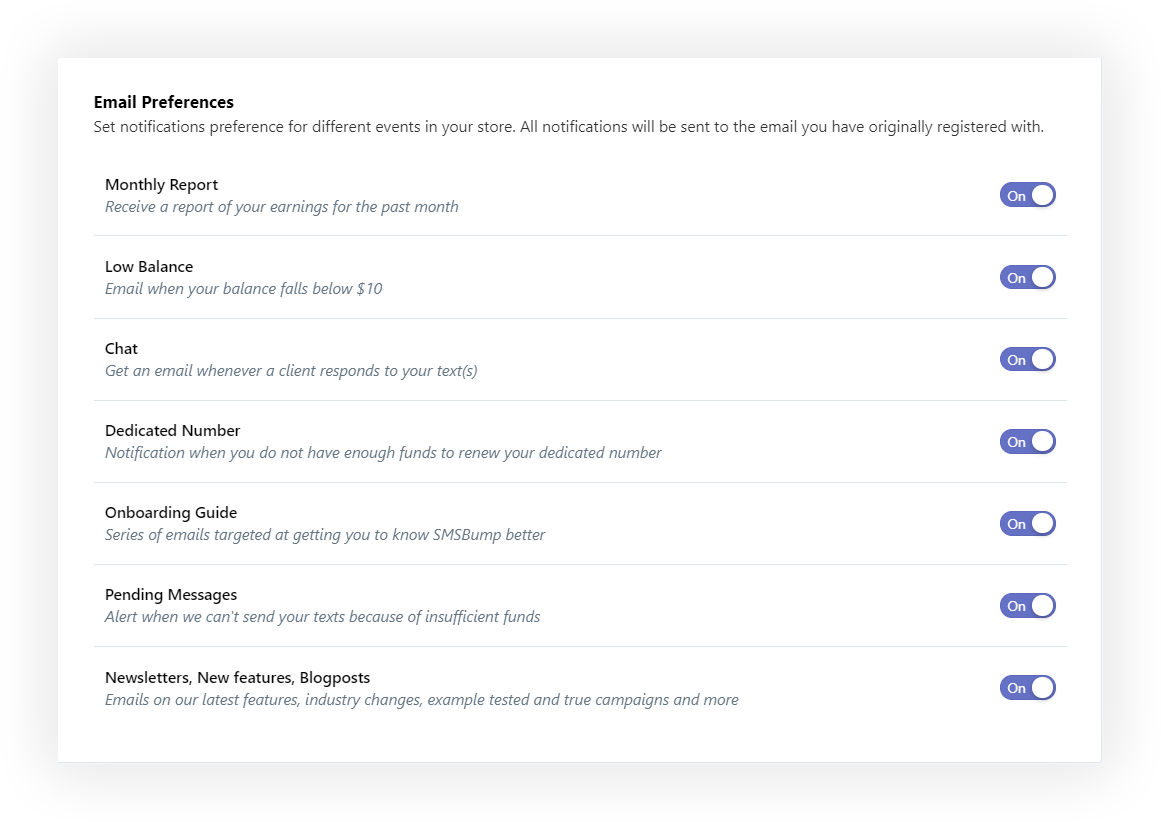 Good job! You are done configuring your settings. Click on the Save button to activate them.
---
Was this article helpful?
---
---
What's Next