Optimizing Your Pop-up Subscriber Collection
Optimizing Your Pop-up Subscriber Collection
---
Share feedback
Thanks for sharing your feedback!
Supported plans
Free, Growth, Prime, Powerhouse, Enterprise
eCommerce Platform
Shopify, Shopify Plus
In this article, you'll learn how to supercharge your SMS and email subscriber collections using Yotpo SMS & Email's customizable tools and wide variety of available integrations.
Maximize SMS and email subscriber collection with powerful integrations
If you are using other apps to boost the performance of your Shopify store, make sure you get the best out of the integrations between them and Yotpo SMS & Email.
It will make the subscriber collection process easy and convenient for both sides: shoppers aren't overwhelmed, and store owners feed both their ESP and Yotpo SMS & Email subscribers from a single touchpoint.
Add phone number collection to existing forms
If you already have an email subscription pop-up, you can capitalize on it by adding a phone number collection section and feeding it directly to your subscriber lists. Let's see how you can pool your resources together with some of the most popular Shopify apps:
Connect Klaviyo and SMS to simultaneously grow your SMS and email lists and send targeted campaigns on both channels. Our integration with Privy allows you to include phone number collection at strategic places of a user's journey and customize triggers and targeting options. If you prefer Justuno for making creative and well-targeted pop-ups, connect it with SMS & Email to start making creative and well-targeted SMS campaigns.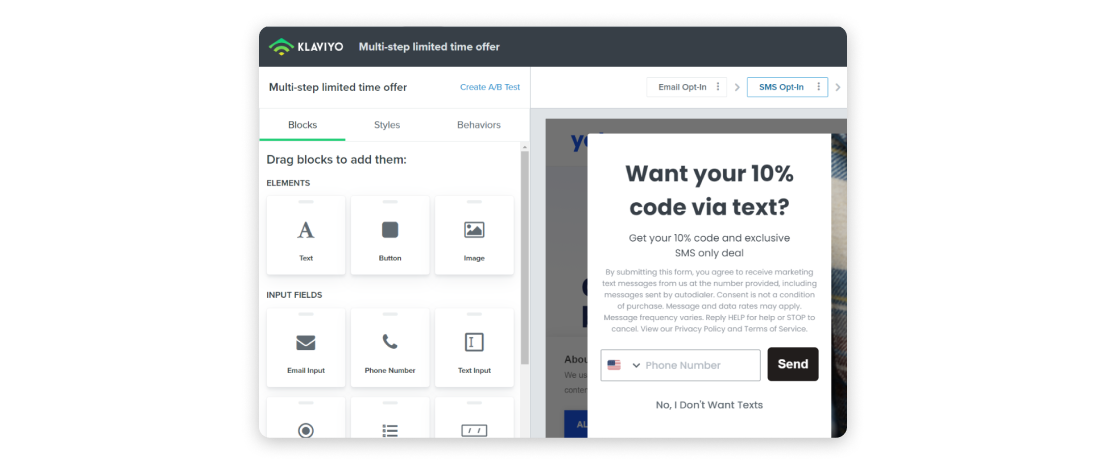 Use Yotpo SMS & Email's 2-step opt-in forms to collect email addresses
Our subscription forms (pop-up, embedded form, floating button, and footer) are quite versatile. They can be customized and optimized to collect not only phone numbers but also email addresses and sync them directly to your favorite email marketing tools: we have ongoing integrations with Klaviyo, Listrak, and Mailchimp.
Collecting both phone numbers and emails will enable you to launch well-targeted multichannel campaigns that complement each other, cover all stages of the marketing funnel, and increase conversions.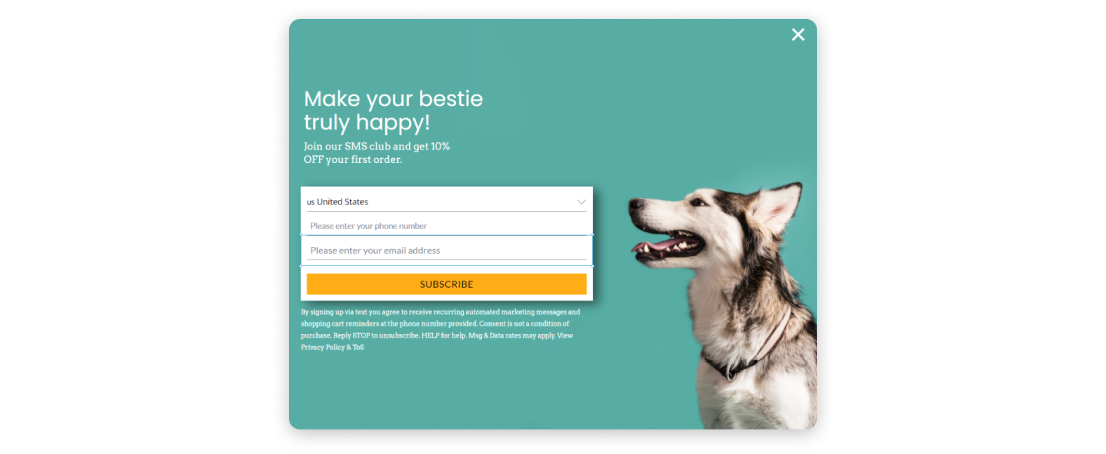 Enhance your pop-ups
Integrating with more apps is essential, but a positive onsite experience can really boost subscriber collection. With the help of our editor, you can fully customize every aspect of your pop-ups.
Design
Pop-ups should be eye-catching and aesthetically pleasing.
Choose from a variety of pre-set templates and tweak them to fit your brand identity: change fonts, colors, add images and text - all in under 5 minutes. Your pop-ups are now ready to draw attention and turn casual scrollers into loyal customers.
Behavior
A high-converting pop-up is captivating but also well-timed. With SMS & Email, you can choose exactly when your pop-up will appear and who will see it. Set up your pop-up's behavior in just a few clicks and start reaping its benefits (or subscribers) in no time.
Dynamic pop-up form
If you aim to maximize your pop-up's effectiveness, simply enable its Dynamic form. It is an elegant solution to annoying subscription forms getting in the way of your store's content. It turns your SMS subscription pop-up into a non-intrusive button discreetly shown at the bottom of a page.

Store owners can easily collect both SMS and email subscribers with our 2-step opt-in tools. However, if you decide to leave your third-party email collection form active, you can place a discrete SMS-collecting Dynamic pop-up set as a floating button at the bottom of the page. This way, customers won't be overwhelmed with pop-ups, they can save the SMS subscription for an optimal time of their user journey, and they will be able to subscribe to all your channels at their own pace.

Pro tip:

To make the most of this feature, we recommend changing the Floating Button's text to a top-converting call-to-action. For example, an offer for exclusive information and perks (Receive updates & offers!), a message customized for your brand (Join our sweet SMS list!), or a message with a discount offer (Sign up for 20% off!)
Take advantage of the rest of our subscriber collection tools
Pop-ups are powerful and effective, but there are more ways to collect subscribers. Be sure to utilize our leading subscriber collection tools and empower your brand to create engaging experiences that increase and maximize SMS subscriber collection rates across channels. You can add a subscription keyword to your email campaigns, turn social media followers into SMS subscribers with just a tap, or place a QR code on your product packaging. Remember that brands that take a multichannel approach see 2x more subscribers and 25x ROI.
All our subscription tools are highly responsive, can be personalized to meet every customer's individual preferences, and have robust analytics to ensure maximum effectiveness and conversion. Head over to your Yotpo SMS & Email app and start building your subscriber base!
---
Was this article helpful?
---
---