Syncing Klaviyo Contacts with Yotpo SMS & Email
Syncing Klaviyo Contacts with Yotpo SMS & Email
---
Share feedback
Thanks for sharing your feedback!
Supported plans
Free, Growth, Prime, Powerhouse, Enterprise
eCommerce Platform
Shopify, Shopify Plus, Adobe Commerce (Magento), Custom
The Klaviyo and Yotpo SMS & Email integration enables you to create a fully cohesive email and SMS marketing experience: collect subscribers in full compliance through a single interaction and sync across platforms.
In this article, you'll learn how to integrate SMS & Email with Klaviyo and synchronize subscribers from both platforms.
Before you start
Make sure you have an existing Klaviyo account.
Integrating Klaviyo in Yotpo SMS & Email
First, you'll need an Application programming interface (API) key from your Klaviyo account. Go to your Settings, select the API Keys tab and click the Create Private API Key button.
Give your new key a recognizable name, choose the Full Access Key option, and click on the Create button. When the key is generated make sure to copy it!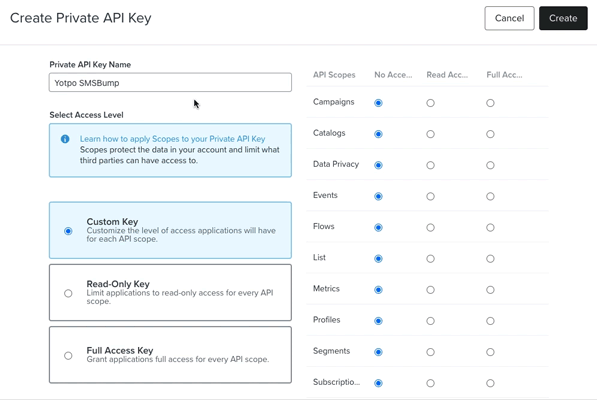 Now in your Yotpo SMS & Email main menu, go to Integrations. Click Klaviyo.
You'll see the integration page, including an overview and settings. Paste the generated API key in the Private API Key field and click on the Install button at the top.

The page will refresh and the integration between Klaviyo and SMS & Email will be installed and ready to use from the updated Settings section.
Syncing email subscribers from SMS & Email to Klaviyo
To sync email contacts you've collected in SMS & Email to Klaviyo, click on the toggle button on the right. Once activated, choose a list you want to synchronize - it will take just a few seconds and you'll get a confirmation status message.

Important:
You can select one list at a time to be synchronized with Klaviyo.
Syncing Klaviyo contacts to SMS & Email
Now, it is time to move on and learn how to synchronize Klaviyo contacts in SMS & Email.
Klaviyo lists
Here you get to sync your Klaviyo SMS subscribers to your SMS & Email account. Choose lists or segments you want to synchronize from the dropdown menu. Select one or more existing lists or segments by clicking the checkboxes. You can easily see the number of subscribers within each list/segment right next to its name in the dropdown menu.
When ready, click on the Save button on the right side of the menu.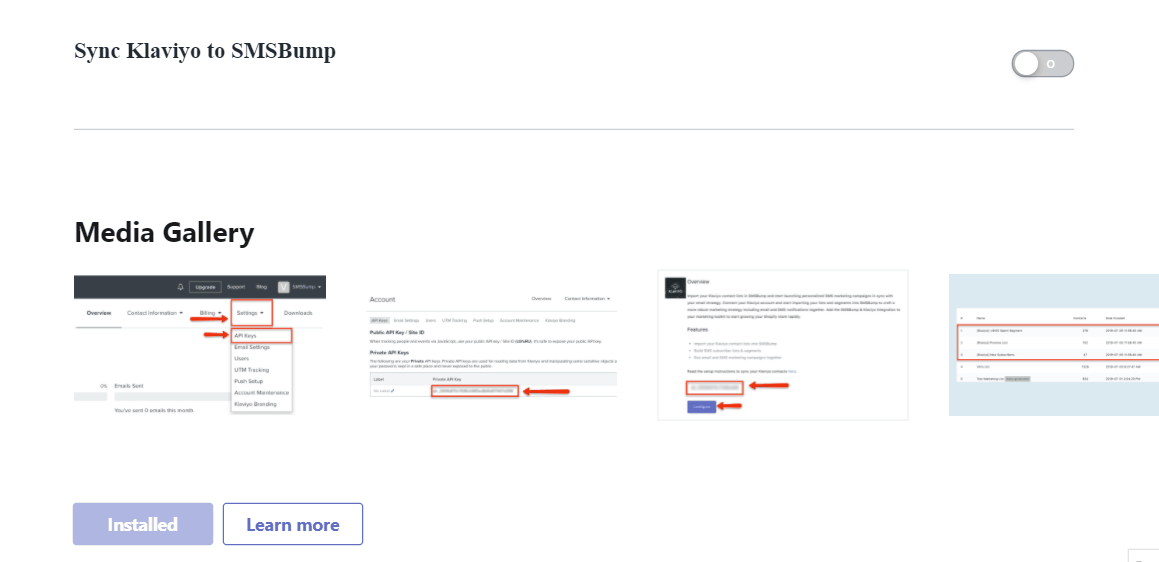 Once the sync is completed, new lists will be created in SMS & Email with a Klaviyo prefix.
Klaviyo Forms
The integration helps merchants synchronize SMS subscribers from Klaviyo subscriber collection forms to lists in SMS & Email - in real time!
All you need to do is choose the Klaviyo subscription form you want to use and link it to a list of your choice in SMS & Email.
Go to your Klaviyo account and open one of your subscriber collection forms. You will find its unique code in the final part of the URL of the page. In the example below the unique code is: KrDw4

Simply copy and paste the code of the form in the SMS & Email integration page, select a list for your new subscribers from the dropdown menu, and confirm that all contacts that opted-in via Klaviyo forms consented to receive marketing communication by checking the box below.

Important:
You can link multiple Klaviyo subscriber collection forms to a list in SMS & Email, but one form can be linked with only one list.
Now your contacts will be perfectly synced and every time someone subscribes from a Klaviyo form, it will be added to your SMS & Email list!
Using SMS & Email events in Klaviyo
To enhance the integration and give merchants the opportunity to personalize their Klaviyo flows and segmentation, we created 5 custom events:
SMSBump SMS Sent: Informs of a successful SMS delivery.
SMSBump SMS Failed: Informs of a failed SMS delivery.
SMSBump Subscribed: Informs of a new subscriber.
SMSBump Unsubscribed: Informs of a new unsubscriber.
SMSBump SMS Clicked: Informs of a click on any shortened link in an SMS.
To view your SMSBump events in Klaviyo simply go to your Metrics section.
---
Was this article helpful?
---
---