Reviews Widget Smart Filters
Reviews Widget Smart Filters
---
Share feedback
Thanks for sharing your feedback!
Supported plans
Premium, Enterprise
eCommerce Platform
Shopify, Shopify Plus, Adobe Commerce (Magento), BigCommerce, WooCommerce, Volusion, Salesforce Commerce Cloud, Custom
The Reviews Widget allows you to add additional filtering capabilities to your widget so shoppers can easily find the information they need to make quick buying decisions.
Smart Filters let customers filter reviews by topics that interest them the most. Using artificial intelligence, these topics are automatically selected according to their prominence in reviews and showcased on-site in a dynamic display.
How it works
Important:
Smart Filters will work only on stores with English as the default language, and only apply to content in English
Yotpo's review filtering capabilities include 3 default filters that are always enabled in the Reviews Widget and four optional filtering capabilities that you can choose to enable.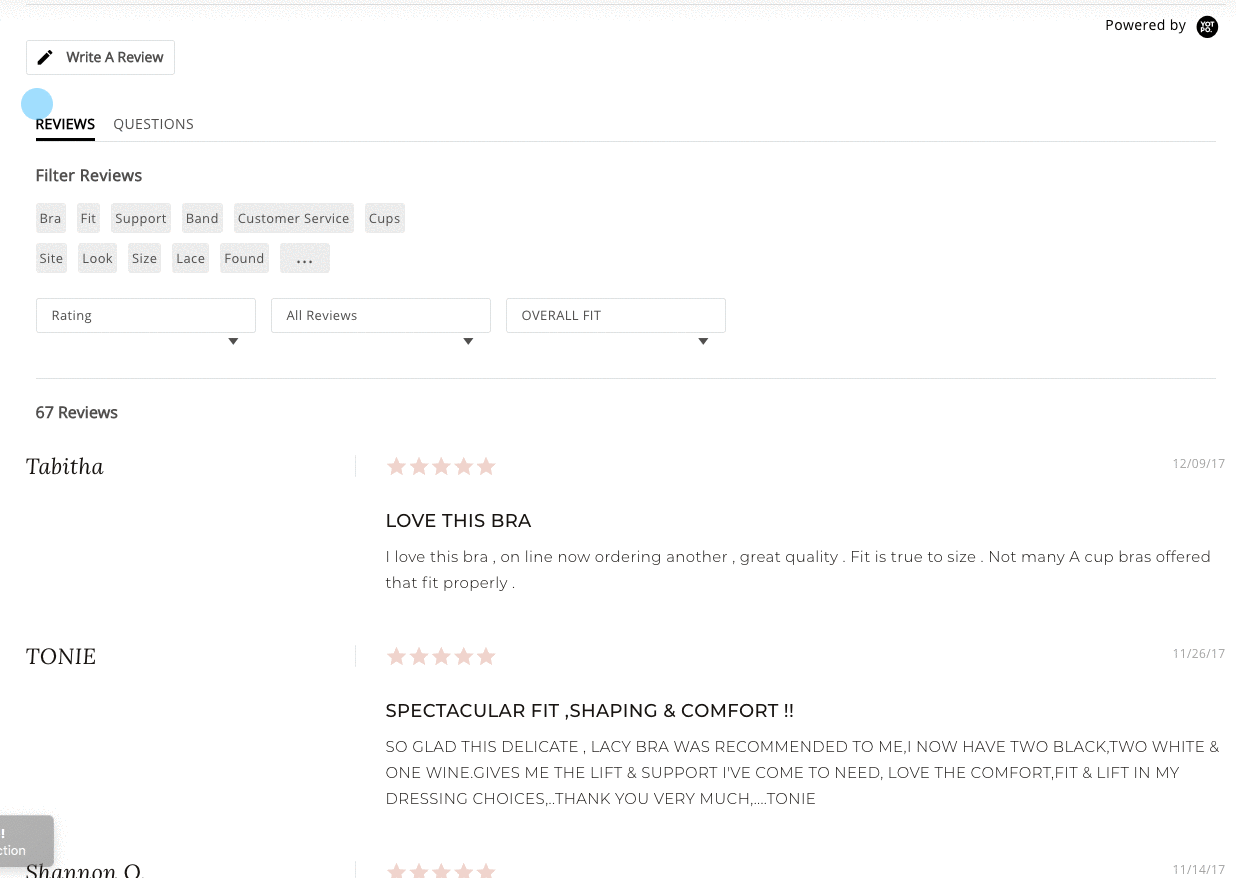 Default filters:
Optional filters:
Enabling Smart Filters
Important:
Smart Filters will work only on stores with English as the default language, and only apply to content in English
To enable Smart Filters:
From your Yotpo Reviews main menu, go to On-Site Widgets.
Click Reviews Widget.
Click the Filters tab.
Select the checkbox next to the filters you want to use.
Click Save Changes to finish.
The Smart Filters Layout will now appear on site.
Please note:
Products must have at least 3 published reviews for Review Filters to appear in your widget.
Available filters
Filter by star rating
Filter reviews by a specific star-rating score.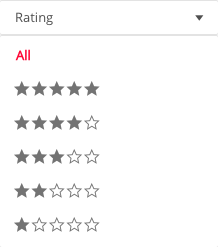 Filter by review type
Filter reviews to display only reviews that contain Photos In Reviews, or select All Reviews to view reviews with and without photos.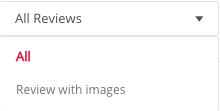 Filter by metadata
Leverage metadata collected upon order creation to allow shoppers to filter reviews according to customer, order, and/or product-related fields such as membership type, location, delivery type, order history, and more!

Please note:
Review-related metadata takes 6 hours to appear in Yotpo Reviews and on-site.
Filter by star distribution
See the star rating distribution. Shoppers can click to filter by a specific star-rating score.

Free text search
Make your Reviews Widget searchable to help shoppers find the keywords, topics, and phrases they're looking for when making buying decisions. Matches found within reviews are automatically highlighted for easy visibility.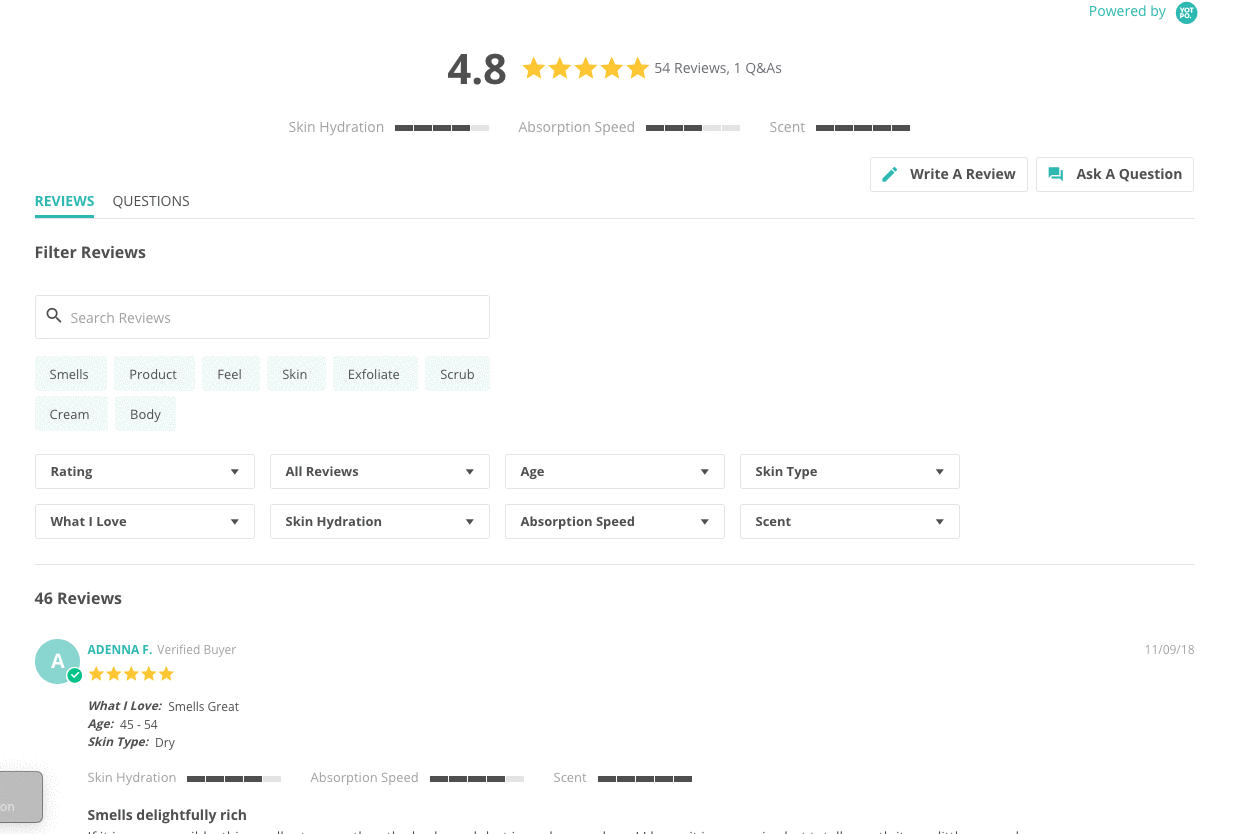 Please note:
Reviews Search supports queries up to 120 characters in length
The product must have at least three reviews for Reviews Search to appear
New reviews may take up to one hour to appear on product pages
Reviews Search applies to both the review title and the review content
Search phrases are not case-sensitive
The feature will not work for blocklisted products
Filter by topic
The order in which the topics filters appear in your widget is determined and optimized daily by Yotpo's smart algorithm in accordance with the number of clicks per topic. Topics with the highest number of clicks are ranked higher and will automatically appear first in your list of topic filters.

Topic Filters leverage Yotpo's smart topics algorithm to automatically scan and identify topics that are most often mentioned in published reviews. When Topic Filters are enabled, frequently mentioned topics are displayed right in your Reviews Widget, allowing shoppers to make quick buying decisions by easily filtering reviews for relevant topics.
For example, a prospective shopper interested in buying a camera may opt to filter reviews for topics such as battery life, image quality, zoom, lens, etc. Each topic can represent one keyword or several synonyms for the same keyword. For example, the topic Shipping may represent the keywords shipment, delivery, shipping, etc.
Filter requirements
The following requirements must be met in order for Topic Filters to appear:
The topic term appears in at least six published reviews across all products
The relevant product has the topic term appears in at least two published reviews
Please note:
Topic Filters are automatically generated using topics that are commonly mentioned in published reviews only. Rest assured, Topics mentioned in unpublished reviews will never be displayed as Topic Filters.
Filter by custom fields
Your Yotpo plan must include
Custom Review Forms
in order to add Custom Field Filters to your Reviews Widget.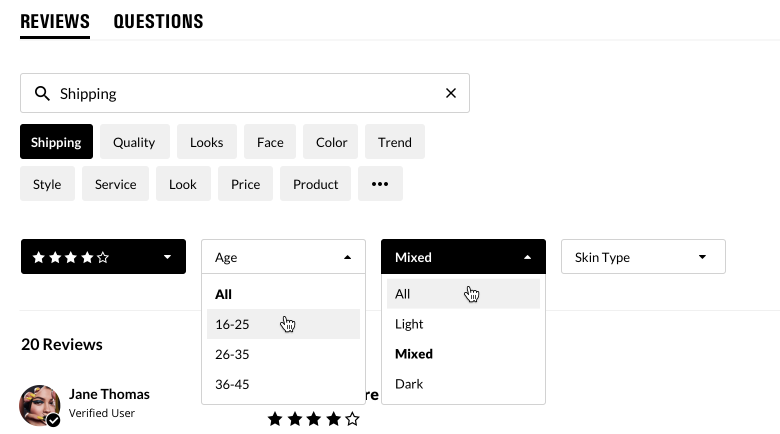 When enabled, Custom Field Filters allow shoppers to filter reviews for specific answers to custom review form questions. This is a great way for shoppers to focus on reviews written by shoppers who share common intent and characteristics such as age, geographic location, body type, etc.
For example, a prospective shopper interested in purchasing face cream may filter reviews according to Skin Type to view relevant reviews from past shoppers who share the same skin type.
Please note:
Custom Fields Filters support all types of
Custom Review Form
questions
except
Free Text Questions/Answers.
Wanna learn more?
Read more about how Yotpo leverages AI in on-site widgets:
---
Was this article helpful?
---
---
What's Next